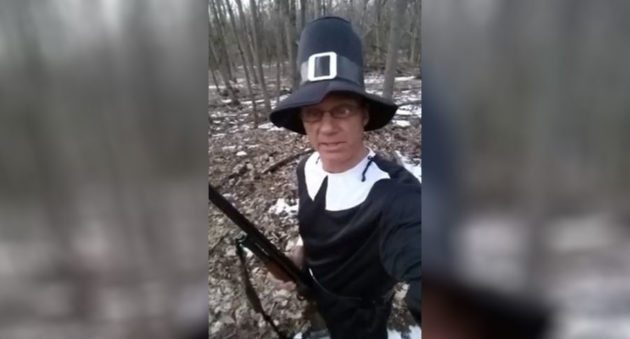 Can you hunt turkeys without camouflage?
This "pilgrim" wants to find out for himself.
Watch the video below:
Posted by Paul Ogie on Tuesday, April 24, 2018
Paul Ogie had a point to prove in this video he posted on Facebook.
He sports his handy pilgrim outfit with big hat and a shiny buckle. He says the flapping gobbler in the background is one he just shot. Can this be true?
While it is true camouflage may not be necessary in all conditions, it certainly helps the hunter.
It's not too often do you come across a real-life pilgrim hunting in the woods!
Do you like articles about the outdoors? Click here to view more articles by Eric Nestor. You can follow him @ericthewoodsman on Twitter, The Classic Woodsman on Facebook, and @theclassicwoodsman on Instagram.  You can view more Nestor Photography photos at Nestor Photography.
NEXT: SURVIVAL RIFLE REVIEW: HENRY U.S. SURVIVAL AR-7 RIFLE
The post Did This 'Pilgrim' Just Shoot a Turkey without Camouflage? appeared first on Wide Open Spaces.