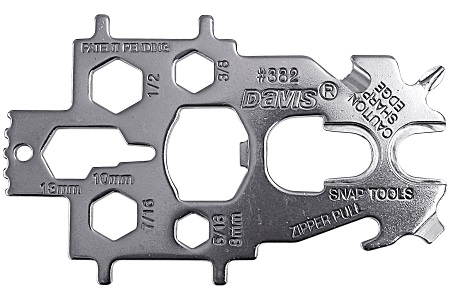 It's hard to imagine adding more functions to the Snap Tool Multi-Key, but that's just what Davis Instruments did. The handiest tool on board has been enhanced with the addition of three common metric hex wrenches.
The palm-sized Snap Tool Multi-Key now has 8mm, 10mm and 13mm hex wrenches, in addition to 5/16″, 3/8″, 7/16″ and 1/2″. Add a scraper, slotted and Phillips head screwdrivers, and recessed cutting blade, and it's like carrying an entire toolbox in a pants pocket.
Designed by boaters, the Snap Tool Multi-Key has a tool for almost every job on board. A button snapper and unsnapper is perfect for corroded snaps and weather-tightened fabric. The sanity-saving zipper pull conquers the most stubborn zippers and even works when the pull is missing. A pair of deck plate keys opens all deck caps on the market today, while the shackle tool releases even rusty pins. For the end of a long, enjoyable day on the water, there's a bottle opener and a lanyard hole, just in case.
A serious tool engineered to last, the award-winning Snap Tool Multi-Key is manufactured from hardened 304 stainless steel. Stronger and thicker than similar products, it won't corrode or break. It measures 2.75″ W x
4.48″ L, weighs a mere 2.8 oz. and sells for $13.99.
The post DAVIS PACKS MORE INTO MULTIPURPOSE BOAT TOOL appeared first on ODU Magazine-North America's #1 Digital Fishing Magazine.