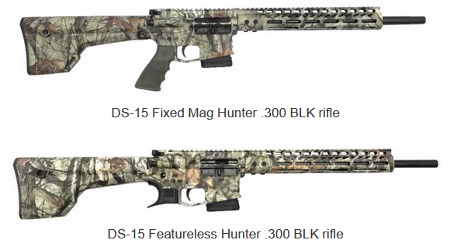 Dark Storm Industries (DSI), a New York based firearms manufacturer, is proud to introduce a new special edition Hunter Rifle in Standard, Fixed Mag and Featureless in .300 Blackout.  The DS-15 Hunter rifle features a custom hydro-dripped finish in Next G2® Camo.
The Hunter is built on Dark Storm's own DS-15 billet 7075 aluminum lower receiver and a DSI forged upper with forward assist and an ejection port cover. The DS-15 Hunter features a 90-degree safety selector, the M16 bolt carrier group, steel micro gas block and Ultralight Narrow Profile M-LOK 12-inch forearm.
"The Hunter is our first Special Edition designed specifically for those individuals that are looking for an AR style hunting rifle with a Camo finish.   The Next G2 Camo is an excellent wide format traditional limb and leaf camo pattern that allows the firearm to perform in more environments and terrain," Ed Newman, co-founder and owner of Dark Storm Industries explained. "This DS-15 Hunter is also incredibly light weight at 6 lbs., 15 ounces, including the magazine. Extremely accurate and very portable, we are looking forward to offering our customers a variety of calibers under the new Hunter line within the next few months."
The Standard Hunter .300 BLK has a Magpul MOE rifle stock, Hogue® pistol grip and a 30-round magazine. Optic ready (sights not included), the DS-15 Hunter with trigger lock has an MSRP of $1,095.00.
The Fixed Mag Hunter uses DSI's Patented FX series lower receiver which has a non-detachable Magpul PMAG 10-round mag as well as the Magpul MOE rifle stock and Hogue® pistol grip. It is optic ready and comes with a trigger lock with an MSRP of $1,095.00.
The Featureless Hunter with a detachable Magpul PMAG 10-round magazine utilizes the same Magpul MOE Rifle Stock and Spur Grip for restrictive states has an MSRP of $1,095.00.
DS-15 Hunter Specifications:
| | |
| --- | --- |
| Caliber: | .300 BLK |
| Barrel: | DSI 16-inch 300 Blackout non-threaded nitrite barrel |
| Twist: | 1:8 |
| Overall Length: | 37.25″ |
| Weight: | 6 lb. 15 oz. |
| Finish: | Custom Hydro-Dipped Next Gen® Camo |
| MSRP: | $1,095.00 |
The post Dark Storm Industries Introduces the DS15 Hunter appeared first on ODU Magazine-North America's #1 Digital Fishing Magazine.