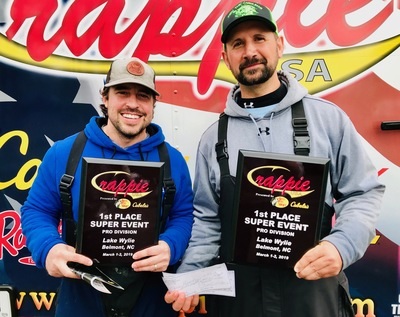 March 3, 2019 – Crappie anglers from several states traveled to Lake Wylie to participate in a Crappie USA (CUSA) Super Event presented by Bass Pro Shops Cabela's. Local and traveling anglers fished for cash, prizes, and an opportunity to compete at the 2019 CUSA Classic which will feature a guaranteed payout of $125,000 in cash and prizes.
Mixed weather greeted the anglers competing in the Lake Wylie event on March 2 and 3, 2019. Air temperatures were in the 50s both days. More than two inches of rain fell on Friday but clearing skies and sunny weather improved conditions for Saturday. After a slower day on Friday, the day-two bite picked up some.
"Most of our teams agreed that the fish bite was better on Saturday," stated Crappie USA Operations Manager, Darrell Van Vactor. The difference appeared to be due to the sunshine bringing the fish up in the water column where they were suspended around 12 feet in most areas."
A total of 30 boats fished the Lake Wylie event,15 in the Pro Division and 15 in the Amateur Division. A total of $11,500 was distributed to the winners.
Pro Division Results
Kevin Hawkins from Troy, NC and Chad Gilbert, from Greenville, SC claimed the top spot in CUSA's recent event on Lake Wylie. The Carolinas team weighed in 18.69 pounds to take first place and earn $3,000. They added $120 for second big fish.
Hawkins and Gilbert long line trolled the lower end of Lake Wylie to claim the victory. They were using Charlie Brewer Sliders in chartreuse and white. They found their fish in water depths ranging from 18 to 35 feet deep and caught about 50 crappies on the weekend.
"The second day was definitely better than the first," said Hawkins. "We found those fish early, but just could not get the big fish to bite. We went round and round trying everything we had. Finally, about 11 o'clock to 12 o'clock we got a good bite from the bigger fish. Then it quit again."
Hawkins and Gilbert were witnessing water conditions that got dirtier as time went on. A lot of muddy water was coming down because of recent rains. They talked about moving, changed baits, changed colors, changed depths, slowed down, and sped up without results.
"We would normally be fishing cleaner water," continued Hawkins. "It's tough when you are changing everything and getting no feedback. We just remained patient and it worked for us."
Robert Harris from Warner Robins, GA and Richard Greer from Kathleen, GA claimed the runner-up spot. They weighed in 17.45 pounds to take second place and earn $2,000 to which they added $250 for the Ranger Cup Bonus.
Harris and Greer were fishing in Crowder Creek. The team from Georgia pulled Slider Jigs in Junebug color to catch upwards to 100 fish during the two-day event. They found their crappie in the 14-foot range.
Third place went to Lynn Robertson and Robert Jackson. Robertson, from Lancaster, SC and Jackson, from Camden, SC weighed a bag of 17.22 pounds to claim their spot and earn $1,000.
The team fished various parts of Lake Wylie using green and yellow Slider Jigs. They were targeting crappie in 20- to 30-foot-deep water. The team culled their tournament fish from about 50 that they caught during the tournament.
The fourth-place team was Jordon Newsome from Iron Station, NC, and Craig Newsome form King MT, NC. Team Newsome brought a bag of 16.85 pounds to the scales to claim their spot and earn a cash award of $600.
They were fishing Crowder and Catabwa Creeks. Their method of choice was long line trolling. They pulled orange/chartreuse jigs in 20 to 25 feet of water. They were catching suspended fish in 6 to 12 feet of water. They boated about 75 to 80 crappies for the weekend.
Amateur Division Results
Pat Schneider from Clover, SC fished solo to take the top spot in the Amateur Division. He used long line trolling to bring a two-day weight of 17.97 pounds to the scales. Schneider was pulling Charlie Brewer Slider Jigs in Big Allison Creek to earn $1,500.00 for first place.
He was targeting 35-foot water while trolling the jigs at around 12 feet deep where sonar had indicated the fish were holding. Blue was the color of the day as Schneider caught more than 50 fish for the weekend.
Shannon Suttle from Baltic, NC and Shaun McAbee from Anderson, SC claimed the runner up spot with 15.94 pounds. The second-place team earned a cash prize of $1,000 and added $125 for the Ranger Cup Bonus.
Suttle and McAbee long lined Beaver Dam Creek using orange and black/blue Slider Jigs. They were pulling in water that ranged in depth from 12 to 25 feet to catch around 40-50 fish for the weekend.
Third place went to John Hicks from Adairville, GA and Tim Harris from Plainville GA. The team weighed in 15.61 pounds to earn the third-place award of $500.00.
Hicks and Harris chose spider rigging to catch their fish. They were pushing rigged minnows in 20 foot of water. Their weigh-in fish came from about 10-12 feet deep where they were suspended. They fished multiple areas of Lake Wylie to catch about 90 fish for the weekend tournament.
Ricky Smith from Kings MT, NC and George Smith from Dallas, NC weighed a two-day total of 15.42 pounds to round out the top five. They earned $500 for the third-place spot and added $420 for Big Fish of the tournament. Their big slab pulled the scales to 2.23 pounds.
Team Smith fished the south end of Lake Wylie. They chose a part of the lake where the water was a little darker and pulled Charlie Brewer Slider Jigs in dark colored patterns.
Ricky and George targeted 25-foot-deep water where they found the crappie suspended in the 16-foot range. Their fishing method provided them with about 30 fish for the weekend, including their Big Fish winner.
Epilogue
Darrell Van Vactor, CUSA Operations Manager, sent special thanks to " Brandon Black and his staff at GO 2 Gaston CO. CVB for hosting the event.
"Lake Wylie is truly a fantastic crappie lake," said Van Vactor. "It proved itself this weekend. We had teams from as far away as Colorado travel to fish the event which had representatives from 6 states participating."
The CUSA Classic Championship will be held October 23 – 26, 2019 on Old Hickory Lake, Gallatin, TN. It features a guaranteed payout of $125,000 in cash and prizes.
National Sponsors
National Sponsors of Crappie USA are: Bass Pro Shops Cabela's, Ranger Boats, Mercury Marine, Mustad Hooks, Minn Kota, Humminbird, Talon, Lake Master Maps, Gamma, B'n'M Poles, Driftmaster Rod Holders, Ego Nets, Xtreme Bait Systems, Cumberland Crappie Double Seats, Brushpile Crappie, Charlie Brewer Slider, Crappie Now Magazine, Church Tackle Co., Jenko Fishing, Big Bite Baits, Lake Cumberland CVB, Crappie Magnet, AWD Baits, EFX Graphics, Fin n' Frames, Crown Trophy, and JR Madd Breading.
For more information on the Classic and other CUSA events visit the website at www.crappieusa.com and Crappie USA Tournament Trail Facebook Page. The CUSA office is available by phone at 502-384-5924.
The post CUSA Victory at Lake Wylie goes to Hawkins and Gilbert appeared first on OutDoors Unlimited Media and Magazine.