The September 2019 issue of Outdoor Photographer features 10 Fall Color Hotspots—ideal locations around the country to capture the beauty of autumn foliage. Some of these destinations are places you might not expect. Wherever you live, there's likely an opportunity to photograph spectacular fall color within a few hours drive.
Also in this issue is a unique take on color photography: color infrared. In Beyond Visible Light, Russell Hart explains his technique for using a camera converted to capture infrared wavelengths and the results are inspiring. If you have an older camera gathering dust, consider converting it for infrared; the cost is relatively affordable.
On the cover is a dramatic fall color photograph by Stan Bysshe. Here's the story behind the shot.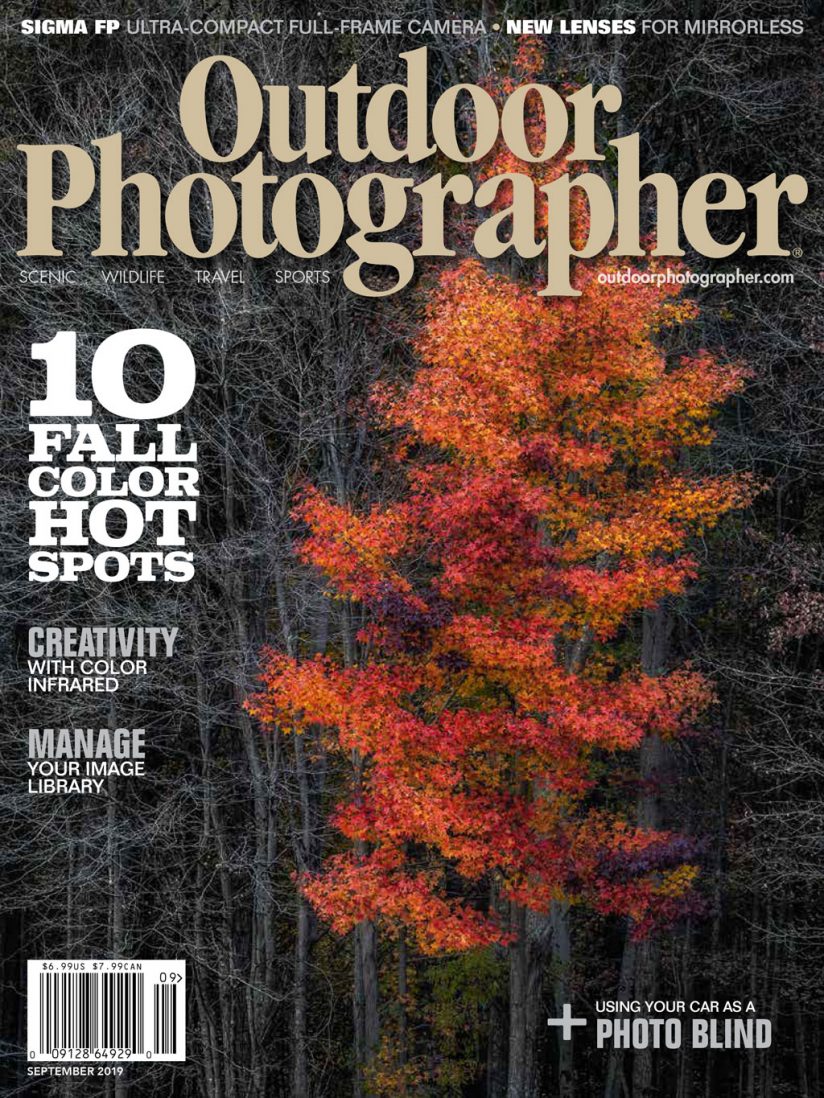 "Huntley Meadows Park in Northern Virginia is managed by Fairfax County and occupies about 2 square miles of woods and wetlands. It is probably one of the best wildlife habitats in the suburban Washington, D.C., area. Just 15 minutes from my home, it is my go-to spot to photograph locally. It's a rare week that I don't spend at least one sunrise at the park. In the spring and fall, when migrating birds are passing through the area, I am at Huntley several mornings a week. Usually, I am looking for wildlife subjects, especially birds.
"A year ago, I decided to try and create images of Huntley through all four seasons. I made several trips to scout the best areas to capture some of the fall color in the park. It turned out that sunset was the best time for light on the woods across the marsh, and I waited for the peak color to appear. The day before a planned evening shoot, a very strong storm tore across the area, and in one night almost all the trees were bare. Nonetheless, I decided to see how Huntley had fared from the high wind.
"Walking along the boardwalk through the marsh, it was as if winter had arrived in one day—there was no color. But I spotted a lone maple at the water's edge that somehow was spared and still had its bright red and orange leaves. I tried many compositions, but the vertical tight image turned out to be my favorite because of the immediate contrast between the dark, colorless bare trees and the red leaves."
–Stan Bysshe
The September 2019 issue is available now in a variety of digital formats including Apple News+ and will be on newsstands beginning Tuesday, August 27.
Outdoor Photographer Plus and VIP members get full access to all of the content on outdoorphotographer.com, plus print and digital editions of the magazine, as well as other great benefits. Learn more about our membership options.
The post Cover Shot, September 2019 appeared first on Outdoor Photographer.