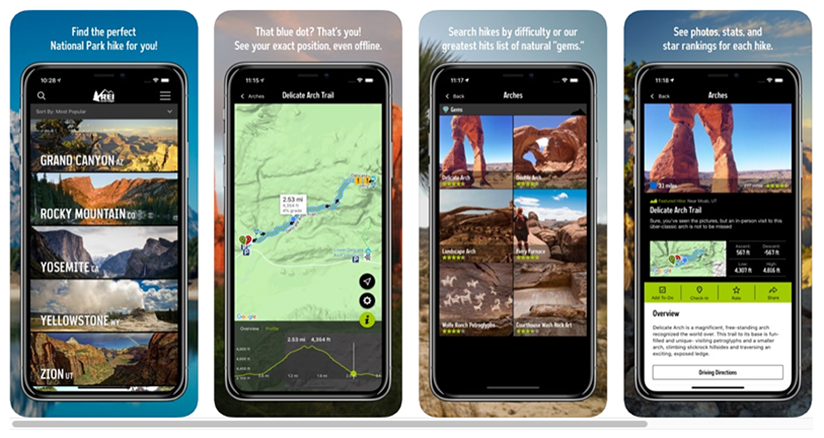 In celebration of the National Park Service's 103rd anniversary on Sunday, August 25, Apple has announced a special app collection that will help people make the most of their visit to America's parks by offering trail maps and guides, mountain identification and peak elevation maps, plant and animal identification, and more. To learn more, check out the apps below or visit the App Store.
REI Co-op National Parks Guide – This free app offers trail data and hike descriptions with terrain and satellite maps. You can also use it to plan your next national park trip as it offers information on seasons, camping, lodging, food and drink, and tours. Best of all, no cell signal is needed; all of the data is available offline.
Chimani — National Park Guides – Local experts have researched and written about the national parks' histories and highlights to help create this comprehensive app. You'll find maps with detailed trails and info on available facilities, plus activities like hiking, biking and camping. The app also offers alerts and notifications to keep you up-to-date on park-specific news. The offline maps will keep you on track when cell service is spotty, and money-saving discounts are available for dining, lodging and activities.
AllTrails: Hike, Bike & Run – Outdoor enthusiasts can explore over 75,000 hiking and mountain bike trails. The app's filters allow you to sort based on difficulty and length, and help you find kid-friendly, dog-friendly and wheelchair-accessible trails. Maps are downloadable for offline access.
PeakVisor – Aim your phone's camera at a mountain and this handy app will tell you its name and elevation. In addition to the identification of a million-plus mountains and hills around the world, the app features 3D maps and hike and photo planning, with no internet connection required.
iNaturalist – This app helps you identify the plants and animals you encounter in nature simply by taking a photo. Upload the image and share your observations with a community of nature lovers.
The post Apple Announces National Park App Collection appeared first on Outdoor Photographer.