Our annual Travel issue for 2020 features a photographer's guide to photographing the unique habitats and wildlife of Borneo, a rare opportunity to encounter orangutans in the wild. Photographer Mark Edward Harris shares the best places to go for a once-in-a-lifetime experience.
Next on our itinerary is India, a place of rich culture and history where there's always something new to discover. Russell Hart takes us off the beaten path to for a more intimate, timeless look at India through his monochrome images of a country usually seen in all of its vibrant colors.
Also in this issue, pro travel photographer Deborah Sandidge shares insights gained over her career for making better travel photographs on your next excursion, with gear, technique and planning advice.
On the cover is a playful image of an orangutan traversing the jungle by Mark Edward Harris. Here's the story behind the shot.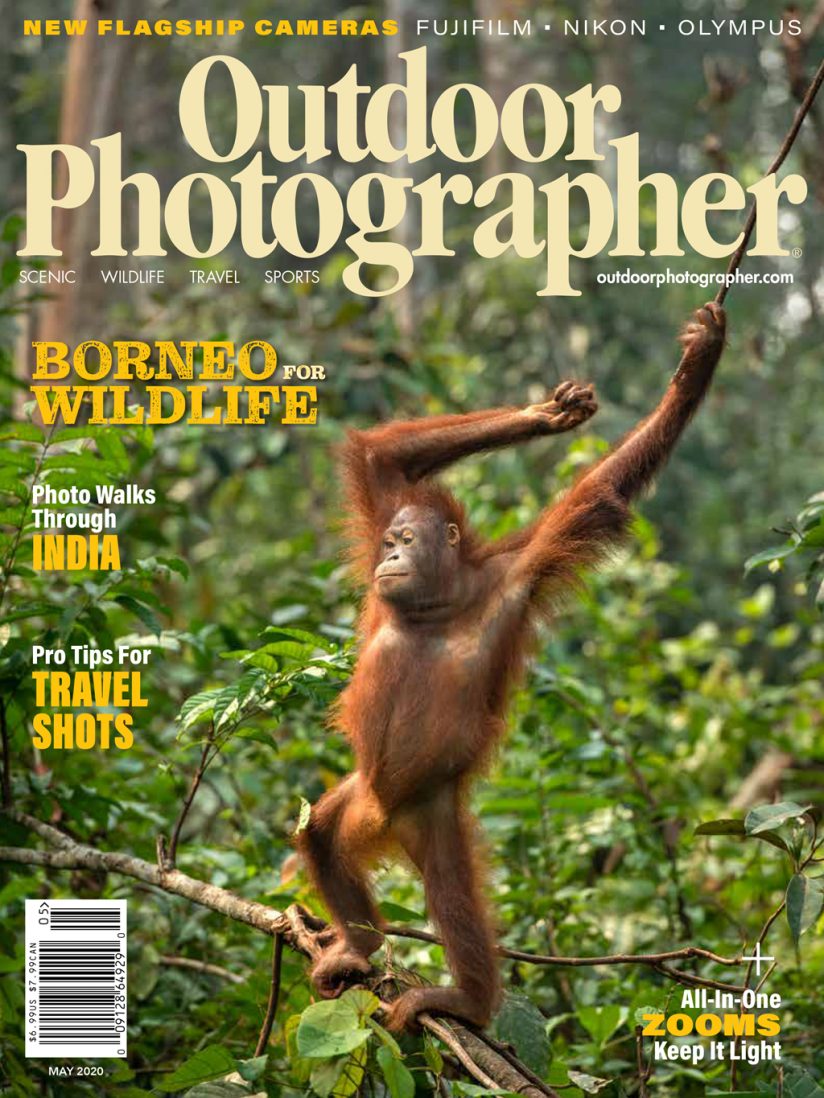 "Borneo is one of only two places on the planet where orangutans exist in the wild. My work with orangutans has been focused on the Indonesian side of the island at three Borneo Orangutan Survival Foundation locations. While my normal modus operandi when trolling the streets of the world is to have an AF-S NIKKOR 24-70mm F2.8G ED on one camera body and an AF-S NIKKOR 70-200mm f/2.8G ED VR II on another, I replaced the wider lens with a prime AF-S NIKKOR 300mm F2.8G ED VR II or the more demure ƒ/4 model when heading into the jungle. I also carry a Nikon AF-S NIKKOR 500mm f/5.6E PF ED VR in case I have to go longer.
"Even though this image of a balletic orangutan in the Kalimantan section of the island had the space to push in tighter, I felt going wider illustrated the bigger picture—that is, to call attention to how orangutans are hanging on by a particularly thin vine in the wild. Using the shallow depth of field created by an aperture of ƒ/4 softened the potentially distracting elements of the forest yet was enough to keep the orangutan, the branch it was walking on and the vine it was holding on to tack-sharp."
–Mark Edward Harris
The May 2020 issue is now available in a variety of digital formats including Apple News+.
Outdoor Photographer Plus and VIP members get full access to all of the content on outdoorphotographer.com, plus print and digital editions of the magazine, as well as other great benefits. Learn more about our membership options.
The post Cover Shot, May 2020 appeared first on Outdoor Photographer.