In our December 2019 issue of Outdoor Photographer, we feature the work of landscape photographer Ted Gore. "I prefer to use the term 'images' rather than photographs for my own work," Gore says, "because the definition of a photograph is a bit gray, and I do utilize more techniques beyond the capabilities of a camera and what it can give me alone." Gore describes his position on the debate of how much processing is "acceptable" in nature photography, as well as his techniques and use of color theory in creating his moody, dramatic landscape images in our feature story, "Amongst Giants."
On the cover is one of Gore's images, taken at Sunburst Peak in the Canadian Rockies. Here's the story behind the shot.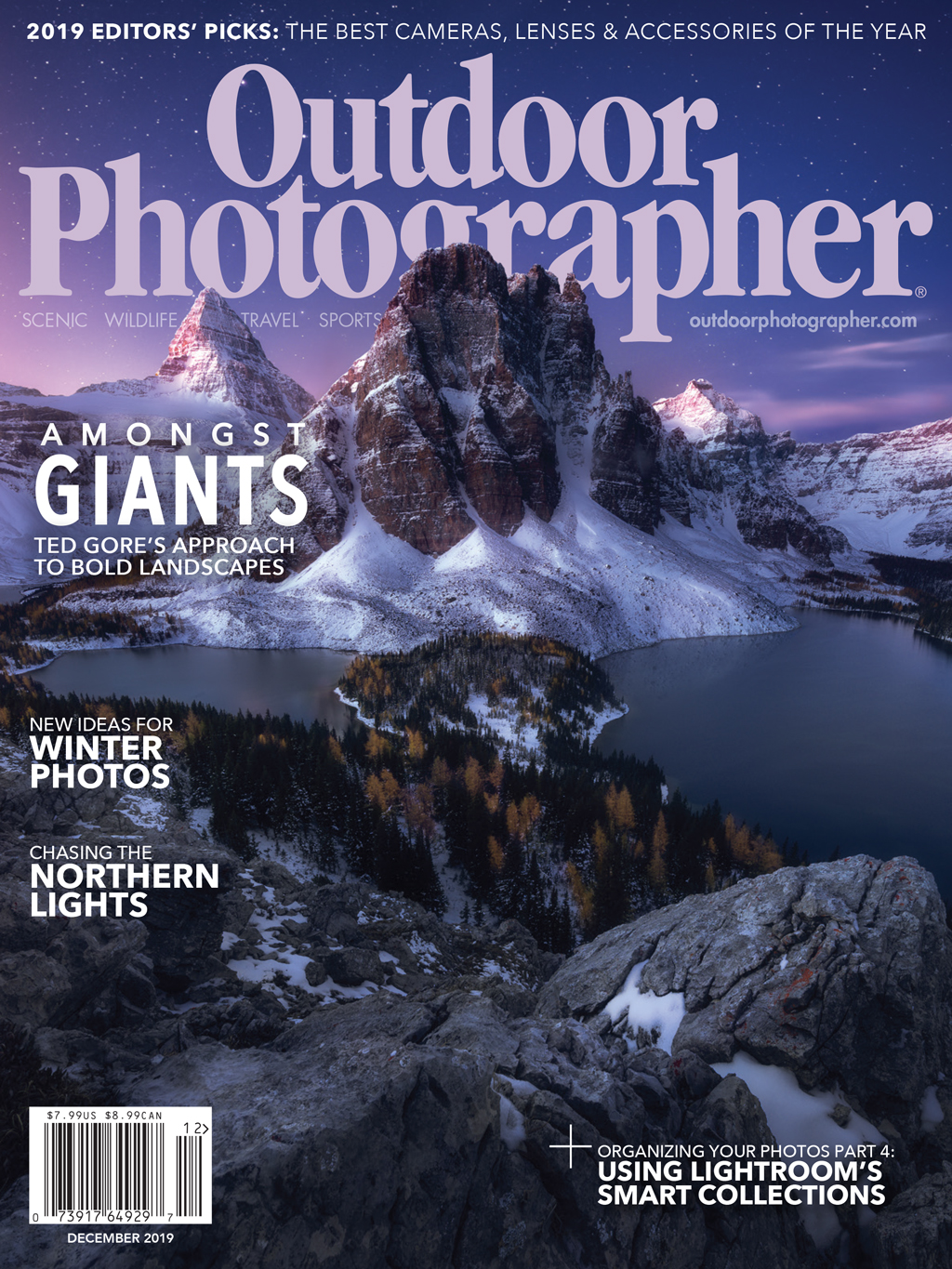 "I was in the Mt. Assiniboine area for a few days of shooting at the end of September, in the hopes of catching the changing colors of the larch trees. I also was treated to a fresh covering of snow, which was really making the entire region extra spectacular. The image is of Sunburst Peak, with Cerulean Lake flanking its base. Mt. Assiniboine, the most prominent peak of the area, stands tall behind and to the left of Sunburst Peak.
"The forecasts had been predicting clear skies for the day, so I set my aim for a twilight image. Twilight is such a beautiful time of day, especially in the morning, when the air is crisp and clear and has a certain type of glow to it that is hard to describe. I find this is even more so the case in the mountains. The peaks catch the pink alpenglow and, when combined with the soft blues of the twilight sky, make for a perfect color palette.
"Four shots were used for this image, one being the twilight sky, which was taken about 30 minutes before sunrise, and then a three-shot focus stack of the foreground and land a short while later. This allowed for the ambient light to increase so that I could capture the ground portion of the image with as little noise as possible, without separating the two moments so much that combining them would be difficult and possibly not look correct together."
–Ted Gore
The December 2019 issue is available now in a variety of digital formats including Apple News+ and will be on newsstands beginning Tuesday, December 3.
Outdoor Photographer Plus and VIP members get full access to all of the content on outdoorphotographer.com, plus print and digital editions of the magazine, as well as other great benefits. Learn more about our membership options.
The post Cover Shot, December 2019 appeared first on Outdoor Photographer.