Blogger's Note: By popular demand and because it is Saint Patrick's Day week, I am bringing back my blog about corning beef and wild game. I hope you enjoy it and find the time to try one of these delicious recipes. I raise my glass to you and exclaim: "Sláinte!" (slawn-cha), which is an Irish Gaelic term meaning "health." Happy Saint Patrick's Day! GW.
Saint Patrick's Day is one of the greatest food holidays of all time!
All of the savory, salty corned beef you can eat, scrumptiously moist cabbage, hearty Irish soda bread, ice cold Irish beer, leprechauns, shamrocks and swooning to Irish tenors. What could be better, right?
The Feast of Saint Patrick comes around every year without fail. I love everything about it because I am of much Irish-American heritage, but most of us celebrate with the same old corned beef and cabbage recipe, don't we?
This year I figure it's time to switch things up a bit. I think a little twist on the traditional is in order.
Those of you who hunt most likely have some wild game in your freezer, right? Good. Well, I have used three fantastic recipes for corning wild game that you need to try.
You will also note that one of the recipes can be applied to curing your own corned beef at home with a simple, quick process (compared to customary corning, which takes days or weeks in the refrigerator).
Believe me; the luck of the Irish will be with you using these Saint Patrick's Day recipes!
O'Wagsy's Quick Corned Meat
Ingredients:
3 to 4 lbs. Deer/Elk Shoulder or Round or Beef Brisket (Cut)
1/2 C. Morton's Tender Quick
1/2 C. brown sugar
2 tbsp. pickling spices (available at most grocery stores)
1 tsp. garlic powder
1 tsp. dry mustard
1 tsp. paprika
1 tsp. ground red pepper
1 tsp. black pepper
Instructions:
With a fork, pierce meat or thick meat slices thoroughly on both sides. Mix Tender Quick, brown sugar and all spices together. Rub mixture onto all sides of meat. Place meat in plastic bag or bowl, pour in remaining spices. Seal bag or cover bowl and refrigerate for 24 hours (more time is even better), turning 2 or 3 times during curing process. Use as you would corned beef. Good stuff!
Greg Wagner of Omaha, NE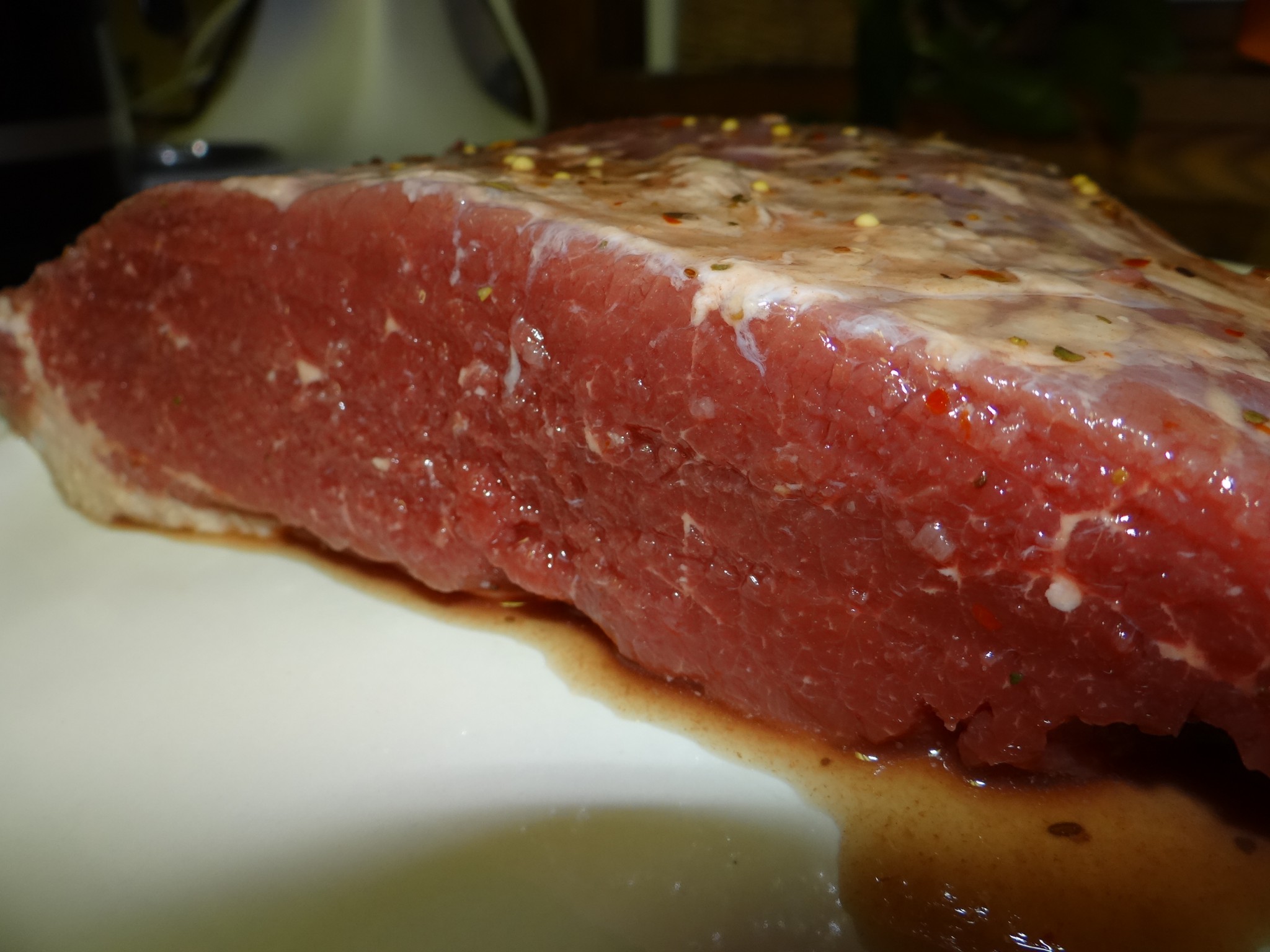 Pape's Famous Corned Wild Game Recipe
Ingredients:  
4 to 6 lb. Venison Roast or Goose/Duck/Turkey/Pheasant Breasts
5tbl Morton Tender Quick
2tbl brown sugar 
1tbl black pepper 
1tsp paprika
1tsp laurel or (2 bay leaves added during cooking)
1tsp allspice
½tsp garlic powder
1 1/2tsp pickle spice
Instructions: 
Mix spices together.  Place meat in ziplock plastic bags to allow for a single layer of meat.  Add spice mixture to meat in bags and mix so all the meat is coated with spices.  Remove air from bags and seal.  Place in refrigerator for 5 to 7 days (a few days less for small ducks), occasionally turning and mixing contents.  Then remove to crock pot or slow cooker and partially cover with water.  Bring to simmer for 3-4 hours.  Eat sliced on your favorite bread with your favorite cheese, or grind into a salad spread. Relish every bite!
Larry Pape of Lincoln, NE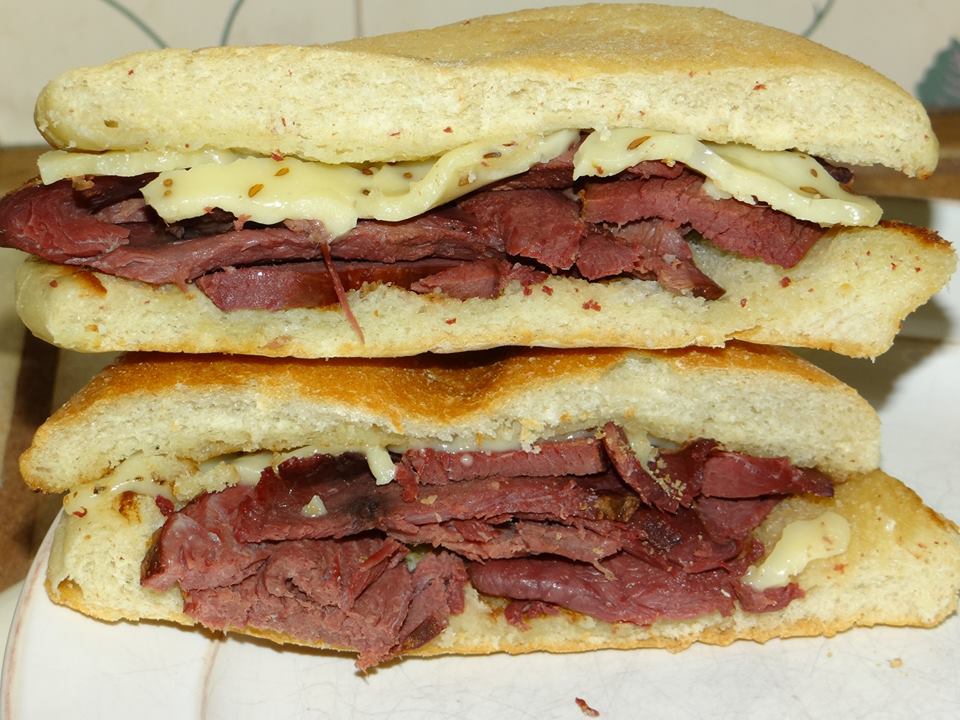 Simpson's Lost Island Corned Goose
Ingredients:
5 Tbl Spn Mortons tender quick
3 Tbl Spn Brown sugar
1 Tbl Spn Cracked black pepper
1 Tbl Spn Montreal steak seasoning
1 Tsp Paprika 1 Tsp Bay leaves – crushed
1 Tsp Allspice
1 Tsp Garlic powder
1 Tsp Mustard seed 1/8 Tsp Cloves – crushed
1/4 Tsp Cayenne (or more to taste)
1/2 Tsp Coriander – ground
Instructions:
Mix Ingredients. Apply liberally to 4-6 pounds skinless wild goose. (3 breast fillets and 3 leg/thighs are usually about 5 lbs.). Place in Ziploc bag(s). Refrigerate 7-10 days, turning every couple of days. Cooking: Roast in oven like corned beef at 325 degrees for 3-4 hours until tender. Or place in Dutch oven, cover with water, bring to a boil, reduce heat and simmer for 3-4 hours until tender. Add onions, potatoes, and carrots a couple hours before serving if you wish.
Excellent served with creamed cabbage, or make Reuben goose sandwiches! Works equally well with other wild game. We enjoy whole, bone-in Venison shoulders. Positively delicious!
Kyle Simpson of Elkhorn, NE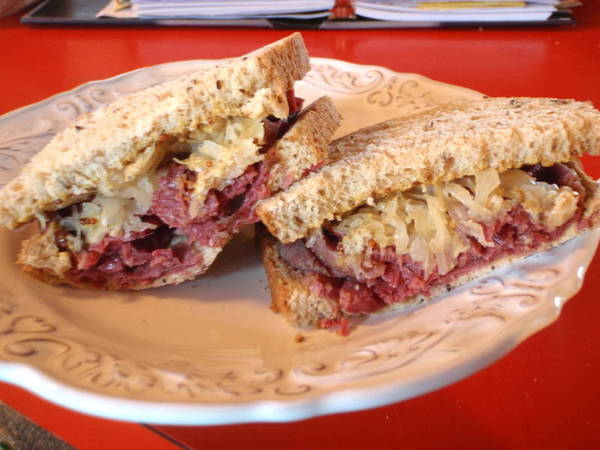 Tips for Brining Meats
Use noncorrosive containers and weights such as plastic, glass, stainless, or pickling crocks.
Prepare enough brine to cover meat completely.
Estimate 1 quart of brine for every 4-6 pounds of meat (or 30%-50% brine weight per pound of meat; 1 quart of brine weighs 2 pounds).
To dissolve salt and sugar more readily, heat half of the quantity of water and dissolve the salt and the sugar completely before adding the remaining liquid.
Always chill brine thoroughly before adding the meat.
Cure meat only in the refrigerator (<40°F).
Turn or flip over brining meat once or twice daily. Rotation helps meat to cure evenly.
Instead of a brine, you could use a dry rub of kosher salt plus many of the spices usually found in a pickling blend. With this method the meat is only given a long submerge in water when it's cooked, which can produce a nice texture.
Interesting Facts about Corned Meat
FACT: Corned meat is salt-cured, seasoned product. The term "corned" is an old English term that comes from the treatment or curing of the meat with large grained rock salt, also called "corns" of salt.
FACT: The area of Cork, Ireland was a great producer of corned beef in the 1600's until 1825. It was their chief export and sent all over the world, mostly in cans. The British army sustained on cans of Cork's corned beef during the Napoleonic wars.
FACT: Corned beef or corned beef brisket is not considered an Irish national dish, and the connection with Saint Patrick's Day specifically originates as part of Irish-American culture, and is often part of their celebrations in North America. Corned beef was used as a substitute for bacon by Irish-American immigrants in the mid to late 19th century. In New York City, these immigrants learned from their Jewish butchers neighbors about corned beef, which was cheaper and easier to find.
FACT: Abraham Lincoln chose the menu for his first Inaugural Luncheon on March 4, 1861, which was corned beef, cabbage and potatoes.
FACT: Corned meat was popular in the U.S. during both World Wars, when fresh meat was rationed.
FACT: The dish, corned beef and cabbage, is known by a variety of names around the world. In the United States around World War I, it was often called Red Mike and Violets, "Red Mike" referring By the time the expedition arrived to corned beef, and "Violets," referring to cabbage and any other accompanying vegetables
FACT: Frontiersman Daniel Boone knew that without salt you could not cure or preserve meat and venison was fairly tasteless without it. At the time, early in 1778, it took about 840 gallons of Blue Lick spring water in Kentucky to produce a bushel of salt, which was worth about a cow and a half. A fire was built under large kettles and then filled up with the salty spring water. When the water was boiled away, the salt would remain in the kettles to be collected.
FACT: The Lewis and Clark Corps of Discovery expedition used corning as a way to preserve the meat of deer, elk, bison and other animals it had obtained primarily through hunting. By the time, the expedition arrived at the Pacific Coast its supply of salt for preserving and flavoring was nearly exhausted. So, Lewis and Clark and their fellow explorers extracted salt from seawater by way of evaporation through boiling.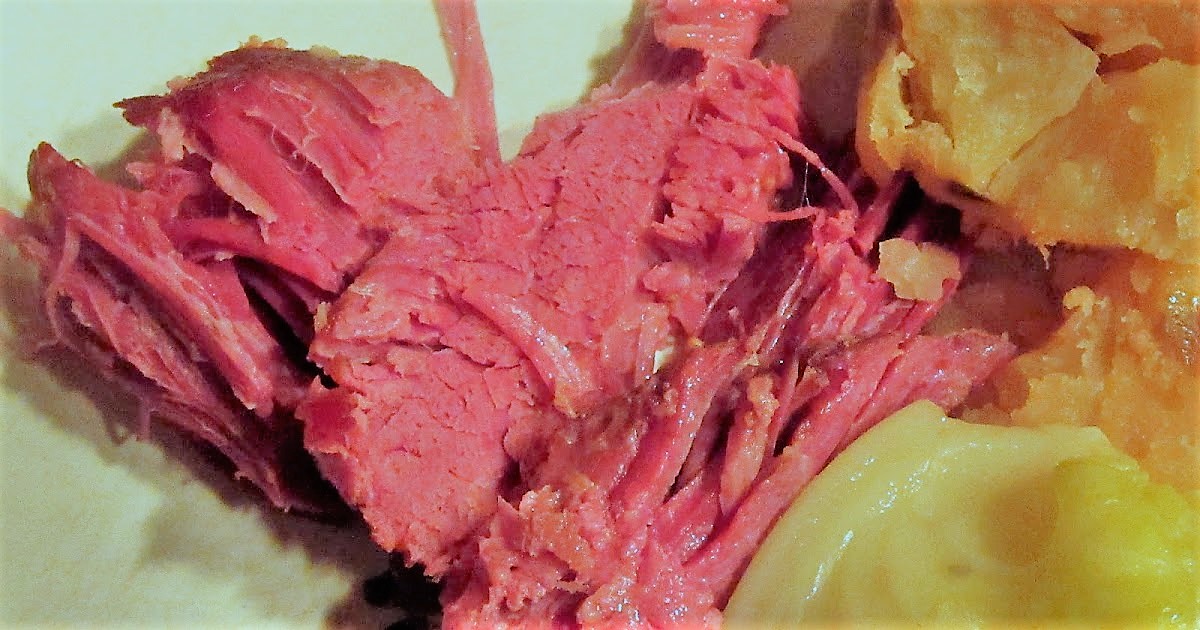 The post Corn Your Own Wild Game or Beef for St. Paddy's Day appeared first on NEBRASKALand Magazine.