Are you a boater? If so, you've probably heard countless tips about how to keep yourself safe while on the water. You also probably have all the necessary safety equipment, such as a marine VHF radio and lifejackets.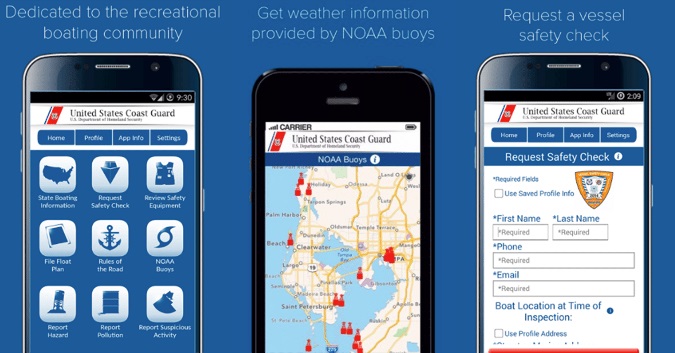 But, there's one thing you probably don't have: a boating safety mobile application that will allow you to access crucial boating information instantaneously.
With the Coast Guard mobile application, you can have all this information, and more, at your fingertips.
The Coast Guard's boating safety app brings all the necessary boating safety information directly to you, allowing you to focus on the fun part – enjoying time out on the water.
Need to file a float plan quickly and easily? You can file one on the Coast Guard's mobile app, and then email it to your friends and family.
See something that may be a hazard to navigation, such as a missing or damaged buoy? Report it directly to the Coast Guard using the 'report hazard' feature.
Did you just buy a boat and want to request a safety check? You can do that too!
Here are some other features are included on the Coast Guard's boating safety app:
State boating information: Get all the necessary details about boating information for individual states – great for when you are traveling and taking long trips in the summer!
Safety check: Request a safety check for your boat quickly and easily. Can't bring your boat in? The Coast Guard Auxiliary will make a trip to you.
Safety equipment: Review what safety equipment you should have onboard your boat based on its size and propulsion.
Float plan: Forget to file one before you hit the dock? No problem! File one on the mobile app and send it to your friends and family.
Rules of the Road: Do you know what 'red, right, returning' means? Brush up on the most important rules of the road to keep yourself and others safe on the water.
NOAA buoys: Didn't check the weather before you left home? Find the nearest NOAA buoy to get weather information with the push of a button!
Report hazards: Be a good Samaritan by reporting possible hazards to navigation directly to the Coast Guard.
Report pollution: Keep the waterways clean and report any pollution to the nearest Coast Guard unit.
Suspicious activity: See something suspicious? Let the Coast Guard know!
Emergency assistance: Having trouble on the water and can't get to the radio? The emergency assistance feature will send your location and request for assistance directly to the nearest Coast Guard unit or 911.
There are countless things you can do to keep yourself safe on the water. Having the proper equipment, knowing the weather ahead of time and filing a float plan are all factors in boating safety. Why do all these things in three separate locations when you can now do them in one?
To learn more about the Coast Guard boating safety app, visit the mobile app webpage.
The post Coast Guard Mobile App for Recreational Boaters appeared first on ODU Magazine-North America's #1 Digital Fishing Magazine.