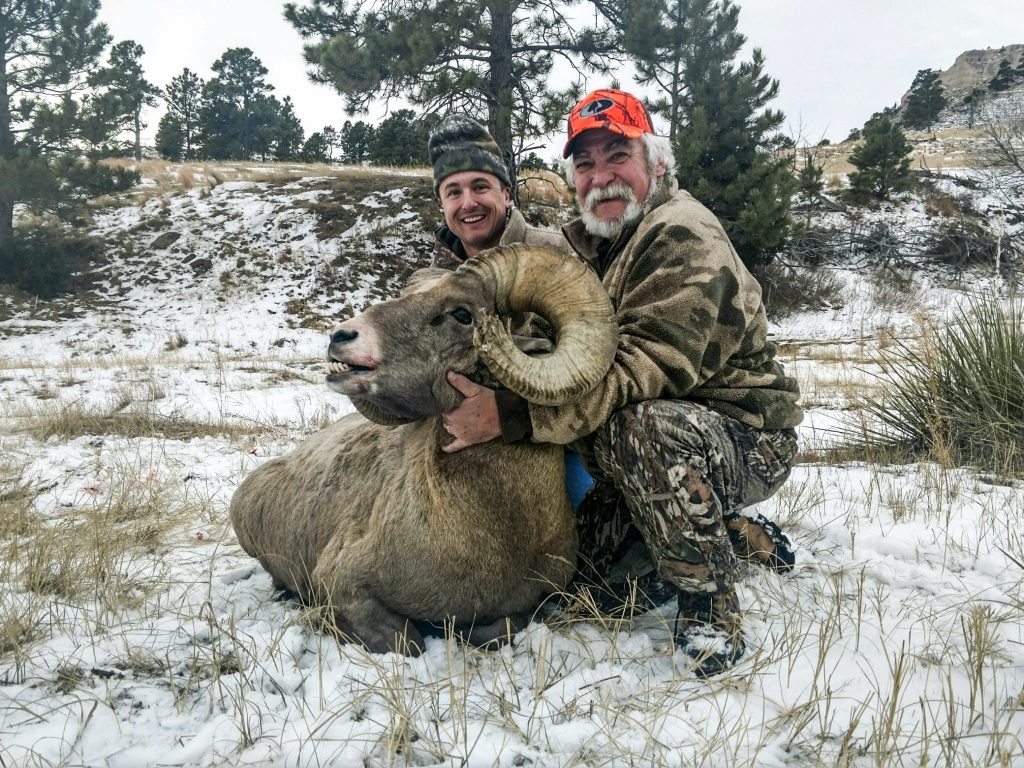 CRAWFORD, Neb. — Nebraska's limited bighorn sheep season wrapped up Thursday afternoon when the second of two permit holders harvested a ram near Fort Robinson State Park's Cheyenne Buttes.
Jack Nemeth of nearby Chadron, who won the permit by lottery, said he was not looking for the "biggest, baddest ram" in the state, but rather a memorable experience with his son Riley, friend B.J. Dunn and Nebraska Game and Parks Commission staff. Nemeth, who placed a successful shot on the mature ram with a rifle at 275 yards, said all of his goals were met and exceeded in short order.
"I can't say enough good about the program and the whole experience we had," Nemeth said. "It was an unforgettable, once-in-a-lifetime deal that any hunter would be thrilled to have. The fact that it happened right here in my back yard, and that I was able to share it with my son and my friend, makes it so special to me."
Todd Nordeen, who manages the bighorn sheep program for the Commission and accompanied Nemeth on the hunt, said the ram with horns in full curl was 7 ½ years old.
In addition to the hunt, Nemeth and his hunting partners were treated to meals and lodging at Fort Robinson.
Proceeds from the bighorn sheep hunts help fund management and reintroduction efforts for the species in the state. This marked the Nebraska Game and Parks Commission's 23rd bighorn sheep hunt since the first one in 1998.
This year's other permit holder, Jason Bruce of Lockeford, California, won his permit by auction at the Wild Sheep Foundation convention in January. On Saturday, Dec. 2, he harvested a ram by archery in the Wildcat Hills near Gering. That specimen has tentatively set the record as the largest ram harvested during Nebraska's bighorn sheep seasons and may earn a spot on national top 10 lists.
The Audubon's subspecies of bighorn sheep was native to the butte country of the Nebraska Panhandle but was extirpated from the state because of disease, unregulated hunting and habitat loss in the early 1900s. The subspecies became extinct in 1925.
Rocky Mountain bighorn sheep from Custer State Park in South Dakota were reintroduced to Nebraska in an enclosure at Fort Robinson State Park in 1981. Those sheep were released to the wild in 1988 and 1993 and additional release efforts of sheep from Montana, Canada and Colorado in 2001, 2005, 2007 and 2012 have resulted in about 300 sheep that reside in areas of the Pine Ridge between Harrison and Chadron, and the Wildcat Hills south of Gering and east to McGrew.
The post Chadron man successful in bighorn hunt appeared first on NEBRASKALand Magazine.