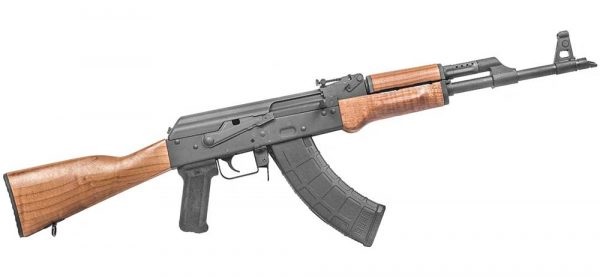 Century Arms, North America's premier AK manufacturer, is excited to announce their new heavy duty AK rifle, the VSKA (vis-kuh), is now shipping. Re-engineered with critical components using machined S7 tool steel, the VSKA is the result of a special development program for a United States government project that was finalized in 2017.
"It's very exciting for us to finally see the VKSA start shipping to the commercial market," said Jason Karvois, Century's Director of Sales . "We have been working on this project for some time now and the conclusive feedback we received from the U.S. government was clear evidence that our efforts had paid off. Now it's time for civilian consumers to reap the benefits of this project."
The VSKA rifle features an all new bolt carrier, front trunnion, and feed ramp machined from S7 tool steel and specially heat treated for maximum durability. S7, often referred to as a "Shock-Resisting Tool Steel," is commonly used for tools like chisels and jackhammer tips as it has maximum shock resistance and high compression strength, while retaining toughness. The front trunnion and bolt are machined from billet and exceeded the durability goals for the project. Additionally, the VSKA features a nitro-carburized 4140 steel bolt, a chrome-moly 4150 barrel, and sports the RAK-1 Enhanced Trigger Group for an impressive trigger pull. Along with a magnesium-phosphate finish, Century adds a little style to the heavy-duty brute with an American Maple wood buttstock and forend.
The 100% Made-in-America VSKA debuted at last weekend's Red Oktober Kalashnikov Championships in Hurricane, Utah, the largest event of its kind in the country. "It performed flawlessly in the brutal competition and the response was fantastic from shooters who had an opportunity to get their hands on the newest American AK and try it for themselves", said Chip Hunnicutt, Director of Marketing for Century Arms. "No matter the need, the Vermont Stamped Kalashnikov (VSKA) is built for it!"
Each VSKA will ship with one 30 round magazine and has an MSRP of $735.95.
Units are shipping now to dealers and distributors across the country. For more information on the new VSKA AK rifle, please visit www.centuryarms.com
The post Century Arms Heavy Duty VSKA AK Rifle appeared first on .