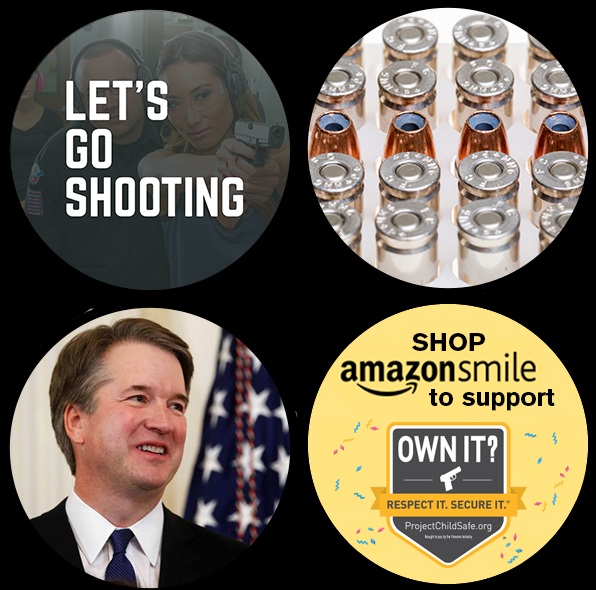 NSSF LAUNCHES LETSGOSHOOTING.ORG … NSSF has launched a new website LetsGoShooting.org with the goal of providing everyone — from beginners to experienced target shooters — with everything they need to get started, to invite someone new, and to find the tools they need to make their next trip to the range the best experience it possibly can be. Visit the new site today at LetsGoShooting.org.
NSSF FILES MOTION IN MICROSTAMPING CASE … NSSF has filed a motion asking the California Supreme Court to allow for re-argument in the foundation's microstamping statute challenge, following the court's recent dismissal of the complaint, that the law seeks the impossible. The motion is based chiefly on any future impossibility claim or defense to the enforcement of the statute.
SUPREME COURT NOMINEE WOULD DEFEND 2ND AMENDMENT … NSSF quickly backed President Donald Trump's nomination of Judge Brett Kavanaugh of the U.S. Court of Appeals for the District of Columbia to become an Associate Justice of the U.S. Supreme Court. NSSF's Lawrence Keane said Judge Kavanaugh would "protect the Second Amendment and other Constitutionally guaranteed rights."
SUPPORT PROJECT CHILDSAFE DURING AMAZON PRIME DAY … Amazon's Prime Day is here, and great deals are offered throughout July 16 and 17. Make your purchases at Amazon Smile to have Amazon make donations in support of Project ChildSafe, an NSSF program committed to promoting genuine firearm safety through safety education messages and free firearm safety kits.
More NSSF News Highlights
A federal magistrate judge has ruled in a Freedom of Information Act (FOIA) lawsuit that the ATF cannot be forced to reveal non-statistical aggregate trace reports data.

Delaware Gov. John Carney signed into law the NSSF-supported Sunday hunting expansion bill to allow deer hunting on five Sundays during the hunting season.

NSSF's Lawrence Keane last week joined Interior Secretary Ryan Zinke for the inaugural meeting of the Hunting and Shooting Sports Conservation Advisory Council, to which he was appointed to represent the industry.

Gun control proponents are in a frenzy over Judge Brett Kavanaugh's nomination to become an Associate Justice of the Supreme Court. Read Lawrence Keane's blog post.
This Month's "Behind the Firing line" column highlights the successful marketing strategies of Bristlecone Shooting, Training & Retail Center in Lakewood, Colorado.
Griffin and Howe's retail and range facilities have found ways to tap into and profit from providing opportunities that continually challenge and grow the customer's skillset.
Deep River Sporting Clays and Shooting School found success hosting multiple events during last year's National Shooting Sports Month® and you can do the same this August.
ATF Q&A: More great questions came in on our 24/7 NSSF member compliance hotline last week. One question asks, "How long is a marking variance good for?"
The April 2018 U.S. import and export totals for several sporting arms, ammunition and optics categories are now available. Log in and select the Industry Research link to see a breakdown for April 2018 compared to April 2017.
Major changes will be made to export control rules in the coming months. To ensure members of the industry stay ahead of the changes, NSSF and the F.A.I.R. Trade Group have extended the registration for the annual Import/Export Conference.
Six-time Olympic medalist Kim Rhode won the 18th World Cup gold medal of her career by edging teammate and silver medalist Caitlin Connor in a shoot-off.
The Outdoor Writers Association of America has awarded 12 Norm Strung Youth Writing Award prizes totaling $1,400. Sponsored by Majesty Outdoors, the contest has categories in two divisions: junior (grades 6-8) and senior (grades 9-12).
NSSF encourages firearms retailers and shooting ranges to help educate their staff and customers about suicide prevention. Learn more about the AFSP-NSSF Suicide Prevention program at nssf.org/safety/suicide-prevention.
NSSF's Project ChildSafe program has named Javondlynn Dunagan one of its S.A.F.E. Summer Champions for empowering women through firearms safety.
Sportsmen's Alliance on MeatEater Podcast: Steven Rinella talks with Evan Heusinkveld and the Sportsmen's Alliance team about core mission, moving the needle, backdoor attempts at banning methods and means of the hunt.
The post Bullet Points – Weekly Firearms Industry Newsletter 7-17 appeared first on .