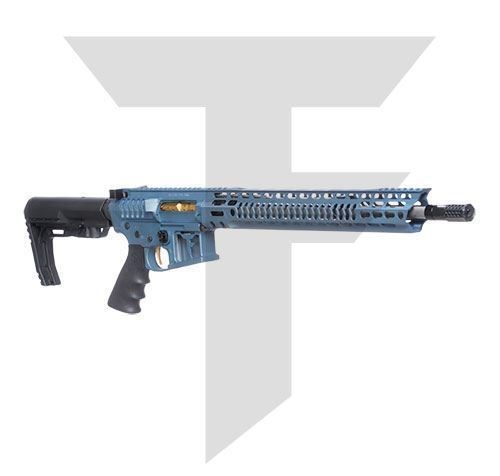 Introduced as a standard model in 2016, the TFA-UL15 has now undergone a number of upgrades. This high-performance 5.56 NATO/.223 Rem. caliber rifle immediately turned heads upon release. Light weight (under 6 lbs.), accurate and reliable, this Trojan Firearms rifle now also features the new Gen. III Ambi-Charging Handle, Gen. III Keymod Handrail and the option of either the curved bow (TFA-15C) or new straight bow (TFA-15S) Drop-In Trigger Group. Additionally, it is now also available in a number of new cerakote colors.
The TFA-UL15 is a direct gas impingement AR-15 platform rifle, made of CNC machined, high-grade aircraft billet aluminum. It also features a 416 stainless Wylde Chamber Hanson Barrel with a 1-8 twist (.625 diameter profile). Despite the high-quality "Made in the USA" construction and design, the Trojan Firearms TFA-UL15 has a MSRP starting at just $1,559.99. This rifle is also available in a "Featherweight Package" for $1,669.99. This reduced-weight package features a low-mass PVD gold coated BCG and low-mass buffer system, which drop the weight of the rifle down to 5 lbs. 8 oz.
About Trojan Firearms: Trojan Firearms developed from more than 30 years of high-precision machining for the aerospace and weapons defense industries. These industries require high tolerances in every product manufactured regardless of their application. The invaluable experience and techniques gained from 3 decades of success in the aerospace and weapons defense industries has translated into the manufacturing of high-performance firearms and firearms parts. Trojan Firearms takes pride in the quality and attention to detail of their American made products and to offer the highest levels of customer service. To find out more, visit www.trojanfirearms.com.
The post Trojan Firearms Introduces Upgraded TFA-UL15 appeared first on ODU Magazine-North America's #1 Digital Fishing Magazine.