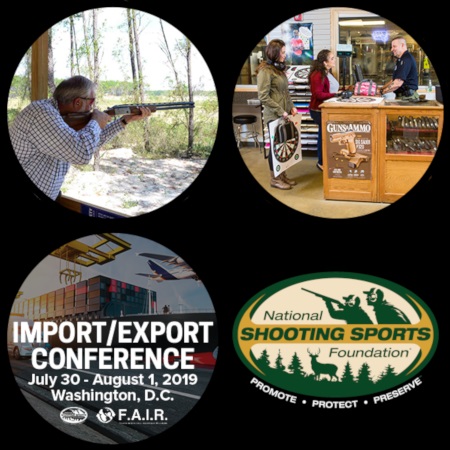 PRESIDENT TRUMP SIGNS 'RANGE BILL' … President Donald Trump signed H.R. 1222, the Target Practice and Marksmanship Training Support Act, into law Friday. Also known as the "Range Bill," it has been a longtime priority for NSSF and gives states more flexibility to use Pittman-Robertson Funds, to build new public ranges and improve existing ranges.
SMALL RETAILERS CAN SURVIVE AND THRIVE … NSSF President Joe Bartozzi responded to a column last week in The Outdoor Wire about challenges confronting independent firearms retailers by discussing strategies they can pursue, many aided by NSSF, to improve their businesses. "While the challenges facing all retailers are very real, we have observed some ways in which the independent retailers can not only survive, but they can thrive," writes Bartozzi.
REGISTER FOR 2019 IMPORT/EXPORT CONFERENCE … The 18th annual Firearms Import/Export Conference, July 31- Aug. 1 in Washington, D.C., will focus on the numerous changes going on in several U.S. agencies affecting the business of importing and exporting your products. Enjoy presentations from the ATF, Department of Commerce, Department of State and others within the enforcement and compliance areas. Register today.
More NSSF News
The Fraternal Order of Police sent a letter of support to U.S. Sen. Lindsey Graham (R-S.C.) for his expected introduction of the Federal Firearms Licensee Protection Act, legislation supported by NSSF.
The NSSF-supported request for an additional $3 million for public-private partnerships to prevent firearms suicides is being included in the 2020 Military Construction, Veterans Affairs and Related Agencies Appropriations Bill.

It appears Delaware's Senate won't move three gun control bills after hundreds of grassroots gun owners attended a hearing on SB 63, to ban "assault weapons," SB 70, which would ban standard capacity magazines and SB 82 to implement standards to purchase a firearm and limit how often one can buy.

The most valuable asset any company has is its people, and a focus on improving your team will be realized both in morale and your bottom line in the long term. The lessons from this article will help you and your employees improve.
What preparation can you take to help improve the flow and effectiveness of meetings? A short time investment in meeting preparation and direction can ensure that your goals/ideas don't get lost in the mire. These tips will help you plan better.
Women are a segment of the outdoor market that just keeps growing and growing. Selling to women is about understanding and meeting their needs, not about how they differ from men.
2019 SHOT Show® Product Spotlight: Consider stocking your shelves with Longshot by TargetVision, an innovative long-range camera that allows you to "see your shot without ever leaving your spot."
​​​​ATF Q&A: More great questions came in on our 24/7 NSSF Member Compliance Hotline last week. One question asks, "As a Federal Firearms Licensee, what is my responsibility to respond to a request to trace a firearm?"
The April edition of the NSSF Survey Tracker report (login required) has been released. It features top-selling brands of firearms, optics, cover scents and binoculars, as well as both the top five species hunted and types of shotgun shooting in Jan. – Feb. 2019. This edition includes a supplement report on ammunition.
Employees and qualifying family members of companies that support NSSF at the highest level can apply for education aid through the NSSF Patron Member (formerly Voting Member) Scholarship Program.
Secretary of the Department of the Interior David Bernhardt announced a $20 million grant award to restore and enhance 7,000 acres of coastal wetlands and adjacent upland habitats.
Three hundred industry professionals gathered in Palm Beach Gardens, Florida, last week to attend the 2019 Firearms Industry Compliance Conference, presented by Orchid Advisors and NSSF.
As a new official supporter of NSSF's Project ChildSafe® program, Union Sportsmen's Alliance will promote the program's gun safety messages to millions of labor union members through its many outlets, including its TV show, Brotherhood Outdoors.
Competitive shooters Dianna and Ryan Muller recently hosted an Ambassador Academy, to help influencers with social media strategies, interviewing skills and shooting abilities to help a foster a new generation of positive influencers.
Six-time Olympic medalist Kim Rhode notched yet another "first" in her illustrious shooting career by capturing her fourth consecutive ISSF World Cup skeet gold medal, making her the only female shooter and first shotgun competitor, male or female, to achieve a "four-peat."
NSSF has renewed its Gold-level partnership with USA Shooting and will be a presenting sponsor of USA Shooting's National Sporting Clay Cup Fundraiser set for June 7-8.
For the first time since 1993, USA Shooting Team athletes earned the top two spots in skeet at the ISSF World Cup, as Vincent Hancock and Christian Elliott finished with gold and silver at the competition in China.
To highlight #NotMe day, Well Armed Woman Shooting chapters are inviting women across the country to visit their local shooting ranges Saturday, June 1, to stand with sister self-protectors and show they refuse to be a victim or to say #NeverAgain to ever being a victim again. Learn more.
Ronald C. Whitaker was named Chairman of the Board of Sturm Ruger. He has been a member of Ruger's board of directors since 2006.
An article at ModernConservationist.com discusses hunters' contributions to conservation, hunting for food and adding new hunters through NSSF's +ONESM Movement and Letsgohunting.orgTM, QDMA's Field to Fork and other programs.
Jack Ballard, Nick Lowrey and Emily Stone have been elected to OWAA's board of directors. Their three-year terms begin at the June 24 board meeting during the summer conference in Little Rock, Arkansas.
The post Bullet Points – Weekly Firearms Industry Newsletter – 5-14-2019 appeared first on OutDoors Unlimited Media and Magazine.