SEN. CORNYN: FIX NICS MUST GET DONE . . . Senator John Cornyn (R-Texas) laid out the leading priorities for the Senate in 2018. Among the top on the list is fixing the National Instant Criminal Background Check System. Cornyn introduced the Fix NICS Act of 2017 following the tragic murders in Sutherland Springs, Texas. NSSF has been leading the effort to FixNICS® since 2013. Read the full NSSF blog post.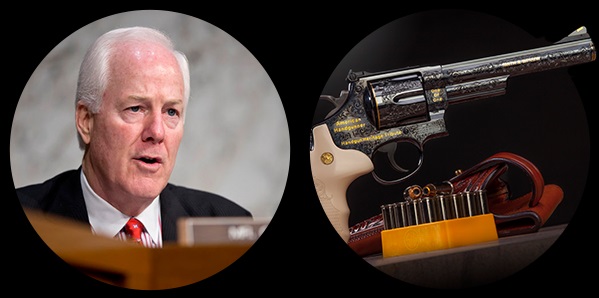 FIREARMS FOR SHOT SHOW AUCTION . . . This Year's SHOT Show auction includes the 1,000,000th Henry H001 .22 Lever Action rifle and a one-of-a-kind fully engraved Smith & Wesson Model 29 American Handgun. If you are interested and want to support America's hunting and shooting sports heritage the auction on GunBroker.com will be concluding the final day of the 2018 SHOT Show, Friday, Jan. 26, 2018. 
COUNTDOWN: 15 DAYS UNTIL SHOT SHOW . . . Are you ready for the 2018 SHOT Show? There are only 15 days until the opening of the 40th anniversary SHOT Show in Las Vegas, Jan. 23-26. Finalize your schedule and don't forget to register for educational seminars or other SHOT Week events at shotshow.org. Make this year's SHOT Show your most successful one yet!
More News Links
ATF inspections can be stressful but don't sweat it. NSSF has all the tools you need to have your store in tip-top compliance order. "Winning the ATF Inspection" is designed to help ease the pain of both surprise and planned ATF inspections.
Don't miss the Retailer Seminar "Understanding the Current Customer Base" where NSSF's Jim Curcuruto will review the consumer data available to today's FFLs and explain how that data can help you better understand the marketplace.
Remember that National Shooting Sports Month this August will be here before you know it. Stop by booth 2414 at the 2018 SHOT Show to help you start thinking about the promotions you could roll out in conjunction with this event!
Only 11 seats remain in this year's Executive Management Seminar. Don't miss your chance to be apart of this specialized training that addresses the needs of industry professionals from up-and-coming managers to presidents and CEOs.
Join the conversation on 2018 SHOT Show events, exhibits and news and connect with other showgoers on the SHOT Show LinkedIn page. 
The California Senate Public Safety Committee will hear two firearm-related bills this week. SB 459, opposed by NSSF, would mandate state inspection of firearms retailers every two years and charge a fee to cover them. SB 710, supported by NSSF, would legalize possession of suppressors and their use for hunting.
NBC News recently posted a balanced report on why Americans buy and own modern sporting rifles that noted today's legal owners reject criticism pasted on them for the criminal actions of others. 
Shooting range owners and operators are responsible for all lead waste and materials derived from their range. Read NSSF's blog posts on understanding specific Compliance measures and tips to improve your on-site management.
​​​Keeping your store staffed with the right people means always being on the hunt for new talent. As an FFL, you face several challenges when seeking new staff. This advice will help you be better prepared for this process.

NSSF would like to remind its members that they can call its Retail Member Hotline toll-free at 855-FFL-NSSF (335-6773) for help regarding compliance, transactions, legislation or any other industry-related topic.

ATF Q&A: More great questions came in on our 24/7 NSSF member compliance hotline last week. One question asks, "If my FFL is going to expire soon, what steps do I have to take in order to renew my license in a timely manner?"
NSSF commissions a quarterly Hunting License Sales Index Report, which provides an unusually early preview of hunting license sales data. Log in to the NSSF online store and select the Industry Research link at the top of the screen to access the 2017 Q1-Q3 report.
The post Bullet Points – Weekly Firearms Industry Newsletter 1-9-2018 appeared first on ODU Magazine-North America's #1 Digital Fishing Magazine.