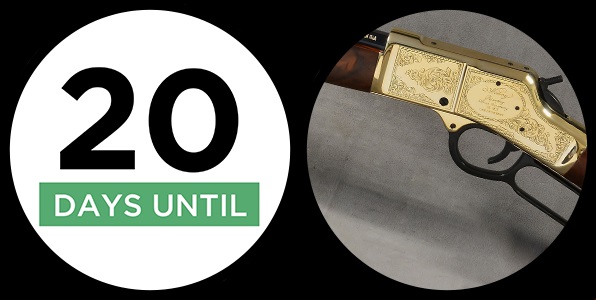 COUNTDOWN: 20 DAYS UNTIL SHOT SHOW . . . Are you ready for the 2018 SHOT Show? With only 20 days until the opening of the 2018 SHOT Show in Las Vegas, Jan. 23-26, now is the time to solidify your plans. If you haven't done so already book your travel now and download the SHOT Show app. Also register for educational seminars or other SHOT Week events at shotshow.org.
HENRY RIFLE TO BENEFIT PROJECT CHILDSAFE . . . The auction of a stunning, hand-engraved 20th Anniversary Edition Henry Big Boy .44 Magnum lever-action rifle will benefit the Project ChildSafe Foundation, a 501(c)(3) non-profit charity, and NSSF's Project ChildSafe program. If you are interested, the Henry Repeating Arms "20HENRY013" auction closes Jan. 7 on GunBroker.com.
Shot Show >>
More Gun Industry News
Gun buybacks are popular with municipal authorities but waste tax dollars. Now, some medical professionals are advocating them. The NSSF's Larry Keane takes on this attempt to recast gun control as a public health issue.
SHOT Week's Retailer Seminars offer advice and education from top-level speakers who can pass on their subject-matter expertise to retailers and range owners. See this year's seminar lineup here!
NSSF's "Behind the Firing Line" recognizes five-star ranges so that other ranges working to make the grade can discover ideas and guidance for their own improvement. We delve into the new security enhancements at the VRA range.
What a difference a sign makes! Highly visible signage detailing your FFL's physical security features can send the criminals to an easier target. Check out more FFL security tips here.

NSSF would like to remind its members that they can call our Retail Member Hotline toll-free at 855-FFL-NSSF (335-6773) for help regarding compliance, transactions, legislation or any other topic.

ATF Q&A: More great questions came in on our 24/7 NSSF member compliance hotline last week. One question asks, "Is a NICS background check valid for 30 days from when the check was initiated, or from when a 'proceed' is issued?"
The December 2017 NSSF-adjusted National Instant Criminal Background Check System (NICS) figure of 1,621,261 is a decrease of 12.2 percent compared to the December 2016 figure. Log in to see the full data.
The Outdoor Writers Association of America encourages outdoor communicators to submit applications by March 1 for the 2018 John Madson Fellowship, providing for educational opportunities to enhance communication skills.
The post Bullet Points – Weekly Firearms Industry Newsletter 1-5-2018 appeared first on ODU Magazine-North America's #1 Digital Fishing Magazine.