YouTube/ViralHog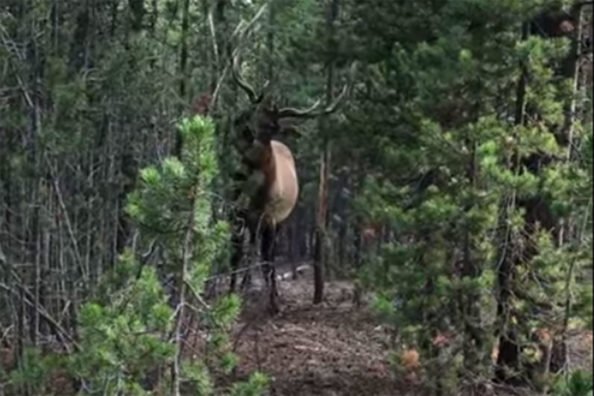 There's something about a huge bull elk rubbing its antlers on a tree that is mesmerizing.
This ViralHog video comes to us from Yellowstone National Park, where the camera operator captured the scene from behind their RV.
Bull elk are certainly some of the most famous inhabitants of Yellowstone, and the way this one was acting, you can pretty easily see why.
Watch for the swaying treetops close to the midpoint portion of the video, and you'll really get an idea of how strong these huge ungulates can be.
Scenes like this are tough to get on video, but this videographer was in the right place at the right time.
Rubbing in this fashion often occurs in the fall mating season, known colloquially as the rut, and it's done to show dominance or impress female cow elk. Antler rubbing can also happen just prior to the fall, when elk lose the velvet that covers their annually regrown rack. If you've ever seen an elk or deer shedding their velvet, you don't need an expert to tell you that it's probably itchy. It isn't tough to see how rubbing on a tree can be a relief.
For those of you entering the elk woods with intentions of a successful hunt, here's hoping you see something along these lines. And hey, if the elk is rubbing, then its attention is probably occupied enough for you to make a move.
When the time comes to stock up on elk hunting gear, you know what to do.

NEXT: TEENAGE GIRL DOWNS 40-POINT BUCK SCORING OVER 280 INCHES IN KANSAS YOUTH HUNT
WATCH
The post Bull Elk Goes Nuts Rubbing a Tree appeared first on Wide Open Spaces.