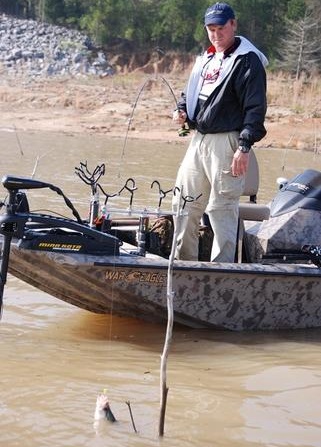 B'n'M Pro Staffer Kent Driscoll, like most crappie anglers, is looking forward to spring time crappie fishing while wondering when the rain is finally going to let up. Unlike most anglers, however, Driscoll doesn't believe that high, muddy water from excessive run-off is a bad thing.
Driscoll said above average rainfall may make area lakes a mess, but for the crappie who reside in them, it's just business as usual. Driscoll has some advice for crappie anglers wondering what to do.
"Go find the banks," he said. "Crappie love new water and they will move up in it and get closer to the bank even if it's still several weeks away from the spawn."
The fishing tactic he's going to use in high muddy water will vary depending on what kind of lake he is fishing and in what part of the country. For the most part, Driscoll prefers to spider rig troll, using eight B'n'M Buck's Graphite Jig Poles armed with single or double rigged jigs.
He said when crappie move in with new water, the next thing they look for is some good cover to hold on. In his experience, this is often hardwood trees, especially any hardwood that has tangles of vines or other heavy vegetation adjacent to it.
"Crappie love hardwoods, especially the males. It might not be time to spawn yet, but those males will seek out new structure that they can get to and the females will move in behind them," he said.
Continue read at B'n'M Pole Company here >>> https://www.bnmpoles.com/blogs/news/catching-crappie-in-high-muddy-water
Related articles:
The post B'n'M Pole Company – Catching Crappie in High Muddy Water appeared first on OutDoors Unlimited Media and Magazine.