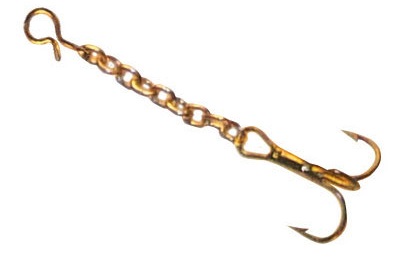 It's hard to imagine a more perfect ice-fishing combination. Start with fish-scale flash and vibration. Add in tantalizing little kicks, shakes and flutters. Now give the spoon enough heft to reach the fish-zone fast. (Flash, vibration and weight—all vital traits of a premium jigging spoon.) Completing the circle, hanging below, or more appropriately, dangling enticingly below is the real meat of the matter—the slick new BAIT-CHAIN DROPPER HOOK by the spoon artists at Northland Fishing Tackle®.
Gamefish flock to the glow of a Northland spoon, but closing the deal often calls for a little something extra – actual live bait. BAIT-CHAIN DROPPER HOOKS can be easily clipped to any weighted spoon, adding just the right incentive for turning reluctant sniffers into reckless killers. Fashioned with gold-plated, fine link chain, this strike-producing tool works in perfect harmony with the spoon, swinging, fluttering and delivering a chunk of meat straight into the jaws of heavyweight perch, crappies, walleyes and trout. When stubborn fish snub traditional spoons, it's time to clip on a BAIT-CHAIN DROPPER HOOK. Simply remove the treble hook, and snap one on to your BUCK-SHOT® RATTLE SPOON.
"When jumbo perch are giving me fits, there's only one solution," says TEAM NORTHLAND® Pro-Staff Chip Leer. "A gold-plated BAIT-CHAIN DROPPER HOOK is the key during a tough bite—it turns any spoon into a fish-catching machine. I can get down fast, attract 'em with flash, and subtly entice those jumbo striped beauties with a hunk of live bait. The dropper adds a little extra action to a minnow head, maggots or a live minnow, and the swinging chain makes it easy for passive fish to inhale the whole hook. No serious ice angler should be without an assortment of BAIT-CHAIN DROPPER HOOKS. They're the hottest concept on the ice!"
Constructed from premium gold-plated, fine link chain, Northland's new BAIT-CHAIN DROPPER HOOK is available in four length/hook combinations, each adorned with a versatile Mustad® Fast-Snap and a premium hook. Models include a 1-1/2-inch #8 single hook, 2-inch #6 single hook, 1-1/4-inch #14 treble and 1-3/4-inch #12 treble. Each of the four different length/size combinations comes in a handy 2-pack.
Contact:
For more information contact Northland Fishing Tackle® Inc., 1001 Naylor Drive SE, Bemidji, MN 56601. Phone is (218) 751-6723
The collection of innovative lures by Northland Fishing Tackle® is designed, tested and perfected by John Peterson and the legendary TEAM NORTHLAND® Pro Staff. They are an authority on fresh-water fishing and manufacture a complete line of jigs, live bait rigs, spinnerbaits and spoons; including the legendary JUNGLE JIG®, BUCK-SHOT® RATTLERS, JAW-BREAKER® SPOON, SLURPIES® Soft Plastics, and many others.
The post HAVE YOU SEEN NORTHLAND'S BAIT-CHAIN DROPPER HOOK appeared first on .