YouTube: North Flight Hunting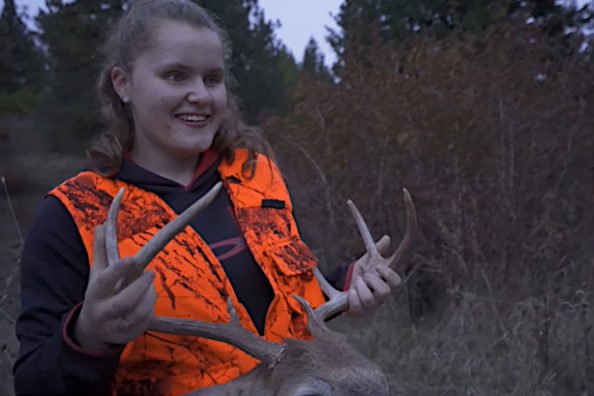 Blind people can hunt too!
It does not matter who you are or what hardships life may have dealt you. Hunting is for anyone and everyone who wants to try it. Even if a person has disabilities that may participation in the pursuit seemingly impossible. Well, with a little determination and help, anything is possible.
Case in point is Megan Weiler. Unfortunately, she had cancer when she was young and while treatments saved her life, they also left her completely blind. She was not about to let that stop her from hunting though.
In this video from North Flight Hunting, she teams with a guide service and her father to take her first whitetail ever. It turns out it is a dandy buck too!
Is someone cutting up onions in here? We swear we were not crying at the end of this one!
Seriously, this was one of the coolest hunting videos we have seen in a while. What a special moment for father and daughter to share. Especially with Megan overcoming such a great challenge to harvest a dandy buck. Watching her react to her buck for the first time was incredible.
We also appreciate a better look at one of the ways blind people go hunting. This was just one method. Another variation is to use scopes with cameras that allow an assistant who can see to tell the hunter where to move the rifle to make the shot. Many states also allow blind people to use laser sights to help them hunt.
Several years ago, in a previous job, I interviewed a blind man who shot an elk in Wyoming. Just like Megan, he was incredibly excited. It seems it does not matter whether you can see or not, the thrill of the hunt is the same even if you cannot see the animal you are harvesting. Congrats on your buck Megan, we hope you will harvest many more with that new rifle!
Products featured on Wide Open Spaces are independently selected by our editors. However, when you buy something through our links, we may earn a commission.
For more outdoor content from Travis Smola, be sure to follow him on Twitter and check out his Geocaching and Outdoors with Travis YouTube channels.
NEXT: THE AXIS DEER AND HOW THEY'RE IMPACTING PARTS OF THE UNITED STATES
WATCH
The post Blind Hunter Harvests Dandy Buck For Her First Deer Ever appeared first on Wide Open Spaces.