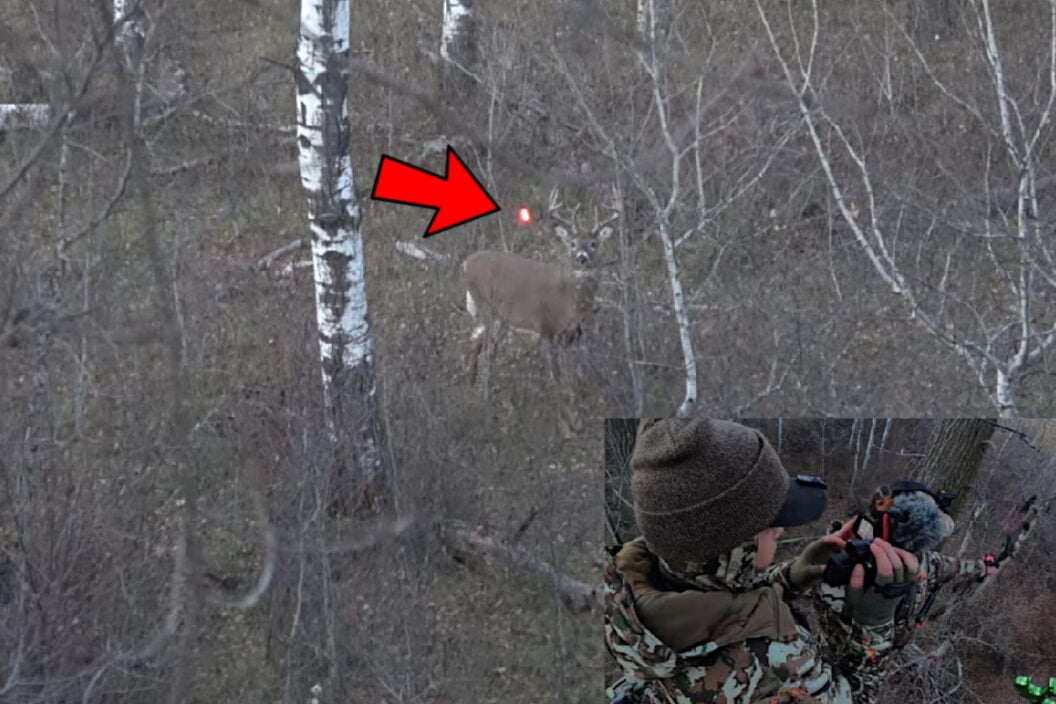 One of the toughest scenarios for a hunter to find themselves in is probably a mature buck who has taken up with a doe in heat. Unless that doe walks in front of you, you're going to have a hard time diverting his attention away. Which is just one aspect that makes this hunt featuring Josh and Taylor of Clearwater Outfitters so impressive. They're in a stand in an area that shows some prime buck sign when they spot a handsome 10-pointer. The only problem is, he's locked on a doe and doesn't show any signs of being interested in the hunter's location. That is until Josh puts together one of the most aggressive calling sequences we've ever seen. He does this a couple times to pull the buck back into range after it fails to give Taylor a shot opportunity.
There comes the second most impressive aspect of this hunt. When the buck finally gives Taylor a second shot opportunity, she makes the most of it with a perfect arching shot that looks to blow right through both lungs of the buck. It's a shot you need to see to truly appreciate.
It doesn't get much more exciting than this when it comes to bowhunting. It's always thrilling when a big buck responds to your calls. To have this big boy do it twice is something else altogether. That big boy was clearly very worried a rival was going to come in and steal his gal.
Even when he did come in, he didn't make it easy on Taylor. That was one heck of a shot to put right in the boilermaker of that buck. We're not surprised that buck didn't go very far after a shot like that. If only every shot went like that every single time. Congrats to Taylor on a most impressive buck and an incredibly memorable hunt!
For more outdoor content from Travis Smola, be sure to follow him on Twitter and Instagram For original videos, check out his Geocaching and Outdoors with Travis YouTube channels.
The post Big Buck Falls to Female Bowhunter After a Perfect Long Shot appeared first on Wide Open Spaces.