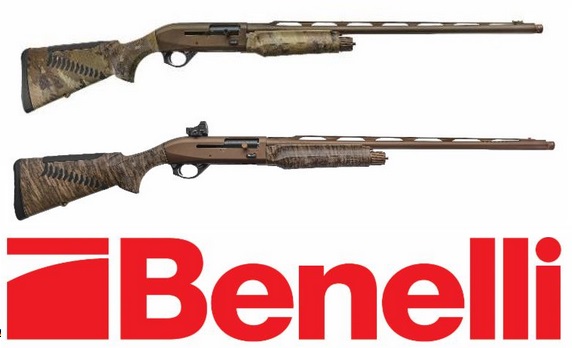 With new advancements in 20-gauge shotshell technology, hunters are turning to this versatile gauge in increasing numbers. Two new semi-automatic models from Benelli are the result of partnering with renowned shot pattern expert Rob Roberts to build species-specific 20-gauge shotguns with premium features and performance. Hunters now have the option to take tough waterfowl and big toms with the Performance Shop M2 Waterfowl shotgun and the Performance Shop M2 Turkey shotgun chambered in 20 gauge.
Both the Performance Shop M2 Turkey and Performance Shop M2 Waterfowl shotguns share lengthened forcing cones for more uniform patterns, enlarged bolt handle and custom bolt release lever for easy operation even with gloved hands. The shotguns are fitted with ComforTech buttstocks along with AirTouch checkering on the butt stock and forend for a sure grip in any weather. Both shotguns also take advantage of Benelli's Inertia Driven operating system for superb reliability.
Weighing just5.9 pounds, the Performance Shop M2 Waterfowl Shotgun features OPTIFADE Marsh Camo buttstock and forend that is complemented by the Cerakote Midnight Bronze receiver and barrel. An enlarged black bolt handle and custom bolt release lever have been added to the receiver for easier manipulation even with gloved hands. A Rob Roberts Triple Threat Choke System and five Benelli Crio chokes have been matched to the 28-inch barrel. The HiViz CompSight sits atop the end of the barrel for quick target acquisition. Drop and cast shims for a custom fit, oils, manual, choke wrench, Paracord sling and front sight inserts come standard with the shotgun.
The Performance M2 Turkey Shotgun weighs in at 5.7 pounds with a 24-inch barrel, which features EDM porting to minimize muzzle rise for quick follow-up shots and customized enlarged bolt release and custom bolt release lever for ease of use. A Burris Fast Fire II sight is fitted to each gun that is pre-sighted for out-of-the-box accuracy and ready for the field. A custom pattern analysis is included with each gun as well. The Cerakote Midnight Bronze receiver, mag cap and barrel pair with Mossy Oak Bottomlands Camo on the stock and forend to create a shotgun that blends into the surroundings. Five Benelli chokes accompany a RobRoberts XFT choke along with drop and cast shims for a custom fit.
Related articles:
The post Benelli 20-Gauge Models In M2 Waterfowl & M2 Turkey appeared first on OutDoors Unlimited Media and Magazine.