The Hunting Public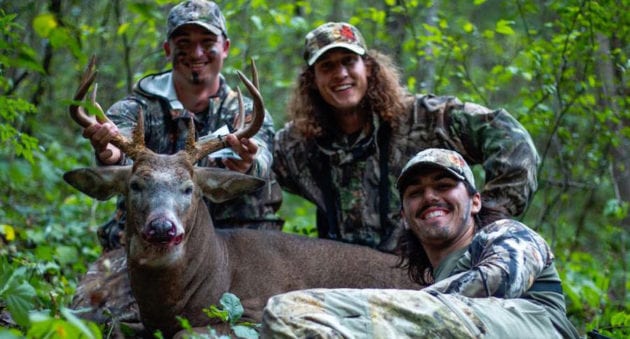 The Hunting Public is taking you through their YouTube Deer Tour series and bringing you the Public Land Hunting Challenge.
If you aren't a subscriber to The Hunting Public on YouTube, you've been missing out on some really great content. Not only do these guys hunt across the nation on mostly public land, they allow you to get inside and pick their brains.
We find YouTube channels all the time that show great hunting but focus more on products rather than the hunt. Unlike those shows, these guys are more about educating you, the viewer. Their hunting style is quite different, often hunting from the ground, near bedding areas and focusing more on the hunt than the trophy.
Recently, THP launched their deer hunting Public Land Challenge. This challenge brought together many hunters to some public land in Minnesota. Here they all spent six days learning and hunting the land. I won't spoil too much of what happens, but let's just say it looked like a great time.
My favorite part to the Public Land Challenge is these groups of hunters all had different strategies and tactics in their hunting excursions. Each hunter shared their way of deer hunting, why they did some of the things they did and overall just provided us with some real, down-home good hunting content.
With all this, we had to reach out to THP and ask them a few questions:
Wide Open Spaces: Where did the idea of the Public Land Challenge come from?
Aaron Warbritton (THP): The idea was brought to me by Dan Infalt (Hunting Beast Forum) last spring. We brainstormed together for several months on how to make it work, who to invite, where to hunt, etc.
How long do your Public Land Challenges last?
This particular challenge (Minnesota) lasted six days, but we discussed making it longer or shorter depending on the situation.
Can we expect to see more Public Land Challenges in the future? How about this year?
Yes. We plan to do at least one per fall during our Deer Tour. It's possible we do another this fall as we already have several other collaborations on schedule.
Who are you inviting, have you invited and look forward to having participate with you?
On this challenge, we invited several groups including The Hunting Beast, DIY Sportsman, The Hunting Public, Whitetail DNA and our friends at Legendary Whitetails. We're open to invite anyone so long as they can film their hunts and provide good information to the viewers.
What states might you be participating in for the Public Land Challenge?
We keep this a secret until the challenge begins, but we've discussed hunting Michigan, Pennsylvania, New Hampshire, Ohio, Missouri, Arkansas and several more.
Is there a winner or loser to this challenge?
No, not really. It's created for the viewers so they can see how different hunters approach the situation. Sharing camp with different hunters helps us all learn varying perspectives and it's pretty fun too.
In four sentences or less, what is the best advice you can give someone who wants to get out and try to either hunt public land or hunt in a Public Land Challenge?
Don't be intimidated. Public land gets a bad wrap for having no deer and too many hunters. In our experience we find that to be false. There are tons of good opportunities to hunt whitetails in nearly every state.
As you can see from our interview and the video above, these guys are all about the hunt, the hunting community and sharing their stories. All too often, in my own opinion, we get caught up in the "trophy" of the hunt. What did it score? How much did it weigh? How old was he? Why didn't you let him go?
Don't get me wrong, I practice a lot of these methods and do my fair share of passing younger deer for a bigger buck on both public and private land. One thing for sure and just the guys in The Hunting Public, when my group of buddies get together for our public-land hunts across the Northeast, the best part of the entire trips are the hunts and hunting camp.
The guys at The Hunting Public show a great example of what it means to enjoy hunting. With this mentality, we can continue to grow the sport and not force so many people away from it. When we show the camaraderie behind the hunt and have fun, we can recruit and retain more hunters.
Kudos to The Hunting Public and those who joined them for their first ever, Public Land Challenge. These guys have shown not only that public land offers great opportunities, but that success is measured by your experience and what you make of every hunt. Would you be up for the Public Land Challenge?
Like what you see here? You can read more articles by Dustin Prievo here. Follow him and his hunting team, Top Pin Outdoors, on Twitter, Facebook and Instagram.
NEXT: PUBLIC LAND HUNTING: 5 TIPS FOR DOING DEER DRIVES WITH A BOW
WATCH
The post Are You Up for the Public Land Challenge? appeared first on Wide Open Spaces.