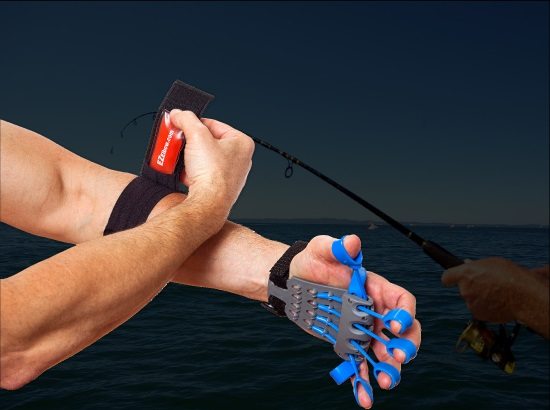 Angler's Elbow Pain Relief Kit – The Tackle Tech Report showcases some of the best products in fishing you might not have heard about. Included will be everything from upstart companies to innovative and finely-crafted lures and accessories from brands making a push in the North American and International fishing markets.
Fishing Shouldn't Hurt
Clinically FIT's Angler's Elbow Pain Relief Kit gets rid of the agony and pain in every cast
New York, NY – Anglers aren't the most forthcoming folk. Take, for example, the top tournament competitors while up on stage, supposedly spilling the beans about their day's successes. The specifics of the lure, color, depth, speed, type of structure, just to name a few, are knowingly left a little vague.
But there's one thing even the most tight-lipped angler doesn't mind sharing in detail with their buddies, and that's the aches and pains throughout their body. And there's one statement on soreness made by anglers more than any other…
"Man, is my elbow killing me!"
The fact is, angler's elbow (aka: tennis elbow) can be downright debilitating. Besides intense pain in the forearm just below the elbow, significant weakness can occur; where just holding a cup of coffee is painful. This means casting and hooksets are compromised, working your rod just right to animate the lure is painful, even impossible, and the ability to detect light bites are numbed with the chronic pain.
To say your game is off is an understatement.
This is where Clinically FIT comes into play. The New York-based company has developed a system to ease the pain of angler's elbow while concurrently rehabilitating your precious casting limb, and see many people pain free within 30 days of using the system according to the method outlined in the company's instructions.
"Angler's elbow [medically termed "Epicondylitis"] is basically micro tears and inflammation that occur over time in the extensor tendons near the bony protrusions on the inside or outside of the elbow," says Scott Kupferman, CEO of Clinically Fit Inc. "It can be very painful, to say the least. And people don't know what to do except wear one of those over-the-counter compression straps, take pain medicine or get cortisone injections; all which are only a bandage over the problem, eventually causing more issues down the road.
"And while it's true most cases of angler's elbow pain go away on their own, it has an average duration of 12 to 15 months. And who wants to hear their doctor say 'stop doing whatever causes the pain.' [Egad! That would mean no fishing!] No one, that's who."
With that, Clinically FIT's Elbow Pain Relief Kit has been specifically designed to treat anglers elbow pain by integrating the four essential components all injuries require for consistent accelerated healing. In order to heal from most injuries it's important to prevent further injury, treat the symptoms, address the cause of the problem and improve blood flow to deliver nutrients in the blood to the injured muscles and tendons accelerating the healing process and minimizing reoccurrences.
First, unlike all other elbow straps, the interchangeable compression platform of Clinically FIT's compression strap enables reusable, instant hands-free heat on the go, ice and acupressure therapy, so you don't have to stop fishing to feel immediate relief. It's manufactured using washable, skin-friendly materials, and has an integrated "Smart Tab" to eliminate the struggle people have putting on elbow straps.
Next is the innovative Xtensor Reverse Grip Hand Strengthener. Made in the USA, the Xtensor fits either hand, and is the device for developing forearm strength, which is needed to overcome the stress placed on your muscles while pitching, casting and setting hooks. Just place your fingers in the individual finger bands, adjust the tension and you're on your way to strengthening the correct forearm muscles and eliminating the problem – not just masking the pain. The technology built into the Xtensor allows your fingers to move through their own specific natural path of motion for correct joint alignment.
And great news for those attending the 2017 Bassmaster Classic in Huston, Texas, March 24 through 26, 2017… You'll be able to try out the entire Elbow Pain Relief Kit firsthand at Booth 1761 during the Bassmaster Classic Outdoors Expo, located at the George R. Brown Convention Center. It's free admission to the public, and will be open 12 p.m. to 8 p.m. Friday, March 24, as well as 10 a.m. to 7 p.m. Saturday and 10 a.m. to 4 p.m. Sunday.
Whether you fish for fun or are a diehard tournament angler, fishing shouldn't be painful. With a real and lasting solution to anglers elbow pain, you'll be able to cast, set the hook, and feel every light bite agony free.
Clinically Fit Inc. is a US manufacturer based in New York with a growing portfolio of performance therapy products. Hand Surgeons, Athletic Trainers, Rehab Experts and customers around the world use our products to improve strength, flexibility and performance or more effectively treat problems in the hands, wrists and elbows.
Call or Email us any questions: support@clinicallyfit.com or 631-881-0820
The post Angler's Elbow Pain Relief Kit – Elbow Pain Relief for Anglers appeared first on ODU Magazine-North America's #1 Digital Fishing Magazine.