The Alabama Hills National Scenic Area is located near the base of the Sierra Nevada mountain range and a couple miles east of the small town of Lone Pine, California. Dozens of natural arches are within easy walking distance from any of the trailheads. If some of these vistas look familiar, that might be because this area is a favorite location for Hollywood movies and television programs.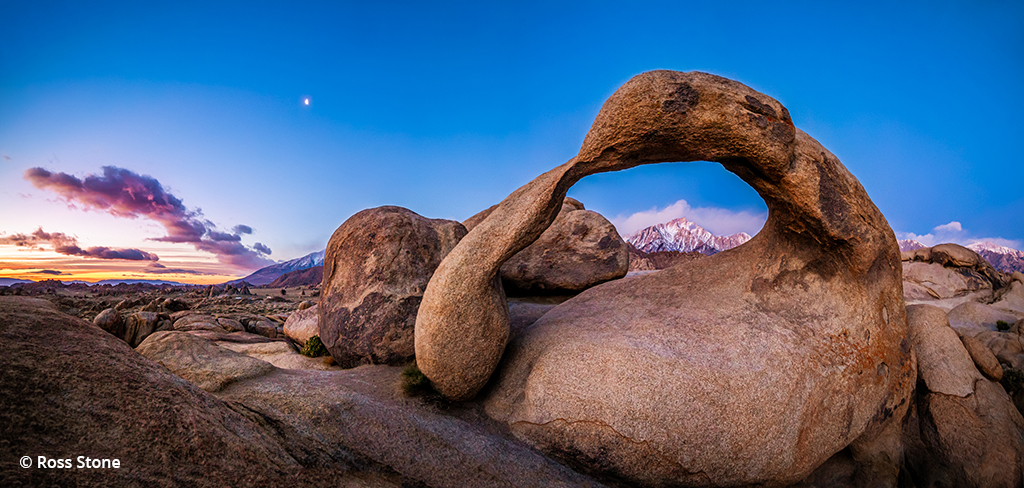 To the west of the Alabama Hills are the mighty Sierra Nevada mountain range and Mount Whitney, the tallest mountain peak in the contiguous United States. To the south of Whitney is Lone Pine Peak (centered in Mobius Arch in the photograph here), which is often mistaken for Mount Whitney because of how close the mountain appears compared to the farther-back Whitney.
Weather At Alabama Hills
Weather varies from season to season. Summer brings the thunderstorms and regular 100-plus-degree temperatures, so drink lots of water and try to stay cool. Winter temperatures can dip below freezing during the nighttime and early morning. Winter also has a chilling north wind that will suck the warmth from your body, so dressing in layers and having hand warmers will help out a lot.
Photo Experience
The photo you see wasn't my first choice for composition, but my original idea of photographing beautifully colored sunrise clouds over this arch was scrapped when the clouds didn't push over. It happens, and you've got to photograph what nature gives you.
I live nearby this location and visit often—so often that I have plenty of the classic compositions that everyone photographs while they're at the Mobius Arch. I wanted to try something completely different. I wanted to capture Lone Pine Peak centered in the Mobius Arch, the half-moon and the view to the south. I had a 10mm lens mounted on my Canon EOS 80D (approximately 16mm equivalent), and it still wasn't wide enough to capture the scene. So, I took four exposures and stitched them together in Lightroom.
I recommend bringing lenses that range from wide angle to telephoto for this location and that you try capturing the arch from every angle, from up-close wide angle to far down the trail with a medium telephoto.
Best Times To Visit
Every season is a great time to photograph the natural arches of the Alabama Hills, but sunrise in spring is my absolute favorite. There's still a good amount of snow on the mountains, small patches of wildflowers on the trail, the summer rush of visitors aren't there yet, and the alpenglow on Mount Whitney is beautiful. No matter the time of year you visit, you won't be disappointed with majestic views of the Sierra Nevada or the wonder of the natural arches.
Contact: Bureau of Land Management, blm.gov/visit/alabama-hills-national-scenic-area.
The post Alabama Hills National Scenic Area appeared first on Outdoor Photographer.