Taiftin/Getty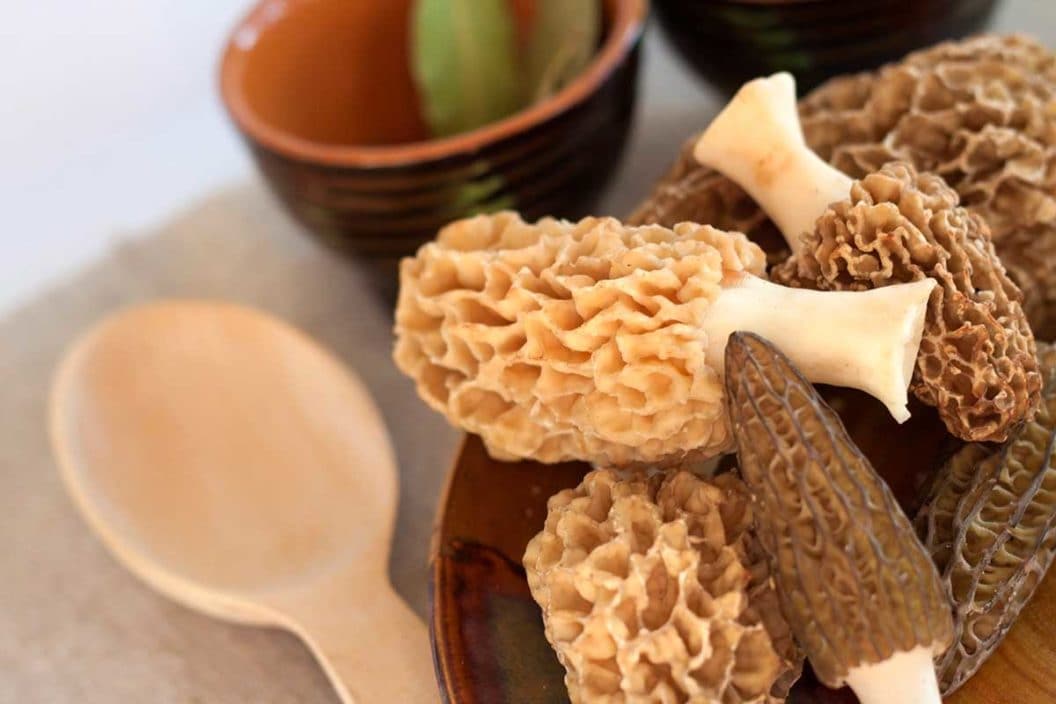 There's a lot to be said about gathering your own food from nature's bounty, and particularly popular finds such as the morel mushroom have certainly captured our hearts. People love the delicate texture and subtle flavors often described as "earthy" or "nutty," and they need to be handled with care when picking, washing, and preparing them because of their fragile makeup. Plus, they aren't exactly easy to find or purchase, so you want to do right by them. Most everyone agrees they're delicious, but we wanted to explore the possibilities of using an air fryer to cook them. That modern gadget taking kitchens by storm has really garnered a lot of attention lately, and it stands to reason we are curious about how they might turn out. Suffice to say, there are better choices in the mushroom department for making air-fried fungi, but if air frying a morel is really what you want to do, we'll advise you on the best practices.
Morel Mushrooms
Morel mushrooms are a distinct type of fungi that grow in the wild. These earthy, nutty and delectable mushrooms are not able to be cultivated or "farmed" by humans yet, at least not on a large scale. If you want to eat morels, you've got to get out and find them.
Morels are generally found in wooded areas throughout North America; warm and wet conditions are the best for their growth. Morels can also vary greatly in size and appearance. Even their shape can range from oblong to bulbous, and their color from blonde to gray, but one thing that never seems to change is the fact that they are delicious when cooked correctly.
They have a deep flavor and texture that is meaty but in a tender sort of way. Morels don't overpower dishes, and yet they stand above and apart, even during a meal with wild game meat, some find that the morels are the best bite.
Air Fried Morel Mushrooms
We'll look to the experts, and Cindy Gordon (aka Vegetarian Mamma) has found a way to use her air fryer to put a spin on our favorite fungi and make it even more delicious than ever before.
Her recipe is great and well worth trying out for yourself.
Air Fryer Morel Mushrooms Ingredients
20 medium to large morel mushrooms
4-6 oz of softened cream cheese
¾ cup of crushed crackers (or bread crumbs) of your choice
Air Fryer Morel Mushrooms Directions
1. Cut the stems off your morels and then gently wash them. Afterwards, you will need to create an opening inside of the morels.
2. Mix the softened cream cheese with two tbsp. of the crushed crackers. Use your fingers to gently stuff the holes and cavities of the mushrooms with the cream cheese and cracker mixture.
3. Roll the stuffed mushrooms in the remaining crushed crackers and then place the mushrooms into the air fryer basket.
4. Air fry the mushrooms at 370 degrees for 5-6 minutes.
Cindy also shares a few tips for those new to air fryers and morel mushrooms: "I prefer to boil my morels 1-3 minutes to help loosen any dirt or tiny critters (remember these are wild mushrooms) that might be hiding in the mushroom. You do not have to spray the mushrooms with oil, however by giving them a little spritz of oil, it helps the crushed cracker mixture to brown nicely and crisp up. Be sure to remove the air fryer basket mid way through and shake. This helps to prevent the air fryer morel mushrooms from sticking together and to the air fryer basket."
These Are Not Your Average Fried Mushrooms
Mushroom recipes come and go, but crispy, golden brown, air fried fresh morels are low in carbohydrates, cholesterol, and fat than all the others. (putting aside the fact that this recipe uses cream cheese)
Air frying is one one the newer and better ways to prepare foods without all the olive oil that comes with many fried foods. There are many air fryer recipes that avoid all of the sauteed, butter and oil ridden foods that decrease the health of our wild game, including morels.
As a comfort food or even as a side dish, air fried morels are great for the whole family. As it is, cook time of an air fryer recipe is generally the actual time, unlike waiting for the pressure to rise on your instant pot or for your oven to preheat.
As morels tend to grow in rich soil regions, they can come packed with decent amounts of Iron, Copper, Manganese, Phosphorus, Zinc, Vitamin D, Folate, Niacin, Riboflavin and a decent dose of Potassium, Magnesium, Calcium, Selenium, Thiamine, Vitamins E and B6.
Now it's off to the woods and fields of your region to discover these hard to find mushrooms and see what all the fuss is about, and if you are looking for the best way or ways, just go to the top of the page and type "morel mushrooms" into the search bar.
You won't be sorry.
Looking for a little more or even hot lunch for your hunting blind? Follow my webpage, or on Facebook and YouTube.
The post Air Fryer Morel Mushrooms Recipe appeared first on Wide Open Spaces.