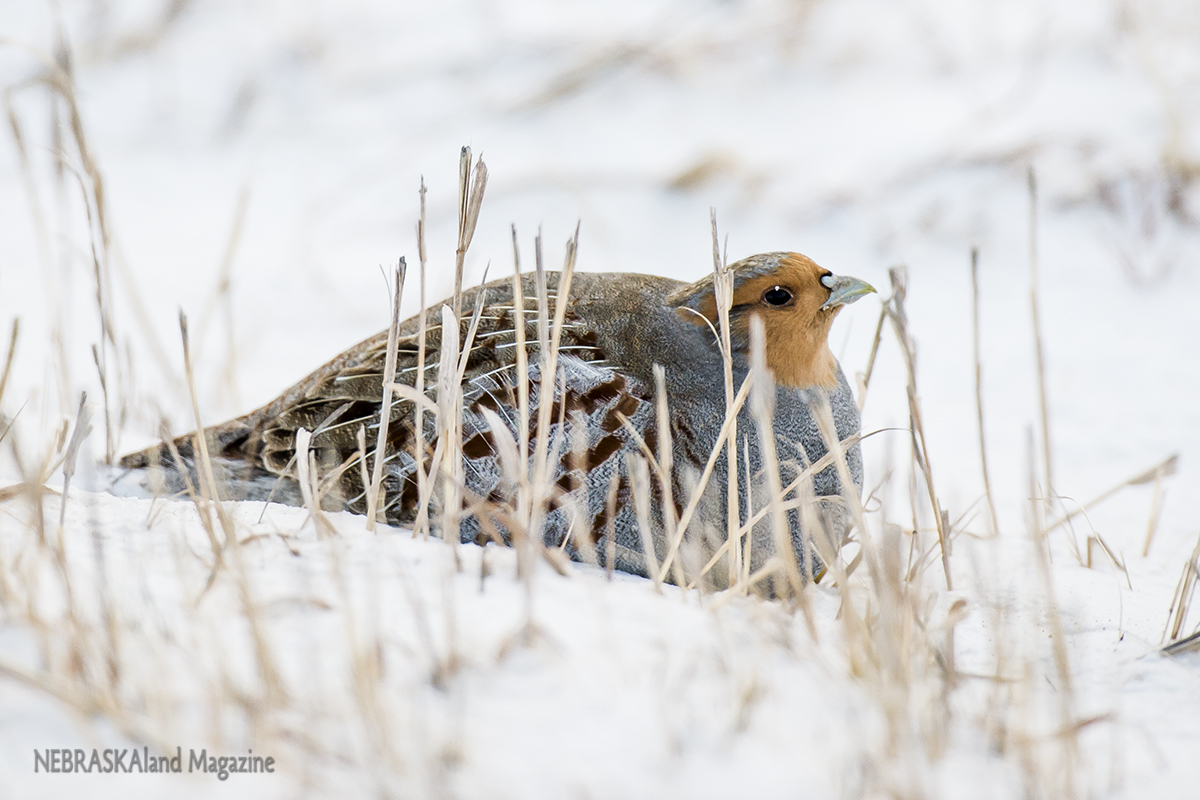 As the "12 Days of Christmas" nears, it seems fitting to pay tribute to the gift most often mentioned in the familiar tune of that same name. That, of course, would be the partridge that "my true love sent to me" over and over again.
While traveling a dirt road in northern Sheridan County in early December, I encountered the first partridge I have ever seen in the wild. I had heard of the gray partridge (Perdix perdix) residing in the area, so had a hunch I might be looking at one when catching glimpse of the rotund bird smaller than a grouse and larger than quail. It was not in a pear tree, as the song so suggests, but it was obligingly posing in a snow-covered scene appropriate for the holidays.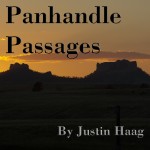 Known also as Hungarian partridges, or "huns," the birds have been present in Nebraska for more than a century but not often seen – especially this far west. Similar to ring-necked pheasants, they have been introduced on the northern Plains as a game bird. Natives of Eurasia, they prefer the right mix of grass and small grains on gently rolling hills void of trees. In certain regions of the continent, namely Alberta and northern North Dakota, the hardy species has become a populous and popular game bird. In Nebraska, you are most likely to see a wild one in the northeast.
The Nebraska Game and Parks Commission lists the Hungarian partridge among its small game species, and there are probably more of them in the state than a casual observer might think. The population, which is believed to fluctuate a great deal, spiked for a period in the 1980s and harvest peaked in 1987 at more than 11,000 birds. A hunting season for the species has been authorized in Nebraska since 1981.
Although not within the bird's core range, sightings occasionally occur as far west as Sioux and Scotts Bluff counties. A document provided to me by a coworker in Lincoln tells of an attempt to release them in Nebraska in Banner County, at the western edge of the Panhandle, in 1993. Our NEBRASKAland archive features at least nine articles about partridge species, some of which discuss introduction efforts, dating back to July 1929. That was just a few years after the magazine, named Outdoor Nebraska then, began publication.
Most of the birds bagged in Nebraska these days are from controlled shooting areas and the annual harvest hovers around about one-tenth of what it was at that 1987 peak. Nebraska has 21 permitted controlled shooting areas listing Hungarian partridge among species they are allowed to release for hunting, dog training and trials.  Not surprisingly, the 442 respondents to our upland survey who indicated they hunted partridge in Nebraska last year pales in comparison to the more than 35,000 in that survey who listed pheasants as a target species.
There is a permitted controlled shooting area listing Hungarian partridge a few miles from my sighting, but records indicate no partridges were released there in the past year. There is no real way to know if the partridge I photographed originated from captivity without killing or capturing it. The bird was located on the edge of what maps show as its introduced range, so I like to think it is a purely wild one.
If you are curious about other birds mentioned in the "12 Days of Christmas," here is a story that not only discusses each one but also features audio files of their calls. The author writes that the red-legged partridge is probably the species referred to in the song but that the gray partridge is a candidate.
Another related partridge species, the chukar (Alectoris chukar), prefers rockier habitat than that of the hun. It can also be found wild in western Nebraska and is stocked at controlled shooting areas at other points of the state. I have not encountered a wild one of those yet but look forward to the day I do.
On that note, may the coming year be filled with many bird sightings for you and yours – whether it be geese-a-laying, swans-a-swimming, or partridges in, or out of, pear trees.
The post A partridge for the holidays appeared first on NEBRASKALand Magazine.