Facebook: Chase McIver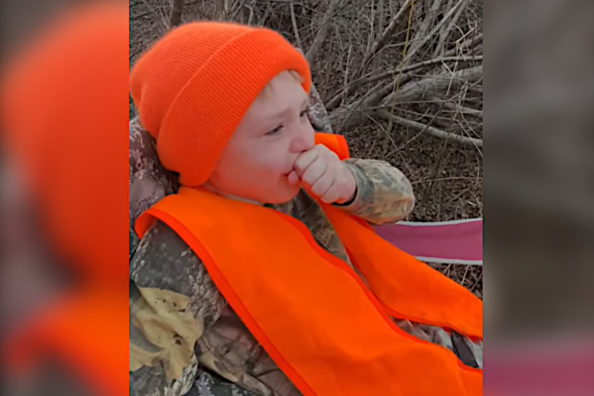 Hunting doesn't get much better than this reaction.
Everyone has fond memories of bagging their first buck. It's a rite of passage and a real emotional moment when you realize the deer is down finally. Everybody has a slightly different journey towards bagging that first buck. For some hunters it may come easily on their first hunt ever. For others, it may come after years of frustration and patience.
It's safe to say that 6-year-old Case McIver's journey to getting his first buck ever was a special one. See, this youngster has already faced some major life hurdles as a cancer survivor. We cannot imagine what that must have been like at such a young age.
It helps make for a special hunting video. In this clip Case has just knocked down his first buck ever. There's an immediate rush of emotions and the reaction is too good to miss. Break out the tissues for this one.

Someone must be cutting up onions in here. A whole box of them. Yeah, that's our story and we're sticking with it. Dad Chase McIver posted the video originally on his Facebook page with a phot of Case and his deer. The Internet took it from there and made the video viral. And why not, with all the ugly headlines in the news lately, it's nice to have something wholesome to enjoy for a change. After everything this little guy has been through, we imagine there was no better feeling for both Case and his family.
"First buck, and I wouldn't trade him for all 180s in Kansas," the original post reads.
We imagine this little guy is hooked on hunting for life after that. We're just glad there's a video to share such an awesome moment with the world. It certainly brightened our days quite a bit. Congratulations on your first buck Case, we hope to see you bag many more in the future!
Products featured on Wide Open Spaces are independently selected by our editors. However, when you buy something through our links, we may earn a commission.

For more outdoor content from Travis Smola, be sure to follow him on Twitter and check out his Geocaching and Outdoors with Travis YouTube channels.
NEXT: THE AXIS DEER AND HOW THEY'RE IMPACTING PARTS OF THE UNITED STATES
WATCH
The post 6-Year-Old Cancer Survivor Reacts to His First Buck in Emotional Moment appeared first on Wide Open Spaces.