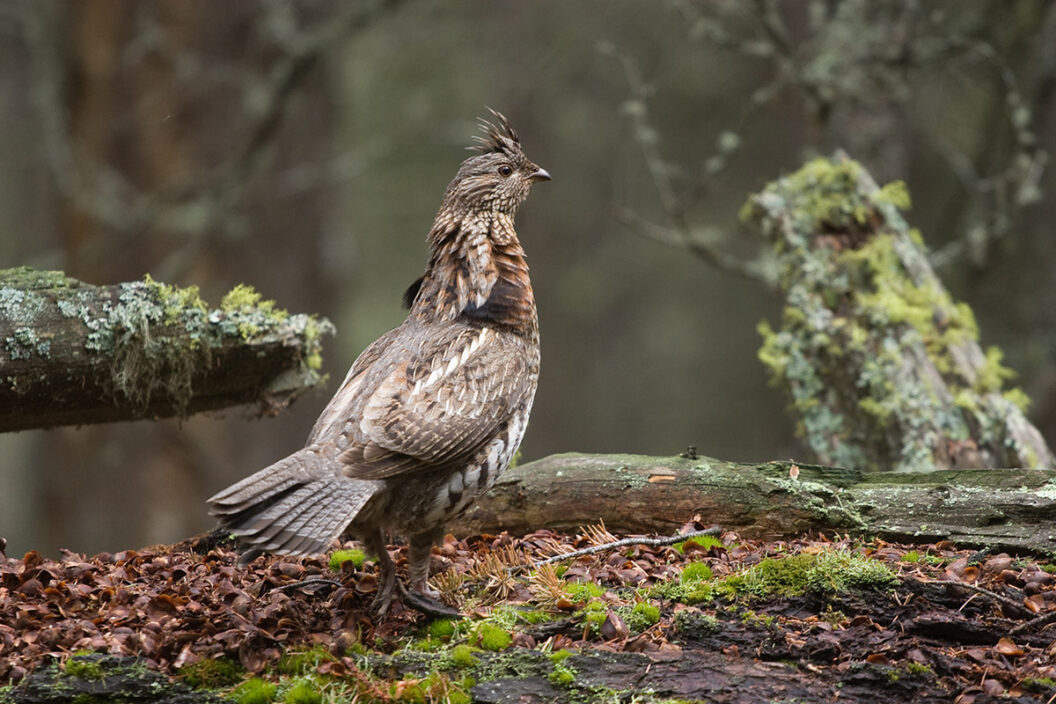 If you're searching for some of the best ruffed grouse hunting in the land then it should begin with one of these northern states where the thunderbird reigns supreme. We love our wild turkey hunting, pheasant hunting, and waterfowling when the seasons are open, but during the late fall and early winter when other game seasons are closed, it is the ruffed grouse that keeps us on the ball.
While the Bonasa umbellus is not a true partridge, it is called that nonetheless in parts of New England and sometimes in New York, but whatever your favorite name for it, this member of the grouse family is one of our favorite game birds. There are many varieties of grouse, and even though some don't have "grouse" in their name, there's a lot to love about all of them, especially being some of the best eating game birds there are.
These birds are strictly found in North America from Maine to the upper midwest and Canada, all the way to Alaska, but for those new to hunting this grouse, you'll know it the second that one launches in front of you. For some, ruffed grouse hunting is the only hunting there is, making it the revered game bird that it is and one of the most fun to hunt.
If we're being honest with ourselves, we need to address factors like West Nile virus mortality in grouse and declining numbers of both hunters and birds, but the ruffed grouse is an incredible foe in the woods where they exist. In the states and regions where grouse hunting is king, wildlife biologists and managers are on the cutting edge of grouse population management and continue to do all they can to increase hunting opportunities for everyone.
Maine
Maine has some of the most productive high-country grouse hunting in the Lower 48 with its thousands of acres of mixed growth forest, which produces as many birds as anywhere in the country. Historically, ruffed grouse are present around the state of Maine, but to a lesser extent in wilderness areas where the cover changes.
Some of the best ruffed grouse coverts and hunting stand side by side with some of Maine's best flyfishing opportunities. In this way, a multi-faceted outdoorsman could target brookies and landlocked salmon in the morning and grouse in the afternoon.
Minnesota
Since Minnesota is arguably one of the top grouse hunting states in the nation, one simple question might be where in the North Star State is the best grouse hunting? The easy answer is practically everywhere, but with so much good cover for the ruffed grouse to live and thrive in, you'll still want to do your homework.
Minnesota is replete with ruffed grouse management areas that range in size from 400 to 4,800 acres and almost 200 miles of hunting and hiking trails. Most of these areas are in the north to northeastern part of the state near the Canadian border, but as experienced grouse and woodcock hunters know, it is well worth the time and effort to get there.
Wisconsin
Wisconsin has some great grouse hunting opportunities, especially in the northern part of the state where ruffed grouse management is improving cover. Areas like Rusk County, Vilas County, and Oneida County are hunter's favorites with high concentrations of grouse, particularly on public land.
These forest preserves provide a diverse, high-quality habitat that has everything grouse need to flourish. Add to that the fact that you will have some of the most amazing fall foliage views, and right in the middle of timber that holds a heck of a lot of birds on large tracts of logged land that has good access.
Upper Peninsula, Michigan
If you're not starting to see a pattern yet, then bring up a map of the last two states we included here and you'll see that these regions share some common geographical areas. Hunters familiar with Michigan's grouse hunting will recognize the GEMS system (Grouse Enhanced Management Sites) which are situated inside of large tracts of land open to hunting in pristine young forest areas.
Both grouse and woodcock hunters will benefit from millions of acres open to public hunting and a respectable five bird daily limit when chasing these upland game birds. Michigan is also on the cutting edge of digital hunting with GPS points, licensing, and GEMs maps which can be saved right on your phone.
New Hampshire
Hunters can still find good hunting in the undeveloped forests of New Hampshire starting in early October and extending into the early winter. With a great mixture of hardwood forests and softwood brakes that make an ideal home for grouse, hunters have what they need to find the birds that are difficult to target in other states.
New Hampshire still actively manages timber production, making many early growth timber areas (which are so vital to the ruffed grouse's success) prime grouse cover. Not only that, but the phenomenal habitat where these birds live and thrive has been relatively uninterrupted for nearly 100 years.
With kudos to states like Vermont and New York, New Hampshire (and bordering Maine) boast large populations of ruffed grouse and routinely show bird takes during their open seasons in the hundreds of thousands.
Please check out my book "The Hunter's Way" from HarperCollins. Be sure to follow my webpage, or on Facebook and YouTube.
The post 5 Best Ruffed Grouse Hunting States appeared first on Wide Open Spaces.