Mossy Oak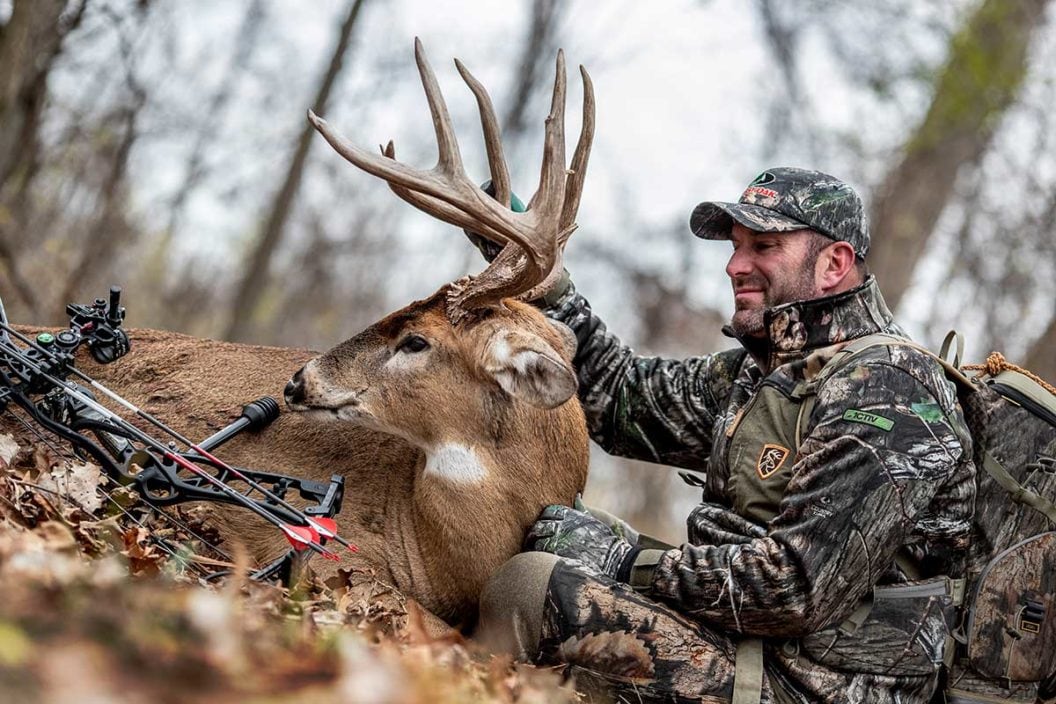 Editor's Note: Products featured on Wide Open Spaces are independently selected by our editors. However, when you buy something through our links, we may earn a commission.
The best hunting hat for you will serve multiple purposes, and there are some considerations you should make when picking one. Typically, there are four common styles of hunting hats: ball caps, beanies, boonies, and bombers. All of these styles will protect your head, but have different uses.
Fabric is an important consideration. For example, cotton is very breathable and suitable for warm weather. However, the downside to cotton is that when it gets wet, it won't keep you warm. Synthetic fibers are better for wet weather because they're quick drying, but they can hold odor. For that, there's merino wool which is odor-resistant and will keep you warm when wet. The downside to merino wool are that it can be itchy, so make sure it is made from high-quality merino wool. Weather is another important consideration: Fur hats are perfect for extreme cold. Hot sunny days, however, will likely call for a ball cap or a Boonie. An excellent waterproof or water-resistant Boonie hat may be perfect during rainy, cool days. Lastly, you should think about color. You want to make sure that you aren't wearing a hat (or any gear) that has any amount of white for deer season and red or blue for turkey season. You'll also need to consider if there are blaze orange requirements in your state.
Personally, I have two favorite styles that cover nearly all weather conditions: synthetic mesh ball caps and medium-weight merino wool or fleece camo beanies. I use these two styles from early to late season for upland, waterfowl, small game, and big game hunts. For me, this is the perfect combination for all of my hunts, but between the four options available, you should find one that works best for you. We rounded up our favorites below:
1. The Ball Cap
The ball cap is the most common style of hat. This hat will protect the front of your face from wind and rain, and will also protect you from the sun. I tend to stay pretty basic with my ball caps and wear something similar to this Mossy Oak hat.
2. The Beanie
The beanie is the perfect cold weather hat, because it doesn't provide sun protection to your face or neck but excels at keeping your head warm. I usually slap a beanie on my ball cap for chilly hunts. It doesn't get too cold in Georgia, so I stick with the Scent Lok midweight beanie. Not only does it keep me warm, but it also keeps my scent concealed. If you hunt farther north, it may be worth investing in a thicker beanie or a bomber hat.
3. The Bomber
Bombers excel at keeping your head warm in extreme cold weather conditions. These old-school trapper hats are popular among hunters in northern climates. When the temperature dips below zero, this is a great hat to have on your head. I also find that a neck gaiter paired with a ball cap and beanie can give a similar effect. This one is made from synthetic fur.
4. The Boonie
The Boonie excels at sun protection. Boonie hats can also provide some rain protection. They come in various brim sizes, styles, and designs. This is usually the hat you will see around the lake, but a Boonie is a good choice if you are hunting in warmer weather and moving around a lot. Measurements: Size: 7.75″, Brim: 2.56″, Head: 23.6″
5. The Genuine Fur Hat
A plaid aviator-style hat lined with rabbit fur might harken back to yesteryear, but it's been around all this time for a reason: it's a good kind of hat to wear hunting or otherwise. Go "flaps up" or "flaps down" depending on the conditions, and stay warm with the 85% acrylic/15% wool shell and polyester lining.
6. The 100% Merino Option
Similar to the Beanie but made out of 100% Merino, this wool hat has all the familiar traits that the material is known for, and it's reasonably priced as well. Luckily, there's a blaze orange option too if you're on public land, or just want to practice the utmost safety precautions.
The post 4 Types of Hats Every Hunter Should Own appeared first on Wide Open Spaces.