YouTube/SIONYX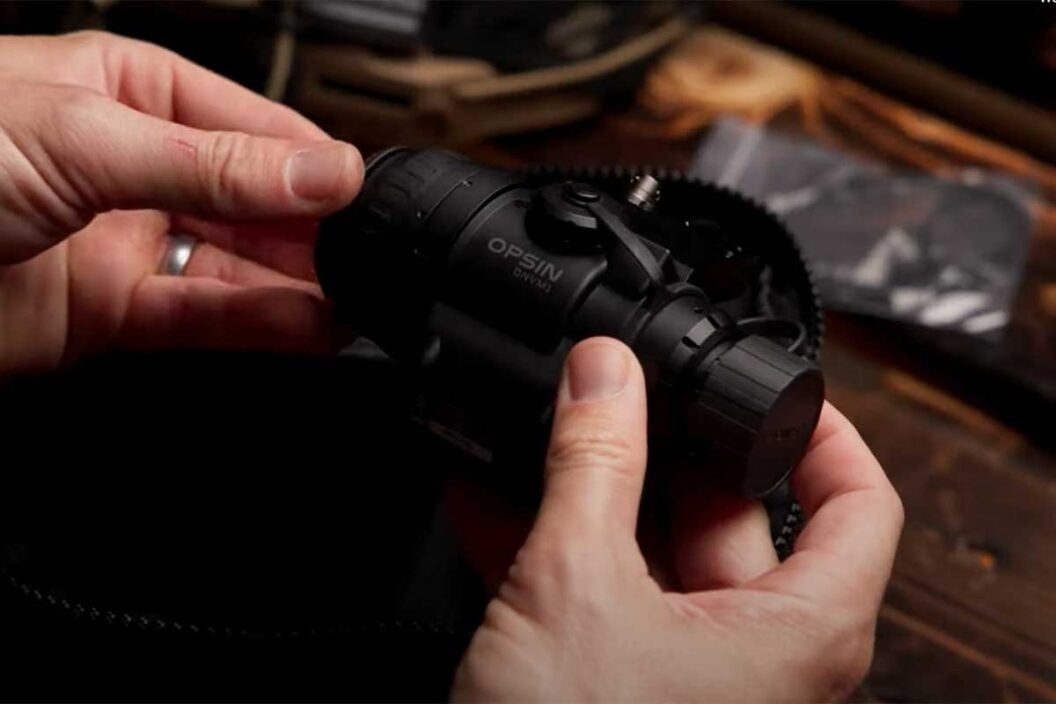 Leading optics manufactures are adding even more innovation to their lineups for 2023. From rangefinders to night vision monoculars, these are some of the most exciting new optics available this year.
Hawke Frontier LRF Binocular Line
Using high light transmission optics and a red OLED display, Hawke's new line of Frontier LRF Binoculars combine two important functions into one high-quality optic. The LRF provides incredibly accurate distance measurements with a simple push of a button and can switch between Distance, Rain, Hunt, Near, Horizontal Distance, and Angle modes. The binos feature a water-repellent lens coating and fully multi-coated lenses for sharp images in the field. An ergonomic design fits comfortably in the hands, while soft rubber body armor on the magnesium alloy chassis offers a smooth feel. These rangefinding binos run on a 3V CR2 battery and will automatically shut off after 15 seconds of inactivity to conserve power. Along with a package that includes a MOLLE system, adjustable bino harness, padded next strap, and stay-on lens covers, Frontier LRF Binoculars will be available in a 8×42 model for $1,329 and a 10×42 model for $1,439.
Maven RS3.2 Riflescope
The latest addition to Maven's elite RS lineup, this scope offers long-range performance at a great value. With a 50mm objective lens, the RS3.2 boasts a 5-30x magnification range plus a tool-less internal zero-stop for precision dialing. The elevation turret is larger and easier to adjust than ever before, and the scope also sports a new capped windage turret. The RS3.2's crystal-clear ED glass, smooth focus mechanism, precision-milled adjustments, and durable construction add up to reliable clarity and function in the field. Thanks to Maven's direct-to-consumer model, the RS3.2 riflescope is available for just $1,600.
SIG Optics KILO3K 6x22MM Rangefinder
Easy to use yet full of innovative features, the KILO3K is fit for any shooter. The rangefinder offers several different operation modes, including Line-Of-Sight (LOS), Angle Modified Range (AMR), Archery Mode (ARCH), Applied Ballistics Ultralight (BDX-U), and Applied Ballistics External (BDX-X). In BDX-U mode, the rangefinder can instantly calculate windage and elevation solutions based on the shooter's ballistic profile and environmental parameters. This data displays on the rangefinder but can also be sent to any paired BDX sight via Bluetooth for an exact aiming point. The KILO3K can also drop remote waypoints with the BaseMap app. The red OLED display works well even in low-light conditions, and the Lumatic display automatically calibrates brightness based on ambient light. The KILO3K is available for just $389.99.
SIONYX OPSIN Digital Night Vision Monocular
SIONYX teased the launch of its digital night vision monocular last year, but the tech is officially available heading into the 2023 SHOT Show. Featuring the company's XQE-1350 Black Silicon CMOS sensor, the OPSIN offers the ultimate low-light capability for a variety of applications. The monocular is equipped with an extra-large 1920×1080 HD micro-OLED display with custom eyepiece for 25mm eye relief, a 44-degree field of view, built-in navigation features, and up to 256 GB of storage for photo, video, and audio recordings. It allows for mounting customization and can run up to eight hours on a full battery charge. Extremely durable and IP67-rated for water resistance, the OPSIN is a worthwhile investment at $2,595.
The post 4 New Optics Making Their Debut in 2023 appeared first on Wide Open Spaces.