Wide Open Spaces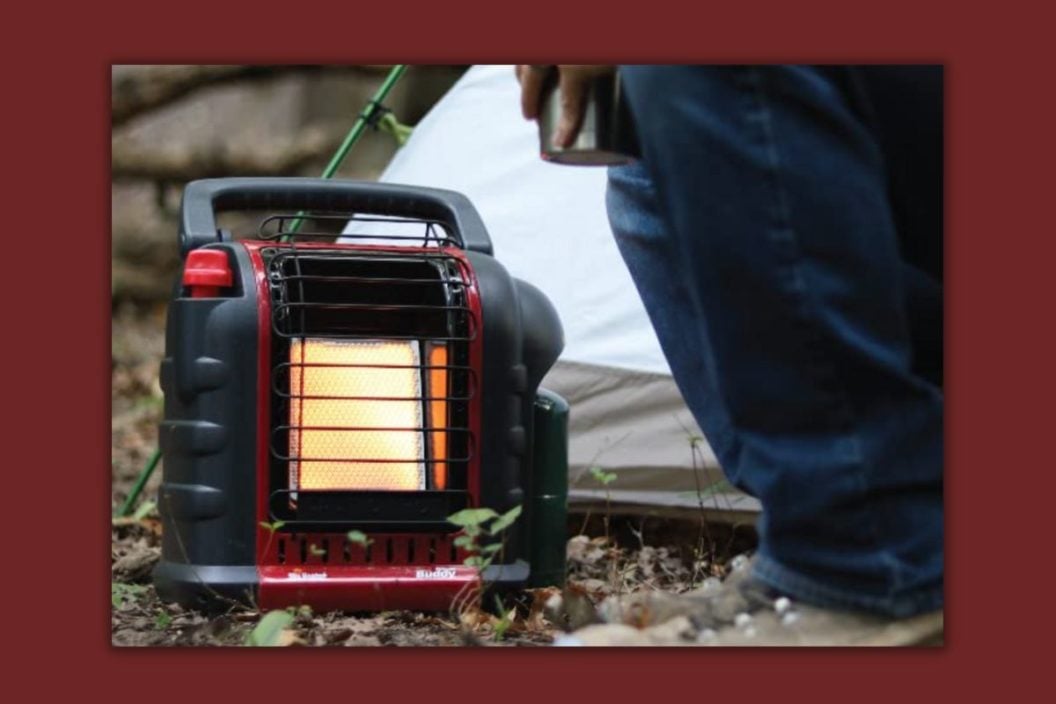 Products featured on Wide Open Spaces are independently selected by our editors. However, when you buy something through our links, we may earn a commission.
When coveralls, jackets, and gloves aren't cutting it in the hunting blind, it's time to get a hunting heater. The Mr. Heater Portable Buddy is a popular choice for hunters in cold climates. Mr. Heater has a line of many heaters covering various surfaces. They're perfect for tents and small spaces. The Buddy propane heater will make a great addition to your blind when you're freezing in your deer stand.
The hunting heater's safety features are perfect for using it in small spaces. Thanks to the safety shut-off, the Buddy heaters will turn off if tipped over. Another safety feature is the oxygen depletion sensor. With ODS technology, your Buddy portable heater will automatically shut off if it senses low oxygen levels. Customers love the Buddy heater and can attest that it provides years of comfortable indoor safe heat. Using a propane heater has never been easier.
Not only can you have it ready for hunting, camping, and fishing trips, but you can also use one in the case of an emergency. If there's a power outage during a winter storm in your area, the Mr. Heater will be a reliable source of heat.
These heaters don't cost much, are top-quality, and are loved by many outdoorspeople. See what the hype is all about.
1. Best for Small Spaces
Covers up to 225 square feet

It's a BTU liquid propane heater, so it's pretty much self-explanatory. Connect the portable hunting heater to a propane tank, pull out the swivel regulator, and twist the propane cylinder in. Rotate the knob to pilot and push. The integrated Piezo sparking mechanism will take care of the rest. With the purchase of a single hose, you can use a large 20-pound propane tank. Mr. Heater is the perfect solution for an indoor use space heater. Use it for ice fishing, camping, and even for a cold evening on the porch. It's extremely safe — there's an accidental tip-over switch function.
2. Best for Several Campers (or Hunters)
Covers up to 450 square feet

The Big Buddy heater is more expensive, but it can heat 450 square feet if needed. The built-in blower helps circulate air. With an automatic lox oxygen shut off system, it's also a safe propane gas heating option for indoor use. There are two heat settings: 4000 BTU and 9000.
Cyndy A. wrote: "This was the best camping investment I made. We went camping and the low was 30 degrees with wind for 3 nights. This kept the tent with my granddaughter and I so warm and toasty. Having it about two feet from the edge of the tent the wind picked up the side and knocked the heater over. The heater automatically shut off before it hit the ground. I put rocks to hold the tent down but this heater is well worth the money. It does use a lot of propane so best have a tank and not the one pound canisters for overnight. I had another catalytic heater which would let out a very small smell of propane and this one does not. If you camp in cold areas this is the heater for you. The best money ever spent on camping gear."
For smaller spaces, consider the Little Buddy. It can keep warm an area around 95 square feet. Great for one person or a tiny space.
3. A Favorite Amongst Hunters
Covers up to 300 square feet

Hunters are going to love this camo option for the blind. This heater runs off a 1-pound cylinder and connects to a 20-pound cylinder (with an optional hose and filter). It only weighs nine pounds and heats enclosed spaces like cabins up to 300 square feet. Hunters are going to stay warm and toasty all deer season long.
This post was originally published on October 14, 2019.
NEXT: HOW TO PACK FOR 3 DIFFERENT KINDS OF HUNTING TRIPS
The post 3 Mr. Heater Options for Hunting, Camping & More appeared first on Wide Open Spaces.