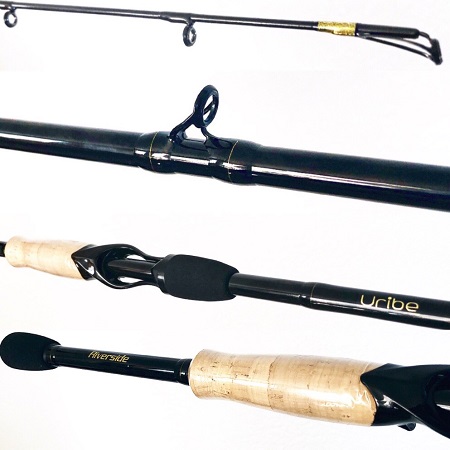 Uribe Fishing Products has introduced its new Riverside Series – a selection of custom quality bass rods that are incredibly lightweight, yet stronger and more durable than other rods in their class. 
The series includes three 7' 3" casting models engineered for outstanding castability, increased sensitivity, solid hooksets, and unsurpassed strength. Every Riverside Series rod boasts a proprietary blank design that features a high-strain blend of Toray carbon fibers fused with a technologically advanced nano resin that bonds completely around every fiber. This unique construction delivers superior hook-setting and fish-fighting power, while reducing rod weight to a mere 2.75 ounces.
Anglers can choose between the Riverside Series' M1 (8-15 lb., medium power/fast action), M2 (10-20 lb., medium-heavy/extra-fast action), and M3 (12-25 lb., heavy power/extra-fast action) models.  Each model features premium tangle-free guides with strong, corrosion-resistant frames and hard ceramic inserts capable of handling all monofilament and braided lines. The design and perfect placement of the guides ensure optimum performance for long, accurate casts. In addition, Riverside Series rods are equipped with high-quality AAA cork grips for sensitivity that's three times greater than EVA.
The Uribe Fishing Products team has incorporated its more than 40 years of combined experience in tournament competition into the design and development of these state-of-the-art bass rods. According to the company's CEO, Danny Uribe, the new Riverside Series rods offer tournament-grade quality at a surprisingly low price.
"Our goal was to build performance-based rods that the average bass angler can afford – and we succeeded," said Uribe. "By using only the best materials and components, we developed the lightest, strongest, most durable rods on the market at this price point. We also incorporated spiral-wrapped guides and perfected their placement, allowing for less friction and increased sensitivity while doubling the durability. I'm extremely proud of the Riverside Series, and I can't wait to introduce these rods to serious bass fishermen across the country."
Priced at $109.99 (MSRP), the new Uribe Riverside Series rods are available through authorized tackle dealers nationwide.  To learn more about the Riverside Series, or the complete Uribe Fishing Products lineup, visit www.uribefishing.com.
The post Uribe Performance Bass Rods – New appeared first on .