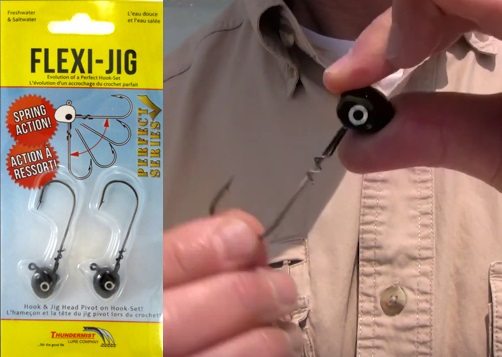 Upon setting the hook, the jig head is able to pivot up to 90 degrees, ultimately allowing the hook shank and the angler's fishing line to become in-line with each other. This results in a solid, direct, high-performance hook-set!
Strong, wide gap, sharp hooks

Great for both freshwater and saltwater

Black nickel hook

When setting the hook, the Flexi-Jig head and hook pivot up to 90 degrees, allowing for a high performance hook set

The hook will automatically spring back into position, ready for the next hook set

Each package contains (2) Flexi-Jigs or (1) Bucktail model Flexi-jig
Order Here – https://thundermistlures.com/products/flexi-jig?variant=39551209415
The Flexi-Jig is used in the same manner as any common jig, but the big difference occurs on the hook-set. The Flexi-Jig allows you to get a better hook-set, directly into the fish's mouth due to the changing of the hook angle when setting the hook – it's brilliant!
Save
The post Thundermist Lures Flexi-Jig Is A Game Changer For Sure (Video) appeared first on ODU Magazine-North America's #1 Digital Fishing Magazine.