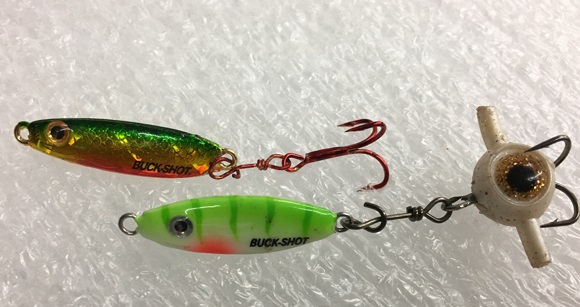 Natural baits like minnows and waxworms have been a staple of ice anglers for generations. In recent winters, however, artificial softbaits for ice fishing have risen from the realm of potential alternatives to become the go-to choice of hardcore anglers who want to catch the most fish possible on every trip.
A number of factors fueled this revolution. For starters, expansions in the number of products offered produced an amazing variety of shapes, sizes, actions and colors. Plus, thanks to ever-improving plastic formulations, modern softbaits also allow a much wider variety of jig strokes than live bait or old-school plastics, so you can experiment with everything from subtle undulations to erratic death throes to give the fish exactly what they want.
Adding to the attraction, a smorgasbord of enticing scents and flavors such as those in Northland Fishing Tackle's scientifically proven IMPULSE lineup help lure fish in and make them hold on longer once they strike. Further hastening live bait's demise as king of the ice, savvy rod makers created blanks specifically for working these cutting edge plastics so seductively, the fish can't say no.
If you're on board with the plastics program, you know the benefits and need never second-guess your decision to forgo live bait.
But if you're not riding the plastics wave, you're missing the boat—or in this case the fish house. Whatever species you're after, softbaits can help you put more fish on ice, while eliminating the hassles of buying, storing and transporting live bait. And it's not too late to get in the game. Plastics remain deadly fish-triggering options from the midwinter doldrums through the magical late-ice period.
Top picks for getting started include Northland's IMPULSE Minnow Head or Perch Eye, which are great for tipping spoons for walleyes, slab crappies, jumbo perch and more. On the panfish front, the company's IMPULSE Scud Bug, Skeleton Minnow, Bloodworm and other designs tempt tight-lipped bluegills, crappies and perch when other baits won't.
Whether you're a plastics diehard or new to the softbait scene, don't be afraid to experiment by trimming tails, shortening bodies and making other adjustments to fine-tune the presentation and write your own chapter in ice fishing's ongoing plastic revolution.
Based in Walker, Minnesota, noted fishing authority and outdoor communicator Chip Leer operates Fishing the WildSide, which offers a full suite of promotional, product development and consultation services. For more information, call (218) 547-4714 or email [email protected]
The post The Power Of Plastic For Ice Fishing appeared first on ODU Magazine-North America's #1 Digital Fishing Magazine.