The magic of this one-of-a-kind blade bait lies in it's distinctive, timeless construction. The Original 3/8 ounce is popularized by smashing freshwater largemouth and smallmouth bass. For over ten years it's success rates prove time and again this lure will land almost any fish due to its diverse features. From schooling fish frenzies to deep water targets we've got you covered. Most blade baits have limitations, SteelShad Lures do not and will endlessly perform as the go to weapon, year round in your local waters.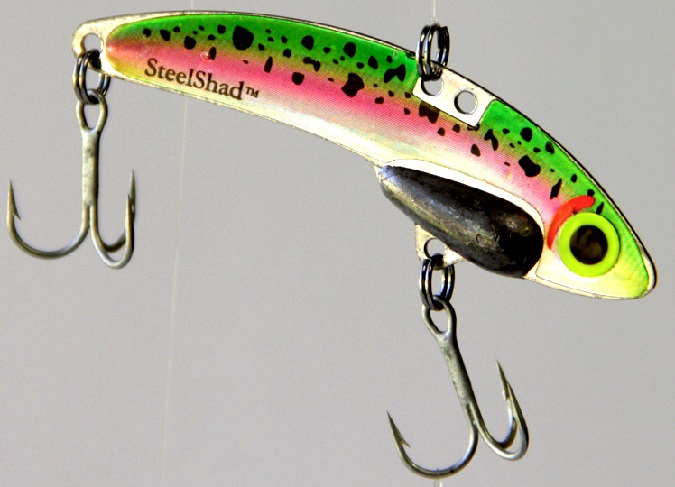 On September 4th, 2017 the SteelShad XL Series was released. This larger lure for larger game fish is now available in 5 colors and is nearly 4 inches long. The XL follows the footsteps of it's shorter, lighter bass catching brother and still delivers all the attraction of the Original- and more! The versatile XL was created with more powerful, louder, solid action in mind. It is just as malleable, weighted perfectly and offers more intense vibrating action!
If you do not have at least one SteelShad on hand in your tackle box you are missing out on the perfected version of a blade bait. As the name implies, SteelShad is the timeless stainless steel blade that imitates dying baitfish. Anglers take advantage of its dynamic steep stair-stepping action to reach zones where bass are holding and its actual rip and drop attracting effects in the shallows. Utilizing SteelShad to its full potential, year round in fresh and salt water of all depths will produce daily.
From ledge fishing to dominating schooling fish, generating strikes is key. No other blade bait can duplicate the intense vibration actions in both deep and shallow waters. As the best blade of its type this lure can run on the surface with no vibration limitations, offering an advantage other just can't. SteelShad's shorter, curved design and lighter weight will accommodate a variety fishing methods and allow for new techniques cast after cast.
Especially in shallow waters the direction and drop rate of the lure has to be controlled. This blade bait's lightweight, virtually indestructible stainless steel allows just that! Plus, with slight manipulation you can make your bait swim how you want it. Make it swim on either of its sides, on the surface, deep down or under weed and grass lines.
Conditions change often, we get that. It doesn't mean you have time to completely switch baits to alter to your ever changing targets.
Just bend it! Bending the lure will make all the difference in how it reacts.
Learn how on our How To & Tips page or subscribe to our YouTube channel to Watch how
The post WHY USE STEELSHAD LURES appeared first on ODU Magazine-North America's #1 Digital Fishing Magazine.