Photo via: LaurasWildKitchen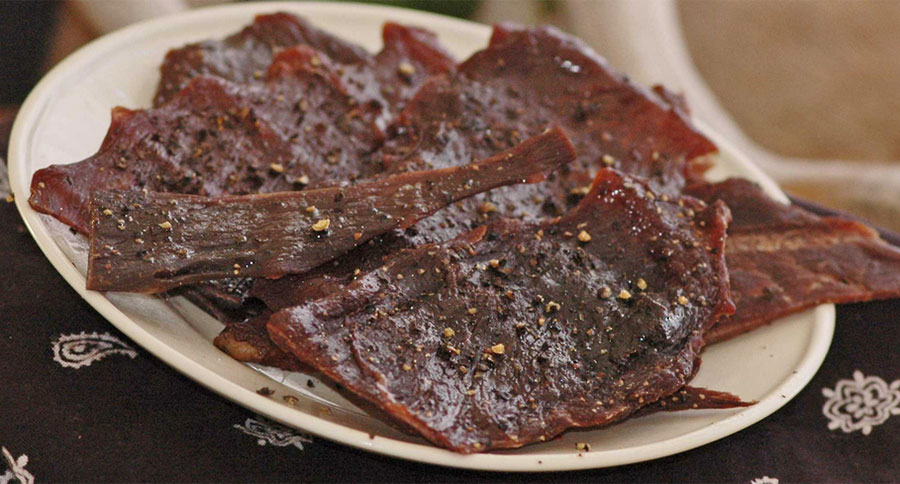 Don't get cute with your venison jerky recipes; stick with something proven like this one.
Most hunters love to eat the meat they have themselves hunted, and there's no doubt that deer jerky appears near the top of the list of their favorites.
While the cuisine craze that has taken over the world of online recipes continues to influence even the most basic dishes (bacon-infused ice cream, anyone?), sometimes keeping things basic with common ingredients and avoiding extensive preparation and cooking procedures just makes sense.
After all, if you're making something like jerky, you don't want to get caught up in extreme flavors and take away from the great taste of venison or elk meat.
To all the passionate hunters, try this tasty recipe of marinated venison or elk jerky, and keep it simple. Feel free to add more complex ingredients if you wish, but the basis of a good jerky marinade starts with these essentials.
Here's hoping your fall hunting season is successful enough to provide you with plenty of meat to make jerky with.
Marinaded Venison or Elk Jerky
Ingredients
For every 1 pound of venison or elk meat, you will need:
4 tbsp. soy sauce
4 tbsp. Worcestershire sauce
1 tbsp. ketchup
¼ tsp. ground black pepper
1 large or 2 small fresh garlic cloves, pressed or ¼ tsp. garlic powder
¼ tsp. onion powder
¾ tsp kosher salt
red pepper flakes to taste
Directions
Using a sharp knife, slice your elk or venison into ¼-inch pieces. If you want softer jerky, slice it across the grain (it helps if it is still partially frozen), or if you like chewier jerky, slice it with the grain (it will need to be totally defrosted for this).
In a large bowl or pan combine the marinade and pour it over the meat. Cover with foil and place it in the fridge overnight or up to 24 hours, stirring it occasionally to make sure all the meat stays covered by the marinade.
Drain the marinade from the meat and discard.
Place the jerky slices on dehydrator trays so that they are not touching.  Set the dehydrator to 155° and dehydrate for about 6-12 hours.
Check the jerky periodically to see that it does not get over-dried. It is done when it is completely dry yet still pliable, not crumbly.
The jerky should be stored securely, preferably in a zip lock bag, and eaten within a month if it isn't frozen. Note that drying the jerky slightly longer keeps it better longer, but is harder to chew.
Leave us a comment if you have other venison jerky suggestions.
NEXT: 8 DELICIOUS WILD BOAR RECIPES
The post The Only Venison Jerky Recipe You'll Ever Need appeared first on Wide Open Spaces.