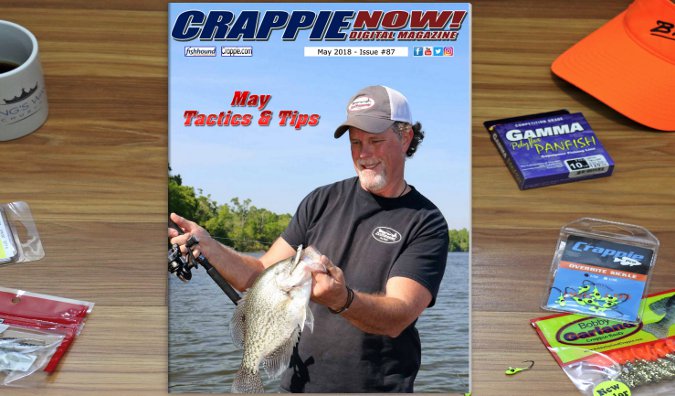 May is prime time in the north and a good time for active post-spawn crappie in the south. The CrappieNow May issue discusses tactics and places for crappie success.  
 

Opening Cast

Studying tournament fishermen has complicated my life. I remember a simpler time when I knew what to take fishing. A trip consisted of grabbing my Zebco 33 and tin can…

 

Get the Drop On Crappie

By John Neporadny Jr.   Barry Morrow was fishing a tournament at Stockton Lake in Missouri, when he discovered a bass fishing finesse technique also triggered strikes from finicky crappie.…

 

Crappie Gear – Driftmaster

by Tim Huffman             David Baynard, a second-generation rod holder guru with Driftmaster (Black River Tools), continues to pave the way to more efficient, comfortable fishing. Baynard, who is on…

 

Crappie Basics 161: Shallow Water

Many fishermen believe shallow water is good only in the spring. In some waters, that may be the case. However, the majority of lakes and rivers have crappie in shallow…

 

Elmore County Crappie & Catfish Camp

  "Lake Jordan is one of our greatest tourist attractions and we feel it's one of the most beautiful lakes in Alabama," says Elmore County Commissioner, Mack Daughtery. "It has…

 

Working Sharp Corners

by Vic Attardo As I kid, I never hung out on street corners. Of course, where I came from in farm country, street corners were rarer than brown cows that…

 

 

Tip of the Month: Power Trolling

by John Harrison   Fishing can be good here at Grenada after the spawn. Late May and early June can be an excellent time. We catch numbers of fish by…

 

Crappie Gear – Lew's Wally Marshall Signature Series Crappie Rods

Wally Marshall Signature Series Crappie Rods were designed as sensitive jigging poles. They are great for this technique but they also have a following with the slow troll (spider rigging)…

 

American Crappie Trail – Ross Barnett

How Did the Top Teams Catch Their Fish by Ron Wong Stained to muddy water greeted the American Crappie Trail anglers at Ross Barnett Lake (better known as The Rez). …
The post Crappie NOW – FREE Digital Magazine – May 2018 appeared first on ODU Magazine-North America's #1 Digital Fishing Magazine.