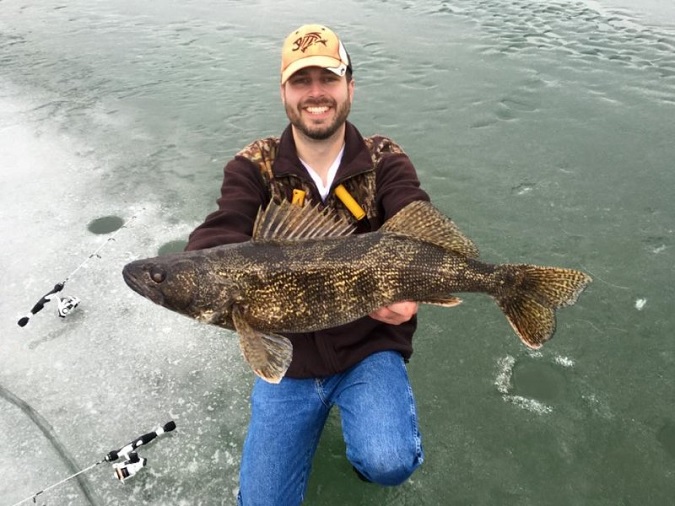 Ice fishing might not be a winter activity that first comes to mind to many Ohioans, but opportunities do exist to enjoy quality fishing on some of Ohio's reservoirs this winter. While relatively short and inconsistent winters may discourage some Ohio anglers from trying the sport, ice fishingcan be as simple as you want it to be, and new anglers can try it with a minimal investment in equipment. Some may view ice fishing as simply a way to pass time in the winter months, but some of the best catches of the year can be made through the ice, and some anglers look forward to ice fishing all year.
The primary species available to ice anglers in inland Ohio waters include saugeye and walleye, crappies, bluegill, largemouth bass, channel catfish, and yellow perch. Indian Lake and Buckeye Lake are prime waters to target saugeyes, bluegills, and crappies, and Buckeye Lake sometimes yields catches of hybrid striped bass. Mosquito Lake in Northeast Ohio is popular for walleye and panfish. Some of the upground reservoirs in Northwest Ohio are popular with locals for yellow perch, walleye, and saugeye. Largemouth bass and bluegill are found in farm ponds across Ohio and provide excellent ice fishing. Channel catfish are encountered in many of the waters listed above and can provide excitement through the ice.
The easiest and safest way to get started is to go with an experienced ice angler. If this option is not available you can still get started on your own as long as you use caution and common sense. Safety should be the primary concern for anyone venturing onto the ice. You should always bring a friend, and try to stay near other anglers. It is always a good idea to wear a life jacket and carry a length of rope. You can buy ice picks that are worm around your neck so they are easy to reach in case you fall through and need to pull yourself out. A spud bar makes a good tool to test the ice thickness as you travel. About four inches of clear ice (clear ice is the strongest) is generally considered safe for fishing.
Basic equipment to get started includes a hand auger, a set of tip-ups (Ohio regulations allow six per angler), a skimmer (ladle-like tool used to keep your hole clear of ice), and a sled to haul your gear in. Avoid large-diameter hand augers (bigger holes require more effort to cut); a six inch auger is ideal for most inland fishing. Most species can be caught on tip-ups baited with small minnows. Tip-ups are generally best set near bottom, although you can set them at different depths until you catch fish. Crappies are particularly known to be caught at all depths. Use a small split shot as a marker on your line so you can quickly return to the same depth when you catch a fish. Bluegills are best targeted with a light jigging rod and tiny jigs tipped with maggots or waxworms. The lightest rods with the softest tips are best for detecting bites, and 4 lb monofilament line or lighter should be used. Don't be surprised if a big largemouth grabs your bluegill jig!
Ice fishing is a great way to enjoy the outdoors in the winter, and it's hard to beat the taste of fresh fish caught through the ice! If this winter is anything like last winter, make the most of it and enjoy the quality ice fishing opportunities Ohio has to offer. You may find yourself looking forward to winter in the future.
By Stephen Tyszko, Fisheries Biologist
The post Ohio Div. Of Wildlife – Inland Ice Fishing Tips appeared first on .