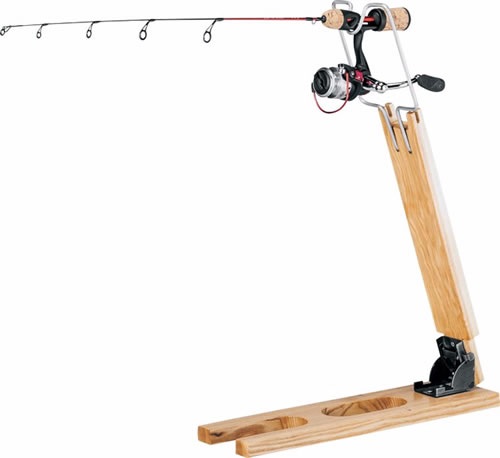 HT ENTERPRISES, INC., continues to grow their revolutionary line-up of premium ice tackle with an all-new innovation:  The Little Jigger 2 in 1 Tip-Down.
Like any premium tip-down, this deluxe system offers a delicately balanced fulcrum point.  When a light biting fish takes your bait and begins moving away, this perfectly balanced system gingerly "tips down" toward the biting fish as line glides effortlessly off the reel.
But note:  This is no ordinary design!  What's different about the Little Jigger 2 in 1 model?  You can use either a traditional jig pole style combo, or, by switching out a simple wire insert on the upright, change over and incorporate any standard spinning combo of your choice!   Note spinning combos are not locked in place and therefore easily removed, allowing you to set the hook and fight biting fish, without delay.
The Little Jigger 2 in 1 tip-down also features a stable, durable wood base that folds for convenient transport and storage, and an adjustable, locking upright that allows multiple placement settings to position your rod at the precisely desired angle, making the Little Jigger 2 in 1 what many serious ice anglers might call the ultimate in tip-down technology. 
For more information, write: HT Enterprises, Inc., P.O. Box 909, Campbellsport, WI, 53010, or visit WWW.ICEFISH.COM.
The post HT'S NEW LITTLE JIGGER 2 IN 1 TIP-DOWN appeared first on ODU Magazine-North America's #1 Digital Fishing Magazine.