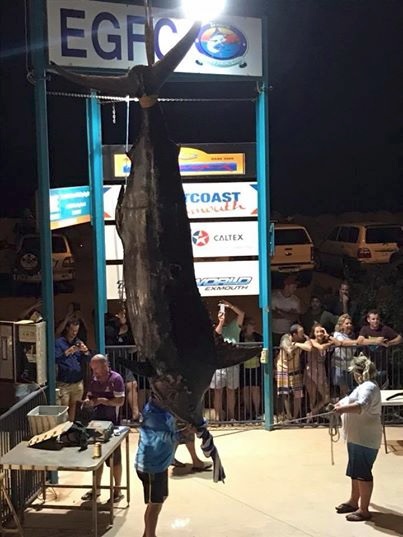 A charter fishing team landed a massive blue marlin that broke the country's size record by weighing in at 1,089 pounds. Eddy Lawler of Peak Sportfishing Adventures went out on his 36-foot boat, the Black Marlin with a crew including angler Clay Hilbert on Monday and the team managed to haul a 1,089-pound blue marlin back to shore.
The marlin beat the previous Australian record for a blue marlin catch — 996 pounds, which was set by Melanie Kisbee in 1999.
The Exmouth Game Fishing Club posted a photo of the record-breaking marlin to Facebook.
"This is a fish that will cement Exmouth's reputation as a world-class Marlin fishery," recreational fishing group RecFishWest said in a statement. "Marlin are extremely fast growing, with a fish of this size estimated to be about 15 years old. Its exact age will be determined by removing its ear bone, which contains growth rings, similar to those found on trees."
The post Fishing crew lands 1,089-pound blue marlin appeared first on ODU Magazine-North America's #1 Digital Fishing Magazine.