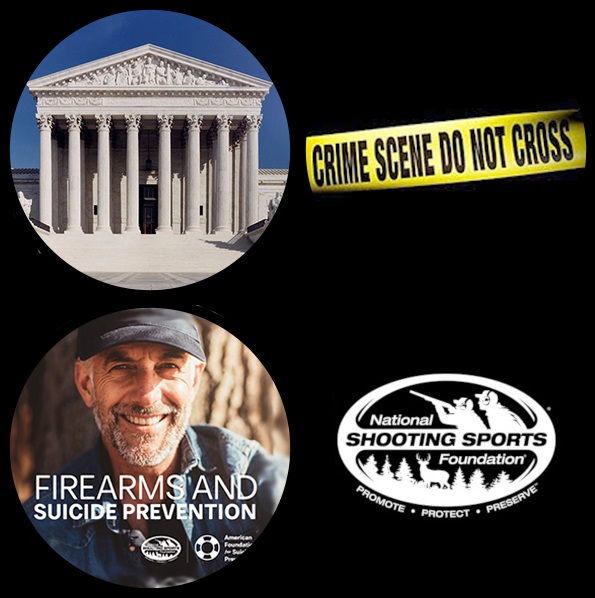 HOUSE GUN CONTROL HEARING THIS WEEK … The U.S. House of Representatives Judiciary Committee chaired by Rep. Jerrold Nadler (D-N.Y.) will hold a hearing on "gun violence" Wednesday, the first such session since Democrats regained House control. The first committee vote, which we are being told will not come until later this month, will likely be H.R. 8, a bill expanding background checks, introduced by Rep. Mike Thompson (D-Calif.). NSSF® will keep you informed.
WORKING TO PREVENT, NOT EXPLOIT TRAGEDIES … Those in the firearms industry are on the front lines every day working to keep guns out of the hands of those who should not have them. Gun control advocates, whether elected officials and their staffs or the paid professionals of gun control lobbying organizations, meanwhile, are prepared to take advantage of the next tragedy. Read NSSF President Joe Bartozzi's blog post.
VA PARTNERS WITH NSSF … The U.S. Department of Veterans Affairs announced last week that it recently formalized partnerships with NSSF and the American Foundation for Suicide Prevention. Effective last November, NSSF began working with VA to help communities create coalitions around promoting and sustaining firearm safety with an emphasis on service members, Veterans and their families. NSSF and AFSP have an existing suicide prevention partnership.
Related NSSF Articles:
Without hearings or public input, the New York General Assembly at the behest of Gov. Cuomo took just two days to pass a package of gun control laws that takes aim at law-abiding gun owners and federally licensed retailers.
Citing the Protection of Lawful Commerce in Arms Act, a Pennsylvania court dismissed a lawsuit against Springfield Armory and a retailer filed by the Brady Center and arising from criminal misuse of a lawfully sold firearm.

Virginia Senate and House committees voted down more gun control measures proposed by Gov. Ralph Northam, whose time in office may be limited due to the racial insensitivity of a yearbook photo.

In this month's Behind the Firing Line column Doug Thurmon, General Manager of the Nardis Gun Club in San Antonio, Texas, shares how this NSSF Five-Star Range is adopting profitable retail practices and stabilizing profits.
Richard Sprague, owner of Sprague's Sports in Yuma Arizona, says hosting NSSF First Shots events should be a top priority for ranges. He feels it diversifies their customer outreach and helps create loyal customers.
​​​​ATF Q&A: More great questions came in on our 24/7 NSSF Member Compliance Hotline last week. One question asks, "Can a licensee transfer a firearm to a person who marked 'Yes' to a prohibitive question in Block 11 of the ATF F 4473?"
The latest Firearms and Ammunition Excise Tax Collection report released by the TTB (Third Calendar Quarter 2018) is posted in the NSSF portal. Members can log in to view detailed data on quarterly excise taxes.
The December edition (login required) of the NSSF Survey Tracker report has been released, featuring top-selling brands of firearms, optics, shotgun ammunition, balls, bullets/shot, as well as responses to reloading questions.
The 2018 hunting seasons in New York tallied the lowest number of recorded hunting-related shooting incidents and tied the 2016 mark as the safest on record, the Department of Environmental Conservation reports.
Whether you were on the show floor in Las Vegas or following the action from home, the 2019 SHOT Show® featured some key moments you'll want to make sure you didn't miss.
NSSF's training session in Hartford, Conn., to be conducted with the Commerce Department's Bureau of Industry and Security (BIS) has been rescheduled to Monday, Feb. 25. The full day of NSSF-BIS joint presentations will focus on the transition of firearms, ammunition, and accessories from control under the State Department's Directorate of Defense Trade Controls (DDTC), to the BIS.
During the 2019 SHOT Show Lipsey's, a nationally renowned firearms distributor, was recognized by Daniel Defense, Armscor and Savage Arms as a top distributor for the 2018 sales year.
OWAA is accepting applications for its Bodie McDowell Scholarship through March 1, 2019. College students from all communications and journalism disciplines are eligible to apply.
NSSF's Patron members have elected Jeanelle Westrom, owner of Davenport Guns & Shooting Club, to its Board of Governors.
The Sporting Arms and Ammunition Manufacturers' Institute® announced the acceptance of a new cartridge and chamber standard, the 350 Legend (350 LGND), introduced by Winchester Ammunition
The post Bullet Points – Weekly Firearms Industry Newsletter – 2-7-2019 appeared first on OutDoors Unlimited Media and Magazine.