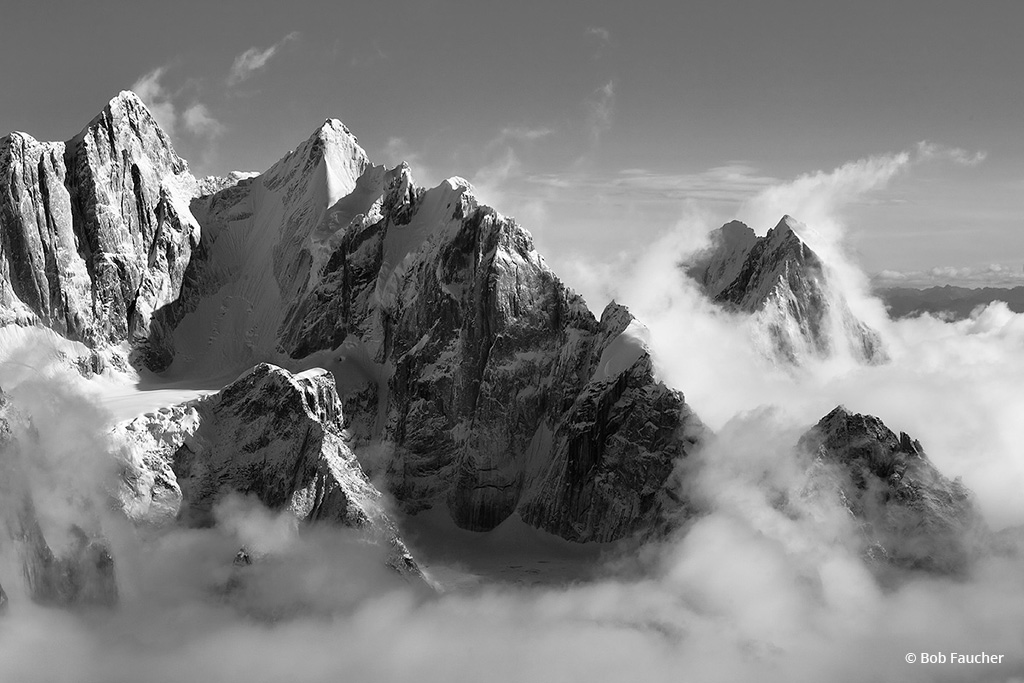 Congratulations to Bob Faucher for winning the Winter Fog And Mist Assignment with the image, "Moose's Tooth Massif."
"My grandson joined me in Talkeetna to do a flightseeing tour of Denali," says Faucher. "After heavy snow fell just days before our planned departure, we were pleased to see generally clear skies and layers of clouds surrounding the mountain on this day. Perfect! I preset our cameras to Time Variable mode with a modest ISO since we'd be flying fast over vast terrain. This allowed the cameras to select the appropriate aperture quickly. Handholding is required to dampen the vibrations generated by the engine and propeller. We began our ascent up the Great Gorge of Ruth Glacier. As we approached the north end of the gorge, the distinct, spectacular 5,000-foot vertical columns of Moose's Tooth suddenly appeared to the east. The pilot then turned eastward and we were treated to the entire Moose's Tooth massif.
"There are certain skylines wilder and far more beautiful than simply the sum of their parts. The Moose's Tooth massif is such a skyline. It appears more like a long ridge of connected summits than a singular mountain. Indeed, it looks like a jawbone, curved in a subtle horseshoe, each successive point rising in prominence. First, there's the Sugar Tooth with its snow-pillow summit, then the canine-shaped Eye Tooth and the gleaming white incisor of the Bear Tooth. Last comes the Moose's Tooth itself, a molar-shaped mountain of bronze buttresses and narrow couloirs, capped by a summit ridge that stretches a mile from its highest point to the west summit. The ridge continues for another mile, dropping steeply to the floor of the gorge. The bright fluffy clouds and lacy wind-blown extensions surrounding each component contrasted highly with the dark, sharp, angular rocky flanks and ridges of the massif."
Canon EOS 5D II; Canon EF 28-70mm @ 70mm; handheld; RAW capture: f/14 @ 1/250 sec, ISO 100; Auto exposure, TV mode; Center weighted-average metering; Auto WB.
See more of Bob Faucher's photography at faucherphotography.com.
The post Winter Fog And Mist Assignment Winner Bob Faucher appeared first on Outdoor Photographer.