An ancient, gnarled mesquite tree in south Texas caught my eye. The textures and patterns of the wood were great elements for a landscape photo. But when I saw the eastern screech-owl roosting in one of the tree cavities, it made the scene even better. The owl, perfectly camouflaged in its environment, made a great addition to the composition, and I did not need a telephoto lens to capture this image of wildlife in the landscape.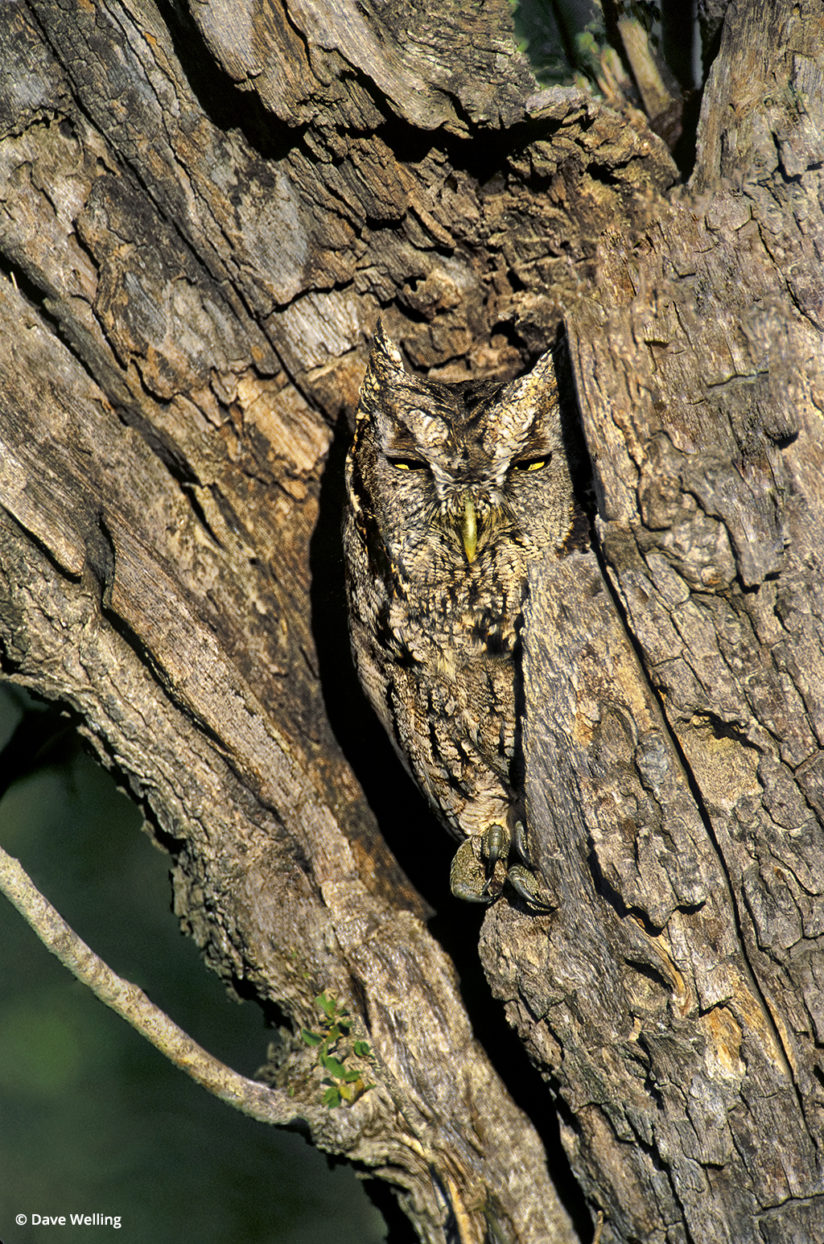 When you think of wildlife photography, you probably suffer from lens lust as I do, dreaming of that 600mm ƒ/4 super telephoto lens. You envision frame-filling action photos of soaring bald eagles and snarling African lions. But you can create great images that include wildlife subjects without those big, heavy and expensive lenses. Instead, expand your visual horizons. When your landscape composition includes a wildlife subject, you can use a shorter, smaller, less-expensive lens and make the animal just one element of the overall image that includes the surrounding habitat or landscape. These images can be as striking as frame-filling wildlife portraits while also giving the viewer an entirely different feel for the subject matter of your image.
I captured the image of the mesquite tree and screech-owl using the equivalent of 100mm on my zoom lens that cost much less than $1,000 and weighed a few ounces, not pounds, much more manageable for landscape field work. The image includes a wildlife subject as a key element but does not make it the sole element of the image. A wildlife portrait of the same screech-owl using a super telephoto lens has a completely different feel. Excellent lenses for "wildlife in the landscape" images are wide-angle to medium telephoto zoom lenses in the 20-200mm or 28-300mm range with variable apertures. These lenses are small, lightweight, reasonably inexpensive and generally have excellent optics. Using one of these wide-range, medium telephoto lenses, you can easily zoom from a wide-angle grand landscape to an isolated section of the scene that might include a wildlife subject without the need to change lenses.
Here is an example of how these lenses can add versatility to your photography and help you quickly adjust your compositional thinking. Using a 28-300mm, wide-range medium telephoto zoom lens at its widest setting, I captured an early morning view of the hoodoos in Bryce Canyon National Park. As I finished, I happened to look down. Several feet in front of me, a female golden-mantled ground squirrel had popped up on the edge of the canyon. Instead of zooming in for a portrait-like image, I switched to a vertical format to emphasize her posture, zoomed out to about 100mm and used a small aperture to keep the background sharp enough to show the squirrel's habitat. The resulting image portrays the animal in her environment and makes an interesting photograph.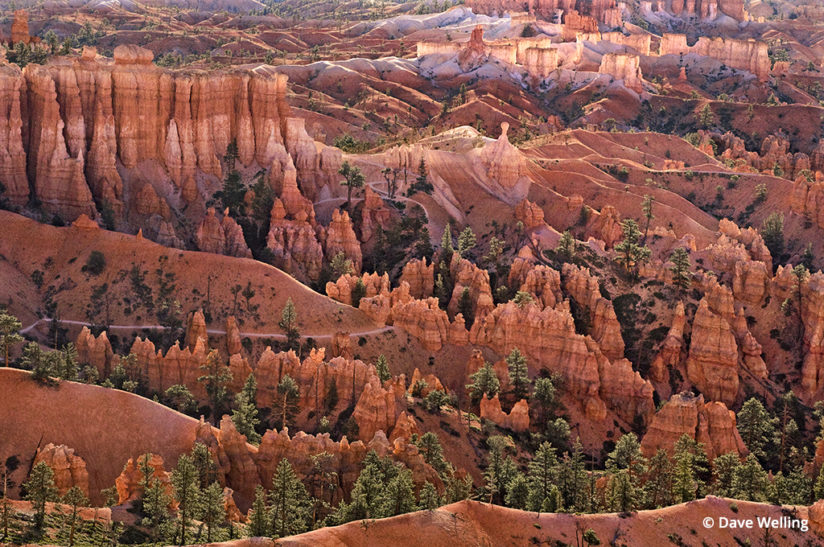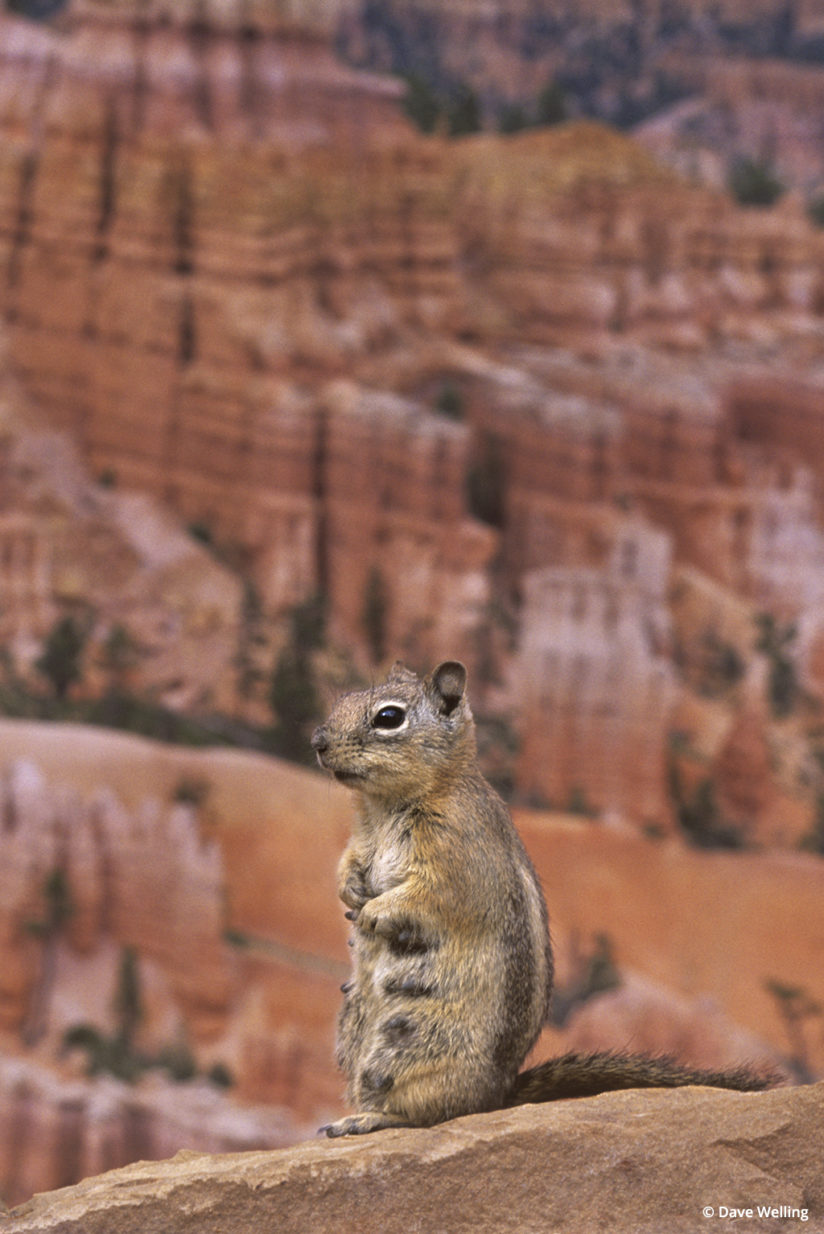 Use your wide-range zoom lens to back off from those frame-filling wildlife portraits and increase your depth-of-field to include the background or surroundings. Now the viewer can tie your wildlife subject to a specific location and see where the animal lives. Including the surrounding fir trees and geyser eruptions of steam on a wintery morning in my photograph of bison shows these animals coping with tough conditions and helps the viewer identify the location as Yellowstone National Park.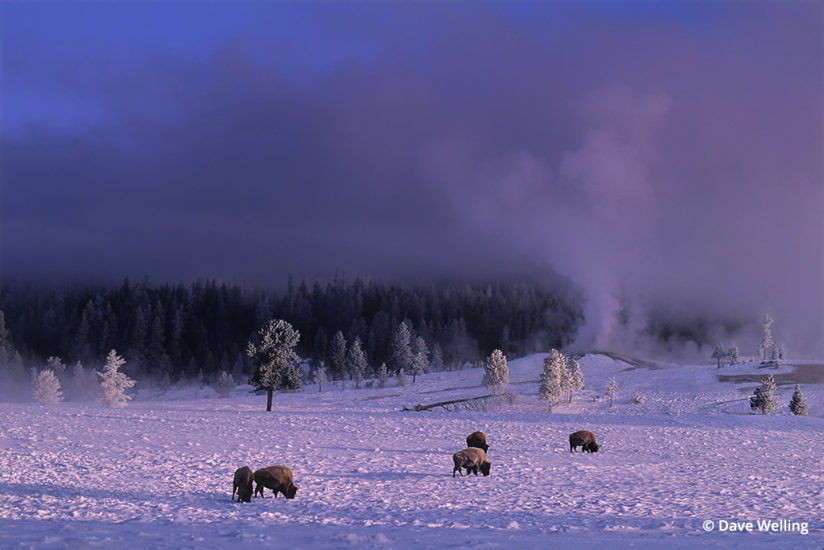 The opposite is also true. You can add a wild animal that inhabits known locations to your landscape composition to help the viewer understand where the image was taken. An image of yellow fever trees in an open landscape doesn't tell the viewer the location. An African elephant in the image (the large ears identify the species of elephant) tells the viewer he is in Africa.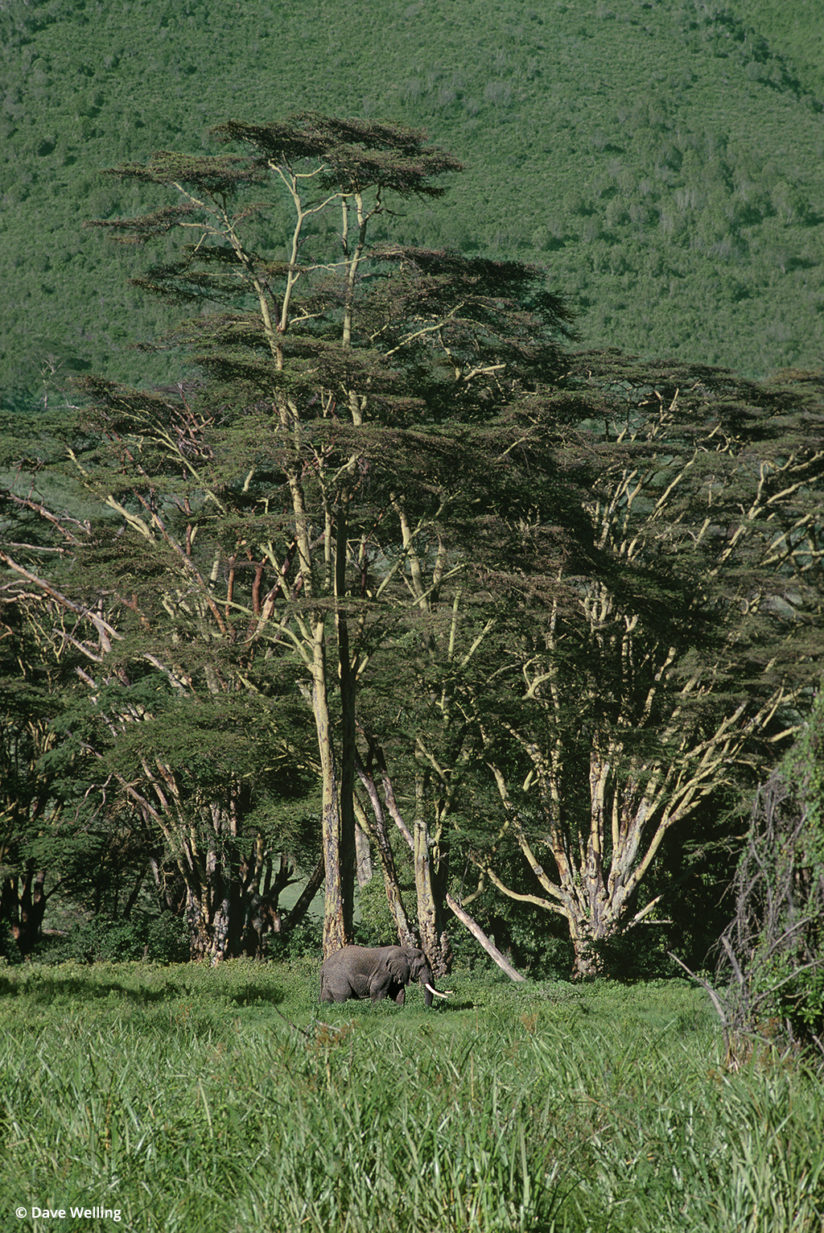 Use wide-range zoom lenses for "wildlife in the landscape" photos and be more creative in your image composition. Instead of simply cropping down to a frame-filling image of wildlife, consider where to place the animal in the frame to make it an important element of the scene but not the sole element of the image. Wildlife subjects are not always cooperative and may move around while you are trying desperately to photograph them, so zoom lenses provide composition options.
The great flexibility of wide-range medium telephoto lenses improves your chances of being able to quickly adapt to changing conditions and capture that great shot. Lenses like the 28-300mm mentioned previously are excellent choices when reasonably close to your subject. Other, longer "reach" zoom telephotos like the Sigma 50-500mm work equally well when your subjects are farther away, as in my photo of a wild gray wolf in the Northwest Territories of Canada. Using the zoom capability of the lens enabled me to capture intimate images as the wolves roamed their taiga forest home.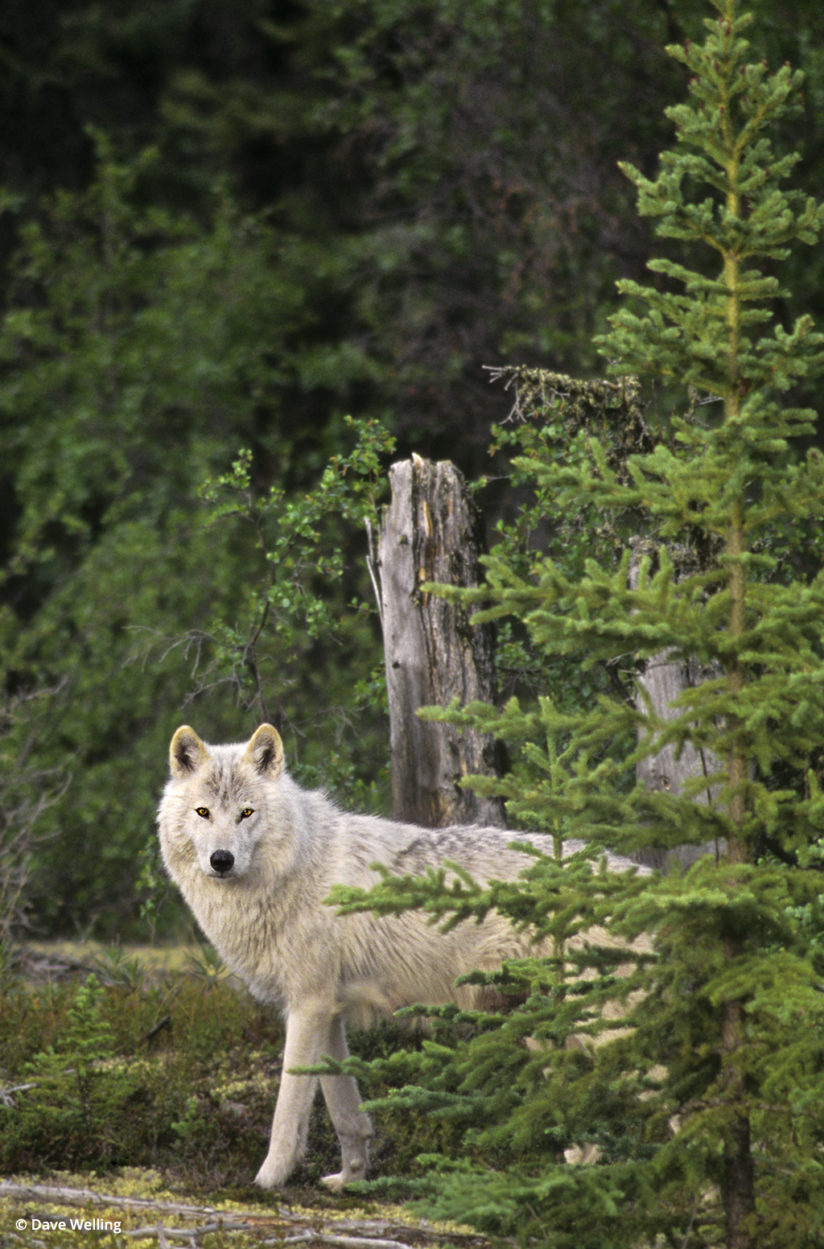 These wide-ranging zoom lenses are very light. Keep a camera setup using one of these lenses in the front seat of your car as you drive through great landscape locations with resident wildlife. Many national parks have scenic drives, and the wildlife are usually quite habituated to cars. If you happen on an animal near a road with an interesting landscape background, you can pull off the road, grab your gear and, handholding your camera, quickly compose your landscape scene to include the wildlife and fire away. You might be surprised at how good some of these images can be. You probably would not have gotten the image if you had to stop and set up your big lens on a tripod.
In addition to landscape imagery, wide-ranging zoom lenses can help you capture interesting action when photographing wildlife from a blind. Providing more space around your subject ensures you won't crop off a wing, hoof or tail. I use my 50-500mm lens so I can quickly zoom out from a portrait to capture a bird grabbing an insect from the air, taking off from a perch or engaging in breeding displays like the male lesser prairie chickens that challenge each other to entice a female.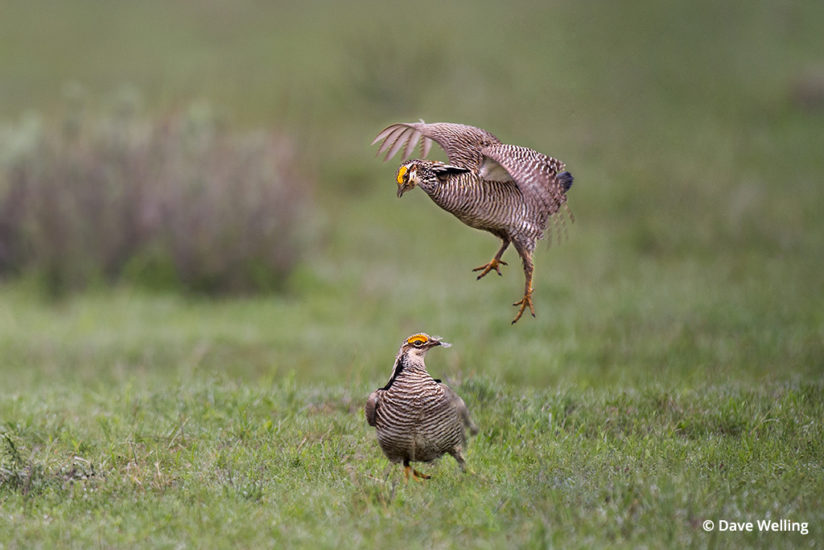 Big-range zoom lenses can improve your composition flexibility, but there is no free lunch. You must still work to get stunning images. Sweet dawn and sunset light for landscape work, as well as heightened wildlife activity, mean you still get out there well before breakfast and stay after most sane people return to the motel or campsite for dinner. You must expand your location horizons, looking for those new ways to capture well-known, iconic landscape locations. Once you have decided on a location, do your research on lighting conditions and also on potential wildlife subjects in the area. Learn about their habits and how to identify various birds and smaller mammals in the field so you will know what you are photographing. And always respect the environment and the animals that live there.
---
See more of Dave Welling's work at strikingnatureimagesbydavewelling.com.
---
YOU MIGHT ALSO LIKE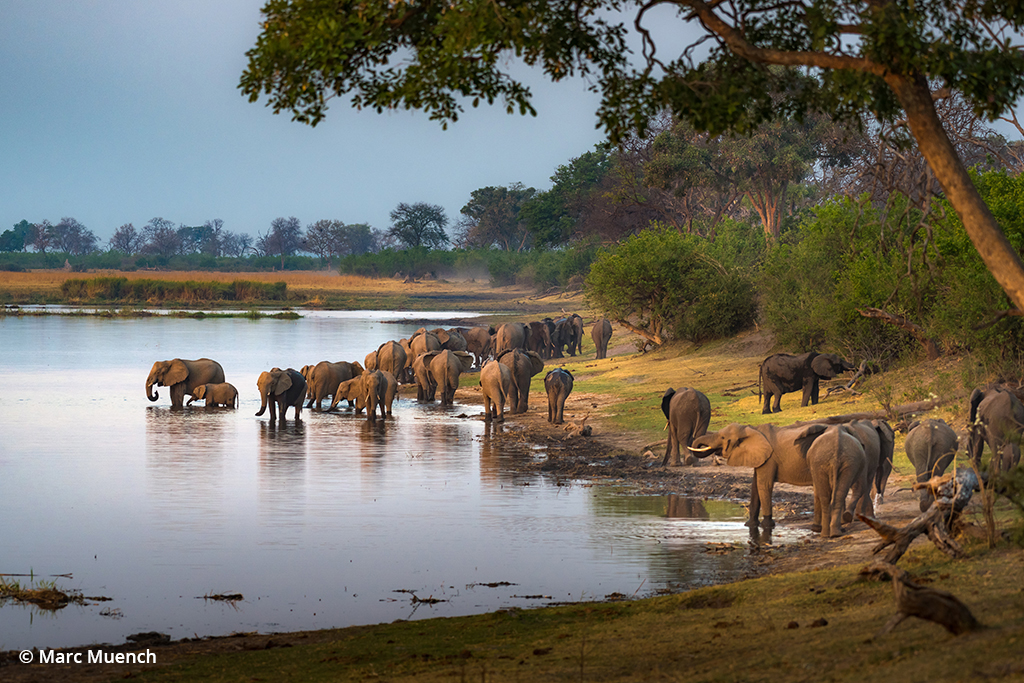 Wildlife photography the way I see it, with the landscape in mind. Read now.
The post Wildlife In The Landscape appeared first on Outdoor Photographer.