YouTube: Drury Outdoors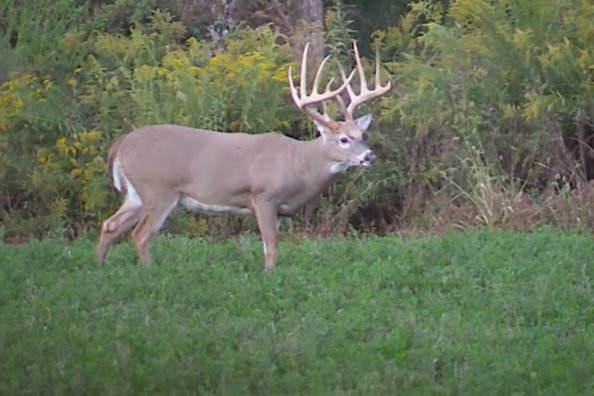 Where will you find what you need to know about deer hunting in Illinois? Right here.
The Land of Lincoln is one of the top whitetail deer hunting states in the U.S. thanks to lots of agriculture and prime habitat that the deer herd flourishes from.
If you need more proof of that, look no further than Luke Brewster's awesome 327 7/8-inch monster from last year. It's only the biggest buck ever taken by a hunter and the third-largest whitetail ever!
Brewster's story is no fluke. Plenty of other deer hunters flock to Illinois each year during the rut, hoping to find their own trophy bucks.
If you're reading, you're probably considering it, too. Or you already live and hunt in Illinois, and you're looking to confirm your beliefs and ideas.
From season dates to deer permits, we'll let you know everything you need to pursue big bucks there this deer hunting season.
Illinois Hunting Season Dates
Illinois' deer season dates can be a little strange, because some dates vary depending on what part of the state you're hunting.
This information is taken directly from their hunting guide for 2021.
Archery Deer – (For counties with a firearms season and west of Route 47 in Kane County) – Oct. 1-Nov. 19 and Nov. 23-Dec. 2 and Dec. 17-Jan. 17
Archery Deer – (Cook, DuPage, Lake and Kane [east of Route 47]) Oct. 1-Jan. 17.
Firearm Season – Nov. 20-22 and Dec. 3-6.
Muzzleloader – Dec. 11-13.
Special CWD Deer Season– Dec. 31-Jan. 3 and Jan. 15-17.
Late antlerless – Dec. 31-Jan. 3 and Jan. 15-17.
Youth firearm – Oct. 10-12
Note that not every county is going to be open to the late antlerless season or the CWD seasons (We'll touch more on CWD later). Make sure you check to see what is open in the county you are hunting.
Illinois Hunting Licenses and Permits
Like many states, Illinois has adopted a base license system now where you need to buy a generic hunting license before you can buy deer permits. This rule applies to both resident and non-residents.
All licenses and permits are available either online, by phone or over the counter at vendors across the state.
For base licenses, there are several different kinds. For residents a standard base license is $12.50. Resident senior is for ages 65-75 and only costs $6.50. If you're over the age of 76, good news: a base license is only $1.50!
For youth, a base license is $7.50, but you also have the option of purchasing an "Apprentice" license for the same price. The difference is, the apprentice license allows hunters 17 and under to go out with a licensed parent, grandparent or guardian. A hunter safety course is not required for this license, but it's only good for one year. Just another option to consider for the young hunters in your life.
For non-residents, the base license is $57.75. If you're only planning a short hunt, you can save a little money with a five-day license for $35.75.
There are also disabled and armed forces licenses, but Illinois doesn't detail the costs of these online. We're assuming they're going to be a litte less expensive than the base. There are also resident combination tags for hunting and fishing. We won't detail those here, but just know they're an option.
Now, once you have your base license, you can finally start looking at permits. Note that there is one additional charge here for deer permits. You need a state habitat stamp if you're 16 or older. The good news is it doesn't cost much at $5.50 for both residents and non-residents. Seniors age 65 and older can get the super senior habitat stamp for just 50 cents.
Now we can finally talk deer permits. We're just going to briefly mention them in bullet points, because there's a ton and the costs vary.
Deer Firearm & Muzzleloader Permits
Early Season – Resident: $25, Non-Resident: $300
Early Season & Antlerless Only – Resident $42.50, Non-Resident: $325
Antlerless Only – Resident: $17.50, Non-Resident: $25
County-Specific Early Season – Resident: $25.50, Non-Resident: $300.50
County-Specific Antlerless Only (Hunter with an early season firearm permit) – Resident: $18, Non-Resident: $25.50
County-Specific Antlerless Only (Hunter without early season firearm permit) – Non-Resident: $100.50
Deer Archery Permits
Early Season & Antlerless Only – Resident: $26
Antlerless Only – Resident: $15.50
Early Season Only – Resident: $15.50
Antlerless Only – (Hunter with early season archery permit) Non-Resident: $25.50
Antlerless Only – (Hunter without early season archery permit) Non-Resident: $100.50
Early Season & Antlerless Only – (From a non-vendor) Non-Resident: $410
Early Season & Antlerless Only – (From a vendor) Non-Resident: $411
Youth Permits
Early Season – Resident: $10.50, Non-Resident: $10.50
Deer Late Winter Firearm Permits
County-Specific Antlerless Only – Resident: $18, Non-Resident: $18
Resident Special Hunt Area – Resident: $17.50, Non-Resident $17.50
Chronic Wasting Disease Permit
Antlerless Only – Resident: $5.50, Non-Resident: $5.50
One thing we need to note here is that the Illinois Department of Natural Resources runs on a lottery system for deer permits. The system is kind of odd in that they allow you to apply online for archery, but not firearm deer. For firearms you must send in a paper application printed from the internet. The good news is that odds are in your favor of getting drawn, it's just strange that the old method of hard paper and snail mail comes into play.
But the bad news is that by summertime, the application period for most has already passed. But you can still acquire over the counter permits of the remaining, unsold permits in many areas. These don't go on sale until October, so you have some time to prepare.
Legal Weapons
Things are pretty standard for Illinois as far as legal archery equipment goes. Long bows, recurves and compounds need to have at least a 30-pound draw weight. Plus, Illinois is a crossbow-friendly state; anyone can use them. Crossbows need to have a 125-pound draw weight. Just remember that archery gear is legal during firearms season ONLY on private land.
For muzzleloaders, things are simple. Most forms of powder and blackpowder substitute are legal. They just require a minimum size of .44 caliber for deer.
As far as firearms, Illinois is still a shotgun-only state with few exceptions. You can't use smaller than 20 gauge or larger than 10 gauge. Some Illinois hunters are now moving towards using straight-walled pistol cartridges. Unfortunately, Illinois hasn't jumped on the trend of using these rounds in rifle packages as neighboring states like Indiana, Ohio and Michigan have. There have been bills on the table, but nothing concrete as of yet. We are crossing our fingers they change things up soon.
For Illinois, the minimum caliber for handguns is .30 caliber. You can use "bottleneck" cartridge rounds for handguns, but they can't have a case length greater than 1.4 inches. But for straight-wall cartridges, there is no case length limit. Full metal jackets are not legal for hunting whitetails.
Another important thing to remember for residents is that Illinois requires all firearms hunters, whether they are using a pistol, shotgun or muzzleloader to have a FOID (Firearms Owner's Identification Card) on them. These are issued by the Illinois State Police. If you're a non-resident, you don't need to worry about this if you have a hunting license.
CWD and Mandatory Checks
Illinois is a CWD-positive state. If you're unfamiliar with chronic wasting disease, it's a neurological disorder. Once it takes hold in a deer, is always fatal. To control the disease, the Illinois DNR requires mandatory checks for firearm harvests in surveillance counties. These counties include Boone, DeKalb, Grundy, Jo Daviess, Kane, Kankakee, Kendall, LaSalle, Livingston, McHenry, Ogle, Stephenson, Will and Winnebago.
If you're a non-resident, you need to check your state's carcass importation guidelines. This is important because failure to adhere to them not only may help spread the disease, but it may also result in your state confiscating your hard-earned harvest. It has happened before and will likely happen again.
Make sure your meat is properly de-boned. Make sure if you're bringing home a skull or skull cap, that it is cleaned of all brain matter. If you're bringing home a cape, make sure all fleshy material is cleaned out, especially the lymph nodes because this is where the prion that causes CWD likes to hang out.
What to bring and where to hunt in Illinois
For the most part, Illinois is a one of the flattest states you can deer hunt. The only places you'll likely run into semi-challenging terrain are the west and southern portions of the state. So, you don't really need to worry as much about good hiking footwear. Make sure you bring hunter orange during the firearm deer season because it draws a crowd. Other than that, most of the tree stands, camo, and other gear that works for gun and archery hunts in other states of the Midwest will work in the Land of Lincoln.
It does get extremely cold in the winter months, so make sure you layer up! Especially if you are hunting open food plots or large plantings of corn or soybeans. When the wind gets whipping, it can be chilly! If you're hunting during the peak of the rut in early to mid-November, bring some grunt and bleat calls and some rattling antlers. All can be surprisingly effective when the bucks are really running the does.
Many areas of the state are open agricultural areas, so make sure you have a good pair of optics. Other than that, if you're already an avid whitetail hunter in another state, you likely already have all the gear you'll need.
As for where to hunt, well, we'll start this list right off with the most obvious and well-known spot: Pike County. This county is nothing short of legendary. Just drive through it on the highway and you'll immediately see why it's prime whitetail habitat. It's a great mix of rolling hills, farmer's fields, and dense hardwoods. No wonder more whitetails are harvested there than anywhere else in the state.
For a public hunting option in Pike County, check out the Ray Norbut Fish & Wildlife Area. It's approximately 1,290 acres of prime whitetail habitat nestled on the banks of the Illinois River. You do need an Illinois windshield card to hunt in this area. Check out more info on the DNR's website.
Another challenging area is Mississippi River Pool 24, a swampy area made up mostly of islands, but is said to hold some real giants.
While Pike gets a lot of attention, don't neglect Brown or Adams County nearby either. This whole tri-county area is what's known as "The Golden Triangle." Try the Great River National Wildlife Refuge in Adams County and Siloam Springs State Park in Brown County.
Peoria County is the home to Mel Johnson's 1965 Pope & Young world record, a 204 4/8-inch 13-pointer that has held off all challengers ever since then. Two Peoria County public land options to check out are Jubilee College State Park and the Banner Marsh State Fish and Wildlife Area. Just across the county line in Fulton County and right next door to Banner Marsh, check out the Rice Lake State Fish and wildlife Area.
Luke Brewster shot his new world record non-typical in Edgar County. There aren't many public hunting options there, but if you can secure some private land, you know you'll be in the land of the monsters.
Another great spot to check out in the southern part of the state is the Shawnee National Forest. It's big, sprawling, picturesque and filled with giant whitetails just waiting for the hunters tough enough to track them down.
If you can't find a piece of public land you like, there are pay-to-play options by going through an outfitter. Pike County is absolutely loaded with outfitter options. But they aren't cheap, especially if you're hunting the prime of the rut. $2,000-5,000 will get you three to four days with one of these outfits at the most, but you do get access to prime hunting areas and your odds of success are high.
One of the best
Illinois deer hunting is some of the best you can experience in North America. The hunting isn't easy by any means, but you will see a lot of big bucks. Your odds of going home with a trophy whitetail are better than many other neighboring states.
If you're specifically looking to take a Pope & Young or Boone & Crockett class buck, an Illinois whitetail hunt gives you better odds than almost anywhere else on the planet!
For more outdoor content from Travis Smola, be sure to follow him on Twitter and check out his Geocaching and Outdoors with Travis YouTube channels.
NEXT: EVERYTHING THERE IS TO FIGURE OUT ABOUT COLORADO ELK HUNTING
The post Why Deer Hunting in Illinois Is on So Many Bucket Lists appeared first on Wide Open Spaces.