Gabriela Zaldumbide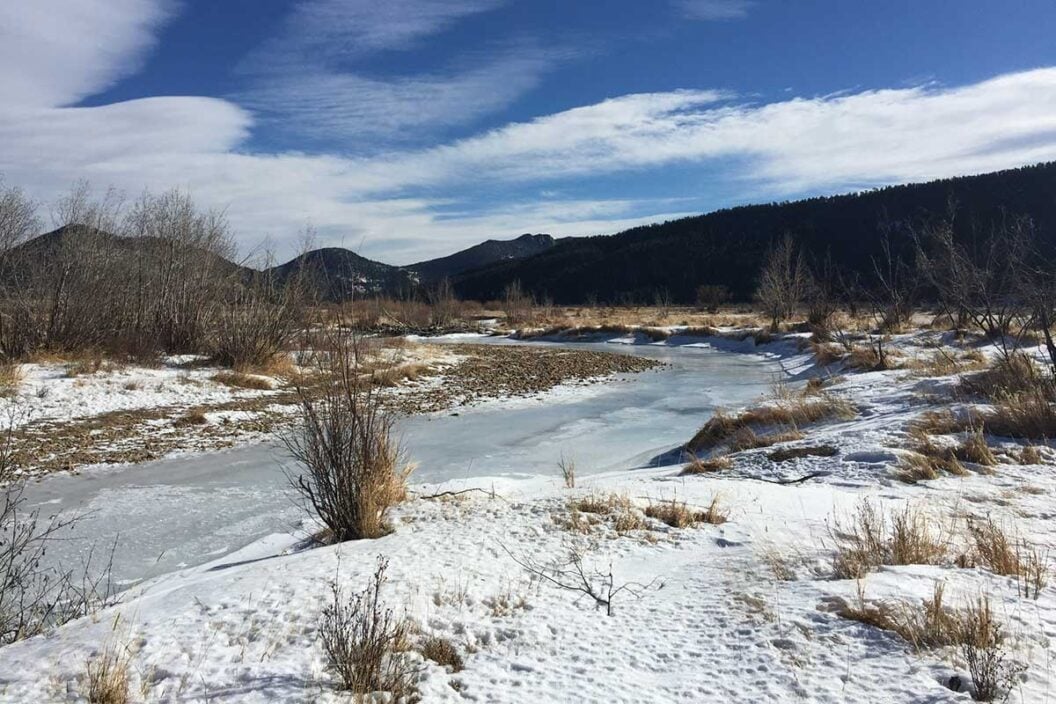 If you've ver chatted with a waterfowler about their technique, you've likely heard them say, "Scout, scout, and then scout some more." Scouting for birds is a large part of waterfowl hunting. Scouting becomes even more critical when your regular spots start freezing due to cold temps. Where do the birds go after small water freezes? It's up to you to poke around and find out. Living in Colorado, I've gotten used to my favorite hunting and fishing spots freezing over come December. As a result, I've found a few hidey holes that stay open year-round while scouting. Here are some techniques I use to locate open water after my early-season waterfowl hunting spots freeze over.
Locate Open Water Near You
What kind of water is near you? Is there a large reservoir within an hour's drive, or does a river surrounded by public land run by your town? Maybe you know a few private landowners with cattle ponds that make for excellent duck hunting in the early season. However, once the hard freeze hits, you may need a new hunting spot. Familiarizing yourself with the water near you can help you find unfrozen waterfowl hunting spots. Hunters can expect small bodies of water like ponds or watering holes for livestock to freeze first since they're shallow and can reach below-freezing temperatures quickly. By then it may be time to start scouting the large reservoir or river near you.
If you're like me and live near a giant reservoir (or lake, for that matter), look for waterfowl hunting options here next. Check the inlets first; these areas are generally shallower and have more mud or sediment that serves as feeding and resting areas for ducks. Ducks feel safe in these muddy, open areas because it's easy to see predators coming from a long way away, and if they do make it within close range, they're likely to get stuck in the mud before reaching a duck or two. Unfortunately, these shallow parts of the reservoir will freeze over first. When they do, the ducks will move yet again.
Once large bodies of water completely freeze over, ducks tend to move toward rivers. These places can stay open year-round near dams, springs, or even power plants that use river water to cool their generators. It's never a bad idea to explore the shoreline of your local river in search of open pockets of water and hidden flocks of ducks and geese.
Check eBird
If you're unfamiliar with it, you definitely need to check out eBird.org. The site and program is a citizen science-based project run by the Cornell Lab of Ornithology. It's where bird enthusiasts record bird species sightings. You can e-scout for ducks and geese by searching the species you're interested in looking for, like mallards or Canada geese, into the search bar. You can sort the search results by year, region, and more.
In addition to pinpointing species locations, you can also track the migration through eBird. You can easily see where everything from blue-winged teal to snow geese were last month, last week, and even this time last year. It's up to you to be responsible and seek out sightings on public lands or private properties you have access to so you don't trespass. This public online resource is a great way to find new hunting spots with open water.
Travel to Hunt Waterfowl
If you've exhausted your local waters for waterfowl hunting spots and come up dry, it might be time to consider traveling to hunt. If the weather's been below-freezing in your neck of the woods, southern Arkansas may be a different ballgame. If your Minnesota lakes are frozen, maybe Nebraska's wide rivers still have pockets of open water, providing refuge for migrating or wintering waterfowl. Although traveling to hunt will cost more than hunting locally, the trip will be worth it whether you do it DIY-style or hire a guide service. Plus, you'll be contributing to a local economy, helping support small communities that aren't typically winter travel destinations.
Hiring a guide is an excellent way to hunt waterfowl in a new state. In Colorado, Uncharted Outdoorswomen offers multiple guided waterfowl trips a year. Their guides are also available for booking private hunts. Uncharted Outdoorswomen has a partnership with Infinite Outdoors, the Airbnb of hunting properties, and are the only guides allowed to take clients on their private properties. Their properties feature river access, fallow fields, private ponds and reservoirs, and more, providing opportunities for high-quality waterfowl hunting.
If you're waterfowl spot freezes over, don't fret. It's an opportunity to explore new local water or hunt in a different state. You're bound to find your new favorite waterfowl spot if you put in some long hours scouting for open water.
The post What to Do When Your Waterfowl Spot Freezes Over appeared first on Wide Open Spaces.