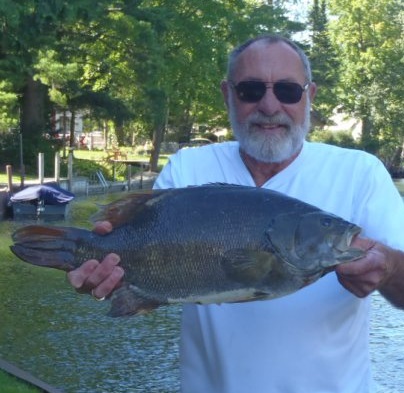 Michigan's existing state record for smallmouth bass was broken Sunday by Robert Bruce Kraemer of Treasure Island, Florida. A longtime angler with a cottage in Indian River, Cheboygan County, Kraemer said he's been fishing Michigan waters since 1965, but this is his first state-record catch. Using night crawlers for bait, Kraemer landed a 9.98-pound, 23.10-inch smallmouth bass while out on the Indian River.
"I usually spend June through the end of September up here at the cottage," Kraemer said. "I've got some great fish stories and some nice fish, but nothing like this."
The record was verified by Tim Cwalinski, a Michigan Department of Natural Resources fisheries biologist in Gaylord.
The previous state record for smallmouth bass was set in October 2015 when Greg Gasiciel of Rhodes, Michigan, landed a 9.33-pound, 24.50-inch fish from Hubbard Lake in Alcona County.
Prior to Gasiciel's catch, the smallmouth bass state record had stood since 1906. That fish was a 9.25-pound, 27.25-inch fish from Long Lake in Cheboygan County.
"In just the last four years, anglers have caught a total of 16 state-record fish, a remarkable number of big fish in a relatively short time," said Jim Dexter, chief of the DNR Fisheries Division. "This is just more evidence that Michigan is home to a healthy, robust fishery – a resource and sporting opportunity that continues to draw people from all over."
Kraemer, the new smallmouth bass state record-holder, agreed.
"I keep coming back to Michigan for a lot of reasons," he said. "The weather, the clear, cold water, good fishing … it's just nice up here."
Michigan fishing state records are recognized by weight only. To qualify for a state record, fish must exceed the current listed state-record weight and identification must be verified by a DNR fisheries biologist.
For more information on fishing in Michigan, including other state-record catches, visit michigan.gov/fishing.
The post Weighs 9.98 Pound Michigan Smallmouth Record appeared first on .