Founded in 1945 by Roy Weatherby in South Gate, California, Weatherby, Inc. is an American firearms company that prides itself on craftsmanship, reliability, and safety. The Weatherby name is known around the globe for their rifles and hyper-velocity magnum cartridges that are as accurate as they are powerful.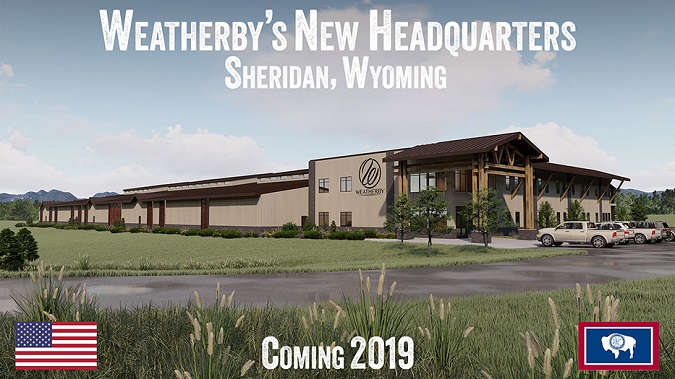 2018 will mark a new chapter as Weatherby will be relocating to the beautiful mountain town of Sheridan, Wyoming. Not only does it offer the perfect combination of rural living and political friendliness, it will be home to Weatherby's new custom manufacturing facility and company headquarters.
Sheridan, Wyoming will usher in a new generation of Weatherby products and innovation.
A breathtaking vision of the New West, Sheridan is Wyoming's emerald city. The kind of place where cowboys convene over craft beer and coffee, where antelope spring over canvasses colored with Indian Paintbrush, and where the majestic peaks of northern Wyoming stand proudly.
Cradled by the iconic Bighorn Mountain range, Sheridan extends a warm hospitality as legendary as the streets of historic downtown. Fabled cowboys once kicked up their boots at the Sheridan Inn, while modern mavericks revel in Old West charm at Sheridan's bistros, cafes and brewpubs. Top rated education and modern amenities make Sheridan a hidden gem.
Outdoor recreation of all kinds is near limitless, no matter what the season. Backpackers, snowmobilers and fishermen are spoiled here, but the men and women who hold a rifle in hand will find the Big Horns to be a wonderland of happy hunting. The abundance of wildlife and huntable public lands create a sportsmen's paradise. Whether it is upland birds, turkey, antelope, deer, elk, bear or moose, the opportunity to enjoy the outdoors and the creation of God's goodness abounds.
The post Weatherby's New Headquarters appeared first on ODU Magazine-North America's #1 Digital Fishing Magazine.