Getty Images: Jay Scarlett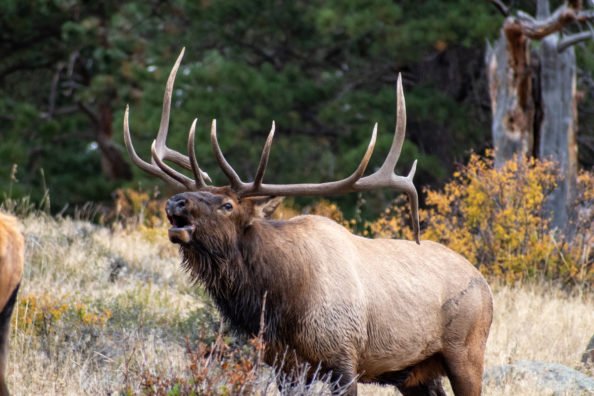 The meat from three poached elk was wasted.
Officials in Washington are asking the public for leads in a poaching case that left two large bull elk killed and another wounded near Fairfield in Spokane County. The Washington Department of Fish and Wildlife says the bulls were shot on or around New Year's Eve off East Adams and Marsh Roads. The bulls were shot on private land.
Two of the bulls were killed and had their heads removed with the meat left behind. The third bull was injured and left paralyzed. The animals were not discovered and reported to the WDFW until January 2. Responding officers discovered the injured bull and had no choice but to euthanize it. Upon further investigation they discovered the meat from the animals had been wasted.
The agency posted photos of two of the elk on their social media pages. WDFW Police Sergeant Tony Leonetti emphasized the importance of figuring out who poached these elk in an agency press release posted to their website.
"This is an appalling act of poaching large, branch-antlered elk – a blatant disrespect of natural resource rules, ethics, and conservation," Leonetti said in the release.
There may be either a monetary reward or the possibility of extra bonus points that can be applied to future hunts available for anyone with information in the case. WDFW is asking anyone with information to call 877-933-9847, or to text 847411. Tips can also be sent in via email to reportpoaching@dfw.wa.gov or by filing a report on the WDFW website. These tips can also be made anonymously.
"The loss of these mature elk is a blow to the local population and for future opportunities for ethical hunters who are following the rules," Leonetti said in the press release. "We rely on tips from the public as they are often our eyes and ears that leads to arrests on cases like this."
Products featured on Wide Open Spaces are independently selected by our editors. However, when you buy something through our links, we may earn a commission.

For more outdoor content from Travis Smola, be sure to follow him on Twitter and check out his Geocaching and Outdoors with Travis YouTube channels.
NEXT: THE AXIS DEER AND HOW THEY'RE IMPACTING PARTS OF THE UNITED STATES
WATCH
The post Washington Officials Seek Tips on Three Elk Being Poached, Left to Rot appeared first on Wide Open Spaces.